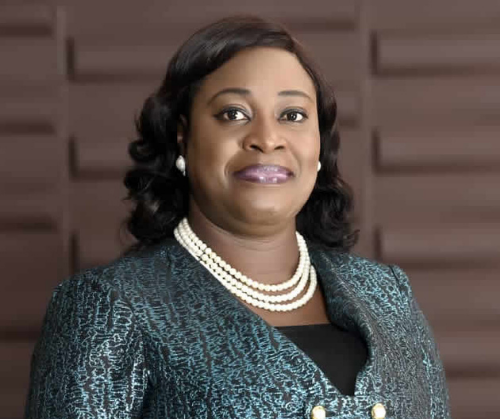 Taiwo 'Dayo-Abatan is a seasoned HR Specialist and currently the Regional Head HR – Sub Saharan Africa for VFS Global. Where she manages Human Capital matters across the over 30 locations in Africa in line with the corporate agenda of the organization.
Before this she was the Group Head, Human Capital and Corporate Services at Primera Africa Finance Group where she led the team in Strategic Planning, Organizational Leadership, Change Management, Process Automation and provides Thought – Partnership in driving the Human Capital Agenda of the Group.
She is adept in conducting various training sessions for enhancing performance and a strong passion for People and Culture Transformation.
Before she joined Primera Africa, she worked at Mutual Benefits in Assurance PLC, as Group Head HR & Admin where she handled HR activities in 4 subsidiaries of the Organization across Nigeria and the West African Coast with a work force of over 4000. She also led and assisted with the implementation of Human Resources (HR) initiatives across the Organization.
Taiwo also had a 6-year stint as Head, Human Resources of Total Health Trust Limited, a member of Liberty, South Africa where she was very instrumental in driving the strategy for people and cultural change the Company tried to achieve during their transformation from an Owner-Managed Enterprise into a fully corporatized entity after the 100% take over by Liberty.
An alumnus of The London Academy Business School as well as the Olusola Lanre Coaching Academy, Taiwo attended the University of Ado-Ekiti where she studied Economics and graduated with a Second-Class Upper Degree. She then proceeded to The Federal University of Technology, Akure where she bagged an MBA majoring in Management. Taiwo is a Certified Coach, Mentor and Career Counselor.
She is a member of several professional bodies among which include, The Chartered Institute of Personnel Management (CIPM), International Coaching Federation (ICF), Nigeria
Association of Professional Facilitators and Trainers in Africa (APFTiA) The Nigerian Institute of Management (NIM)
Nigerian Institute of Training and Development (NITAD)
The Institute of Professional Managers and Administrators (IPMA).
She is a Certified Senior Professional in Human Resources, International (SPHRi) as well as a trained Adult Learning Experience (ALE) Professional.
A goal getter, Taiwo led her team to win the CIPM HR Best Practice Awards as Runners up in 2014 and Winner in 2017 for the Health Sector of the Nigerian Economy.
As a Trainer, Taiwo seats on the faculty of some Consulting Firms among which are Beth's Consulting Limited, Rome Business School, Bellforte Consulting and Vantage Consulting, CA where she also seats as a member of the Advisory Board of their Certification arm. In addition to these, she seats on the Advisory Council of the Association of Professional Facilitators and Trainers in Africa and the Board of Trustees of The Power Women Network.
She was recently appointed as the Advisory Board Chair of HR Expo Africa organizers of one of the largest work festivals in Africa.
As a way of giving back to the HR profession, finding expressions for her calling and fulfilling her passion which is impacting and improving professionals, Taiwo is the Founder and Host of "Taiwo's Coffee Chat" a capacity building platform for HR professionals and holds this free attendance event which is already in its 9th edition, "The HR Foundry" a learning platform for building and raising exceptional HR Professionals with over 500 members. She also recently started a mentoring platform called "Premium Mentoring Program with TDA" where she mentors your female professionals as well as a weekly IG live session called "HR Banters with TDA".
She is the Author of the book – "Climbing the Career Ladder for Success" a must read book for every young female professional.
A dedicated, focused and goal-oriented individual with excellent interpersonal skills. She has imbibed teamwork as a philosophy and this guides her in her career, Taiwo is happily married and blessed with lovely children