The PowerWoman 100 - 2023 Annual List
Meet the 2023 PowerWoman 100!
Join us in celebrating extraordinary women who are redefining the game and sparking change like never before.
These phenomenal women are shattering glass ceilings, making a difference and their remarkable achievements deserve the spotlight.
Get ready to be inspired, find below The PowerWoman Network 2023 #PowerWoman100 recipients.
See More About Our 2023 PowerWomen 100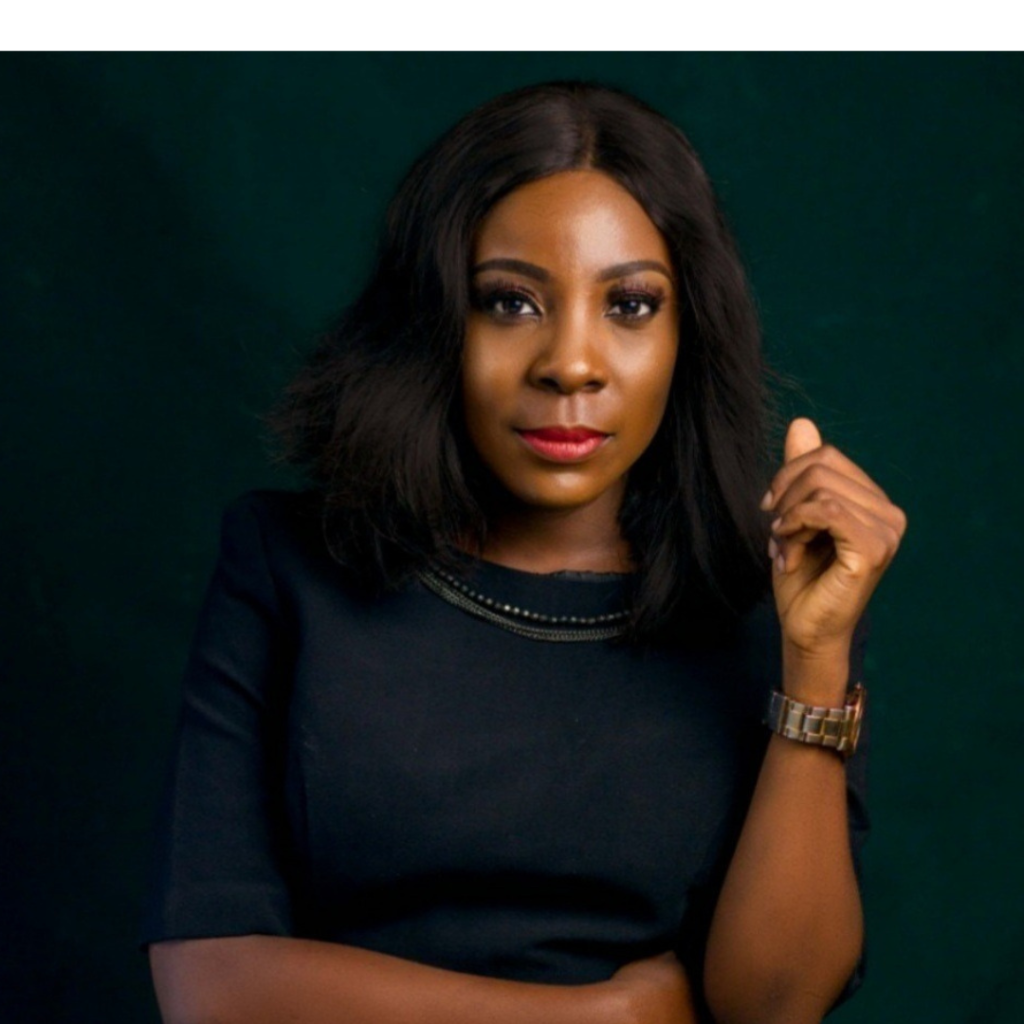 Abimbola is a Social Enterprenur with over Eight years experience, spanning Education, development, Non profit management and community engagement.
She earned her Bachelor of Arts degree in English language from Obafemi Awolowo University Ile ife Nigeria, she proceeded to Lagos business school for her Mini MBA in Nonprofit Management and Leadership.
Abimbola is currently the Executive Director of Lend a hand for the development of Africa, a Non profit organization in Lagos Nigeria dedicated to supporting families in underserved communities in Africa, starting with Nigeria her immediate community with Educational scholarships and a blend of supplementary initiatives which includes the food drive and padforagirl drive.
The various projects from the organization encourages children to go and stay in school thereby reducing poverty and illiteracy in local communities.
Through fund raising and partnerships she has promoted the Girl child Education, through her Pad for a girl drive over Fifteen thousand girls across Nigeria have gotten access to sanitary pads and counseling. Her documentary #ibleeddifferent on YouTube further discusses period poverty. Presently close to Fifty beneficiaries are on the Scholarship scheme fully funded.
Also monthly beneficiaries in various communities get access to food supplies thereby improving the learning outcomes of these beneficiaries.
Abimbola Odedeyi is a seasoned professional with over 11 years of experience in the financial services industry. Her expertise spans sales, business development, strategic partnerships, key account management, and customer service in both commercial and retail banking, as well as the payment space.
Having worked at two of Nigeria's top 5 banks, Guaranty Trust Bank and United Bank for Africa, Abimbola then joined Nigeria Inter-Bank Settlement System, where she played a strategic role in partnering with stakeholders from various financial services sectors, facilitating digital payment projects exceeding $1 billion in value.
Currently, she serves as Unlimint's Country Manager in Nigeria, working closely with stakeholders in the financial services industry to identify and integrate local and international alternative payment methods. Unlimint, a global fintech company founded in 2009, offers a comprehensive portfolio of financial services, ranging from payment processing to banking and banking as a service. With offices worldwide, including Lagos, they cater to diverse merchants across industries like Airlines, Gaming, e-commerce, and e-learning.
In her role as Country Head, Abimbola's mission is to ensure merchants can accept payments through their preferred methods by collaborating with financial industry stakeholders.
Passionate about promoting women in STEM, she acknowledges the gender disparity in fintech and STEM fields. However, Abimbola remains optimistic about the future for women in these domains, citing the increasing number of supportive organizations offering policies and career development opportunities for aspiring females in tech. She believes these initiatives will not only protect women pursuing STEM and fintech careers but also encourage them to thrive and contribute significantly to the growth of the economy.
Abimbola Odedeyi earned her bachelor's degree from the University of Ibadan and holds a Master of Business Administration from Bradford University School of Management. She is also a valued member of the TGIC Board.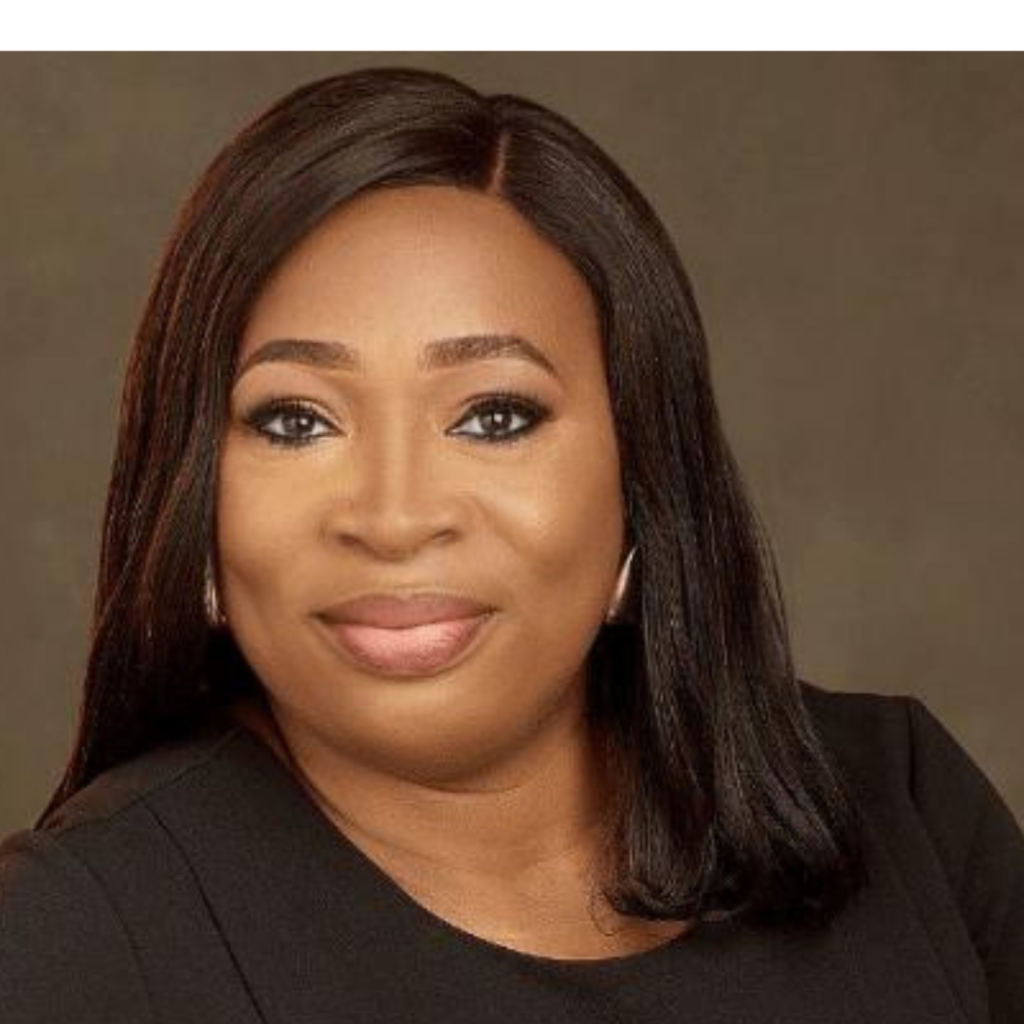 Abiodun Peters is a Legal practitioner with broad spectrum experience in regulatory compliance, corporate governance, risk management and business continuity, with an impressive performance trail.
I help organisations establish a robust governance structure which promotes sustainability and mitigate diverse business risks.
I am excited about thought leadership, coaching, using technology to drive innovation and making an impact!
She is currently the Country Legal Director for Coca-Cola Hellenic Bottling Company.
Abisola Oladapo is building a legacy of enduring impact by saving lives and advocating for underserved women and children. After a harrowing ordeal where she almost lost her child at birth, she drew on her painful experience to create much-needed change to ensure that other women and their families are spared preventable maternal and neonatal deaths.
Abisola has led her team to provide support for thousands of pregnant women. She has leveraged her medtech and software engineering knowledge to painstakingly and expertly co-create an intuitive technology called Agnes, designed by women, for women. Agnes is positioned to reduce maternal and neonatal deaths by providing essential health services to women and children in under-served communities. 
At the helm of Mumspring, Abisola employs a holistic approach to provide mental, emotional and economic support for women to create change across all spheres of their lives. She passionately mentors and educates women to enlighten them on the power of recognising and embracing their agency for a better life. She is changing the narrative for women, one community at a time and creating safe spaces to enable them thrive. She is a fitting role model for young girls and women because she actively and intentionally aims to show them their power and agency through her work. Her remarkable work led to Forbes recognising her as one of the 52 women changing the future of femtech and healthtech globally. Additionally, KPMG (UK) recognised her as the Black Entrepreneur of the Year – Most Promising Social Impact Organisation.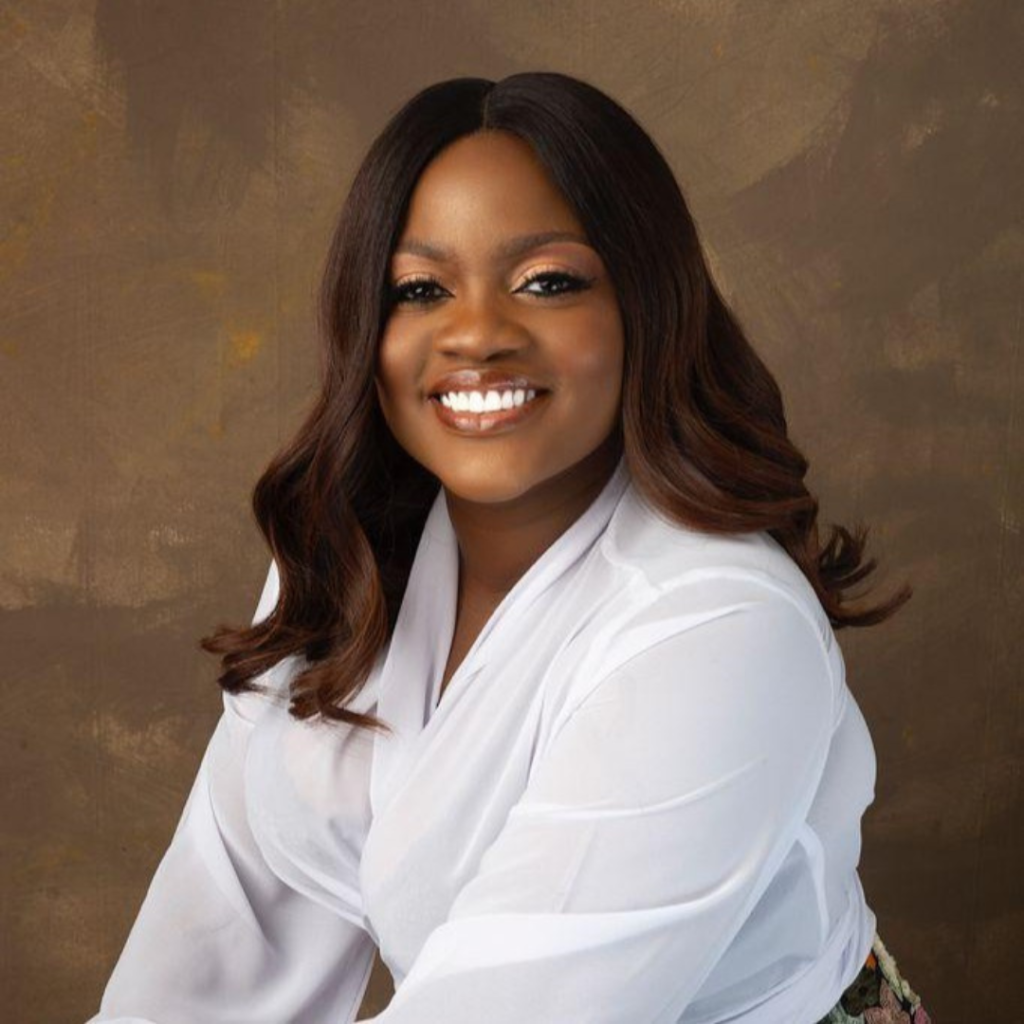 Ada Nduka Oyom is a trailblazing figure in the tech industry, making significant contributions to empowering young girls and women in Africa with technical skills. As the founder of She Code Africa, a non-profit organization, she is dedicated to fostering gender equality and diversity in the tech field.
Ada's journey as a self-taught Software developer has been nothing short of remarkable. Her expertise and passion for technology have led her to hold key roles in prominent organizations such as Interswitch Group and Switch Innovation Academy.
In addition to her professional accomplishments, Ada actively engages in volunteer work with esteemed organizations like Google Developers Group and Women Techmakers UNN. Her commitment to giving back and supporting aspiring developers further highlights her leadership and dedication to the tech community.
Currently, Ada Nduka Oyom serves as the Developer Relations (SSA) at Google, where she continues to make a profound impact on the tech ecosystem in Africa. Her journey is an inspiring testament to the possibilities of self-driven growth and the positive influence of women in technology.
Adebola is the CEO of Ire Dire, a premium fashion brand specialising in custom Adire attire for high-profile women, with clientele across Nigeria and the globe. She is a renowned manufacturer, businesswoman, speaker, and author with over 20 years of experience. For over a decade, she served as the Chief Operating Officer of Banrut Rolls Nigeria Ltd. A family business she co-founded and Nigeria's second-largest tissue manufacturer in Nigeria with product brands visibly represented in all 36 States of Nigeria and in some West African countries. Today, In the past 5 years, she's coached and mentored thousands of entrepreneurs, and manufacturers across Nigeria and Africa, helping them to make sense of their manufacturing business through her signature program "The Profitable Manufacturer", her book PROFIT and other programmes showing manufacturers how to navigate the business terrain to ensure they are profitable. She knows, first-hand, what it is like to be burdened with the day-to-day running of your business operations while dealing with suppliers, vendors, Government policies and unpredictable economic situations. She has a B.Sc in Business Administration, an MBA and Entrepreneurial Management Certification. She is a high-sought after thought leader and speaker at events and who has been featured on Channels TV, Arise TV, Silverbird TV, Guardian newspaper, and Bank of Industry-initiated programs. She was also on the Y-Naija 2017 power list, Business category, Richer Woman's list of 100 Most Impactful Women, 2022 among others.
Adekemi Adefisayo is a Multi-expression professional; a business consultant, strategist for social impact & a media professional. She is the author of Profitable Problems: A Guide to Building Sustainable, Inclusive & Socially Conscious Businesses from Problems Around You. The book speaks to how business can be used as a tool for socio-economic development via the approach of social entrepreneurship.
She has worked in key industries such as media, hospitality and women empowerment.
She currently serves as the Partnerships & Sponsorships Associate at IMMERSE Coaching Company where she has successfully rolled out campaigns to secure sponsorships for 500+ young ladies between the ages of 15 – 22 years gain access to human capacity development, learning resources for mindset re-engineering, and has created strategic relationships aligned to the company's goals for growth.
She is a mentor at MUAZU Africa; a social enterprise providing access to resources for female owned social enterprises.
Through her business practice, she creates business solutions for SMEs, assists business owners in building road maps and cutting-edge strategies to start and expand their companies while actively doing their part to address the myriad of societal issues that a developing nation faces. She serviced 250+ entrepreneurs through one-on-one sessions and group training over the last five (5) years while effectively running a number of businesses.
Adeola Olubamiji was born on April 3, 1985, in Nigeria, a native of Ijare area, Ondo state. She was raised in Ibadan where she attended Alafia Public Primary School and St Gabriel Secondary School, Mokola. She obtained her bachelor's degree in Physics (with Electronics) from Olabisi Onabanjo University, and later went on to obtain her master's degree at Tampere University of Technology, Finland. She received her Doctorate degree from University of Saskatchewan, becoming the first Black person to obtain a Ph.D. in Biomedical Engineering from the University.
She is currently the Director of Additive Manufacturing Solutions at Desktop Metal. Prior to that, she worked as an Advanced Manufacturing Technical Advisor at Cummins Inc. Indiana, as an additive manufacturing subject matter expert, instrumental in the development of additive manufacturing technology roadmap, also improving Cummins' laser printed 316L stainless steel.
She worked as the Lead Metallurgist and Material Engineer at Burloak Technologies from 2016 to 2018. While at Burloak Technologies, she also acted as the Principal Liaison Officer for all Burloak's and Multiscale Additive Manufacturing Lab at the University of Waterloo, Ontario, Canada.
She is the Founder of STEMHub Foundation, a Canadian non-profit that empowers and teaches science, technology, engineering and mathematics (STEM) education to students and early career professionals. In addition, she sits on the board of Health Science & Innovation Inc. Indianapolis, Indiana as the Secretary of the board. She is the chief consultant at D-Tech Centrix, an education and career consulting company, located in Ontario Canada and Indiana USA.
She was recognized in 2017 as 5th of the 150 Black women making Canada better, commemorating the 150th celebration of Canada.
In 2019, she was named one of the 10 L'Oréal Paris Women of Worth Honoree Canada.
In 2019, she was named as one of 27 Influential Women in Manufacturing Honoree in the USA.
In 2020, Olubamiji was awarded as one of 130 STEP Ahead Honoree and female manufacturing leaders by the Manufacturing Institute, USA.
She was selected as an awardee of Top 100 Canada's Most Powerful Women in 2020, under the Life Science and Technology category.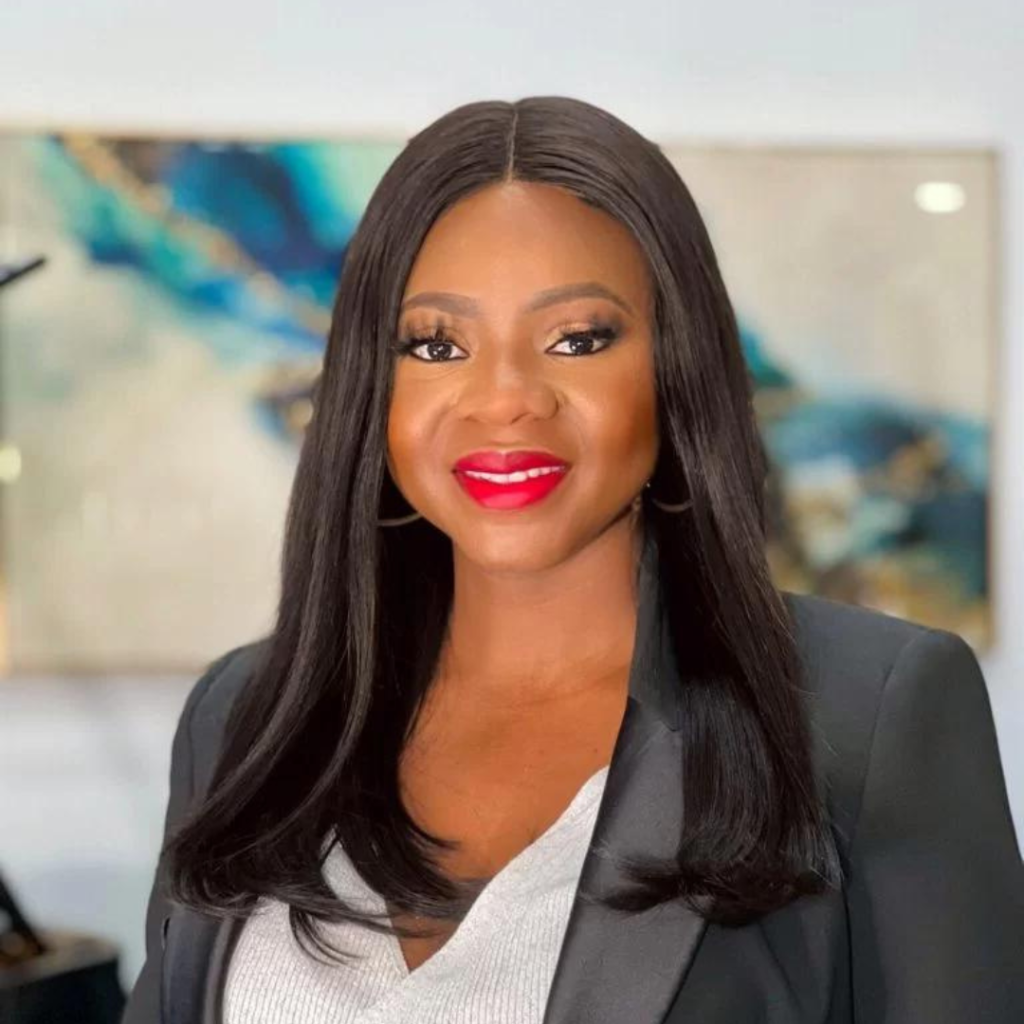 Adesua Dozie brings an impressive portfolio of expertise and leadership to her role as an Executive Director and General Counsel at Mobil Producing Nigeria Unlimited. With a distinguished career spanning globally recognized corporations, Adesua's impact is truly remarkable.
Her journey saw her serving as the General Counsel Africa for the esteemed General Electric Company, where she also co-chaired the GE Women's Network in Africa. The culmination of this journey was her appointment, effective from December 30, 2019, as an Executive Director and General Counsel at Mobil Producing Nigeria Unlimited.
Adesua's rich professional history includes pivotal roles with multinational giants like Coca-Cola, where she served as Secretary and legal advisor to the Coca-Cola Africa Foundation. Her contributions extended to other industry titans such as Elf Petroleum (now Total Upstream), and her legal prowess was further demonstrated through her tenure with the distinguished law firm of Ajumogobia & Okeke.
A highlight of her career is her lead advisory role in numerous high-value infrastructure projects across the African continent. Through this, she has championed regional growth, strengthened corporate governance, and cultivated compliance cultures in diverse business communities. Her unique ability to navigate the intricate relationship between purpose, profit, and risk has positioned her as a guardian of these vital dynamics.
Beyond her professional accomplishments, Adesua is an ardent advocate for diversity and inclusion, valuing differences in age, thought, gender, and race. Her commitment to these principles is underpinned by her firm belief in their significance as essential business imperatives.
Adesua's role as General Counsel extends beyond legal advisory; she envisions the power of General Counsels and legal teams in multinational organizations to drive robust corporate governance across Africa. This, in turn, ensures the sustainability of businesses and the development of the communities in which they operate.
With a profound impact on corporate governance, regional development, and the principles of diversity and inclusion, Adesua Dozie is an exemplary leader and advocate, shaping the future of business and communities across Africa
Adetutu Oyekoya has a burning desire to see people deliberately make lifestyle choices that would not just improve their individual wellbeing, but the wellbeing of people around them. She is a pharmacist and a seasoned serial entrepreneur, who thrives on expanding horizons and testing limits to create new avenues for maximum productivity.
As a pharmacist and seasoned serial entrepreneur, she is persistent on expanding commercial horizons and testing limits to optimize productivity. This drove her ambition to start Wellness, a community pharmacy practice in 2007, borne out of her keen interest in affordable and accessible health care for community members. Wellness has recently evolved not just to a Health Insurance company but also to a platform for Wellness advocacy and education.
An avid proponent of value creation for all stakeholders and driven by excellent service delivery, she enjoys building sustainable processes that improves organizational effectiveness and efficiencies.
Adaora is a Software Engineer at Microsoft, where she builds cloud services and High-Value Experiences related to Artificial Intelligence and Mixed Reality. She is also the co-founder of unStack Africa, an open-source meetup for software developers.
Adora is a first-class graduate in Computer Science from the University of Lagos, Nigeria. She started her software development journey with Neukleos as an intern in 2016.
In 2018, she created the AdoraHack blog, where she publishes stories on software development, productivity, and career growth. By 2019, Adora was an Associate Software Developer at Neukleos and a co-founder of unStack. In the same year, she created her YouTube channel AdoraHack, where she produces content relevant to the software developers' community.
Adora has lots of volunteer experience with so many organizations including, Andela, Full Stack Developers Lagos, and Microsoft LEAP Apprenticeship.
Ajoke is a Strategic Human Capital Manager and also a result oriented professional with more than a decade banking experience covering client acquisition, deal origination and closure, relationship management of large corporates and more, currently with FirstBank.
Adeola loves singing,  good music,  travelling,  meeting new people.  She believes that she is constantly evolving and looks for ways to be a better version of herself.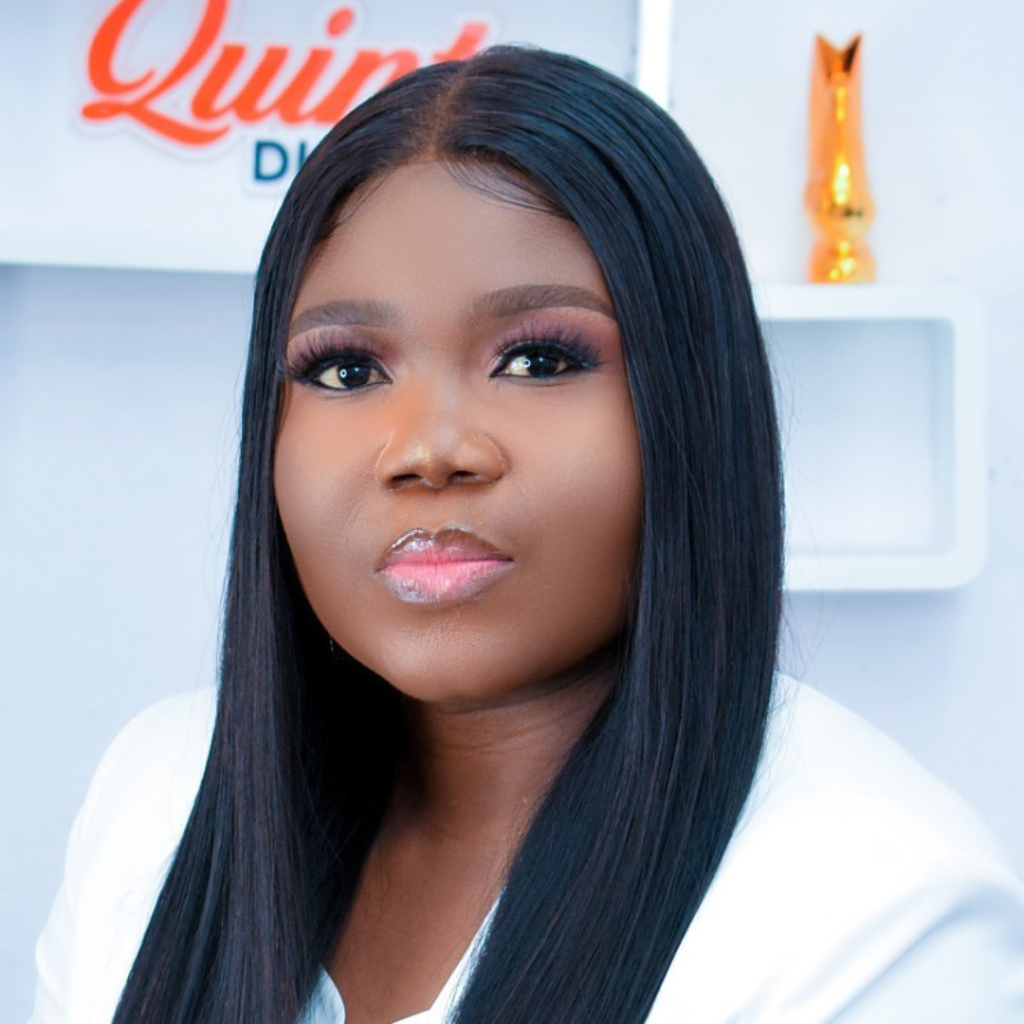 Ayanfeoluwa Wole-Ojo is the Lead Trainer at Quints Diction and Social Polish Academy. Quints was born out of her passion to see a transformed society through polished speech, public speaking, and social polish.
She traversed the whole gamut of vocations on radio and television; serving at various times as a Newscaster, Presenter, Reporter, News Editor as well as News and Programmes producer. She resigned from active broadcasting in 2015 to teach Elocution and Social Polish full-time. 
She has a certificate in Phonetics from the University College, London, a Masters Degree in Communication Arts from the University of Ibadan. She was trained and certified by the British Council, Cambridge English, and TESOL to teach the English Language the world over. Ayanfeoluwa has attended many international training sessions on Communications, Elocution, Business Writing, Public Speaking, Image Consulting, Social Polish, and Jolly Phonics. 
She was the pioneer and founding President of the Association of Diction Coaches of Nigeria (ADCN). She currently serves as the Chairperson on the Board of the Association.
Ayanfeoluwa is the personal Elocution and Social Grooming Coach to First Ladies, top government functionaries and company directors. She also trains and consults for corporate organisations.
She is the Trainers' Trainer as she has trained and certified thousands of Educators, Diction Coaches as well as individuals on Elocution, Phonics, and Social Polish.
Coach Q, as her clients often refer to her, is the author of eight (8) different Diction Books for adults and children alike.
Ayo Mairo-Ese (nee Thompson) is a multiple award-winning Broadcaster, Event Compere and Public Speaker. She is a News Anchor at Arise News Channel, co-anchoring Nigeria's foremost breakfast show – The Morning Show.
Prior to working at Arise News, she co-hosted the widely acclaimed breakfast show on Smooth 98.1FM 'Smooth Breakfast". She began her career in media on TV with Cool TV in 2014 as a co-host on the popular talk show 'The Blog'. As part of her duties, she produced content for the daily show. 
As an Event Host, Ayo has hosted big-budget events and productions including the Presidential Enabling Business Environment Council (PEBEC) Awards, Access Bank / Diamond Bank Brand Identity Launch, Annual UBA CEO Awards, Stanbic IBTC's Arts and The Acts Event (for High Networth Clients), Arise Women's Conference, Stanbic IBTC Young Leadership Series and the Lagos Chamber of Commerce and Industry (LCCI) Awards.
Passionate about women, she serves as a 'Super Mentor' for the First City Monument Bank (FCMB) SheVentures program for women in business and is a role model to women and young people serving as an advocate for promoting and empowering Nigerian women, using her media platform to support women as much as possible. She is also a sought-after Speaker at conferences.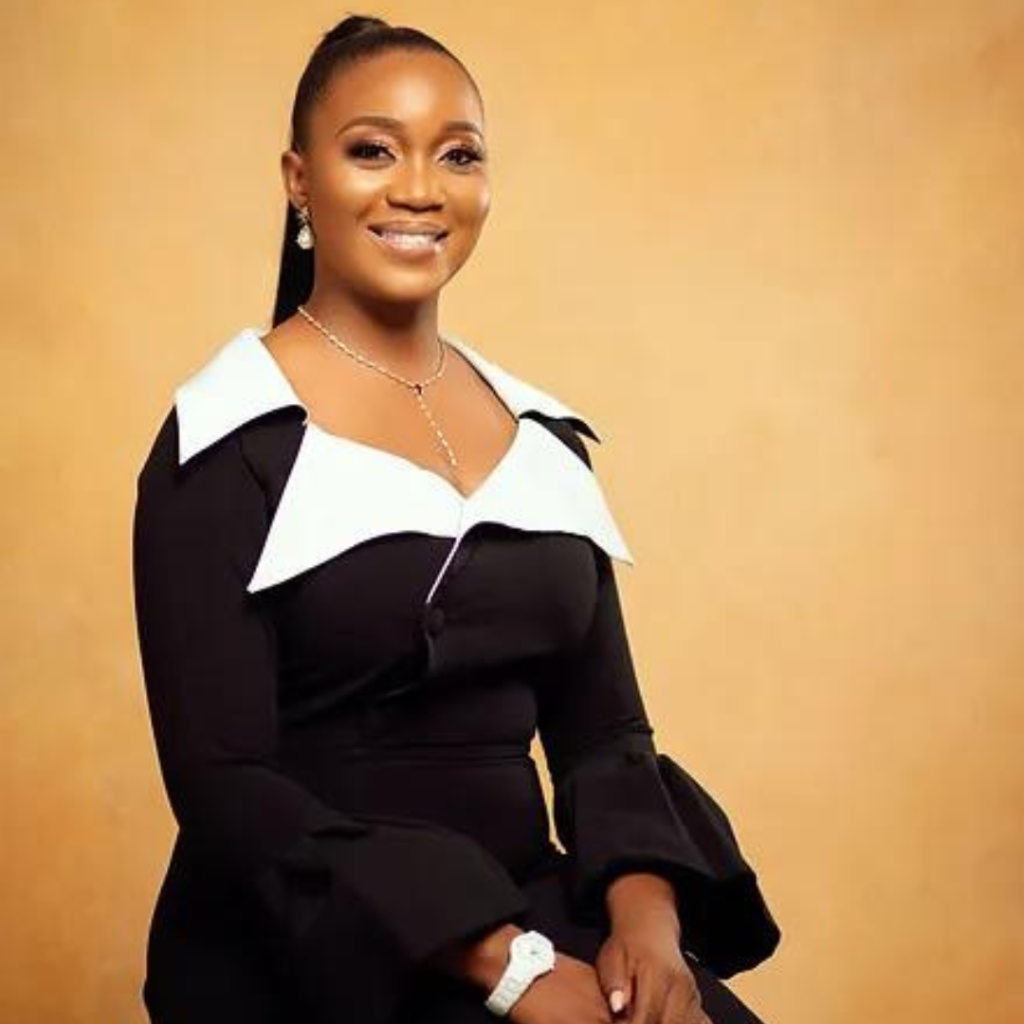 Bukky Asiende is a dedicated entrepreneur, known as the founder of Bellafricana and esteemed Nigeria Champion and Ambassador to Creative Small Businesses. With an impressive 8-year journey in this role, she has gained a unique and privileged insight into the entrepreneurial world.
Through her experiences, Bukky has been witness to the incredible journeys of passionate creative founders. Her honor lies in supporting, inspiring, and championing these entrepreneurs as they pursue their dreams.
Her vision was to establish a nurturing space that empowers and supports these entrepreneurs on their journey to create purpose-driven enterprises while pursuing their passions.
Fondly known as the Creatives Mother Hen, Bukky Asiende embodies the role of a sounding board, coach, cheerleader, mentor, and friend to these aspiring entrepreneurs. Her unwavering presence and support stand ready to accompany them every step of the way.
Bunmi Adeniba is the Marketing Director of Coca-Cola Nigeria Plc is a seasoned marketing professional and commercial operator renowned for her expertise in leveraging consumer insights and end-to-end manufacturing processes to create value for multiple stakeholders. 
She has served as the Marketing Director of Unilever Nigeria and is the Acting President of the Advertisers Association of Nigeria (ADVAN). Additionally, she holds the role of Vice-President at the World Federation of Advertisers (WFA), where she contributes to enhancing marketing effectiveness and advocating for effective advertising self-regulation.
Her ability to quickly grasp and implement strategic directions is highly commendable, and she is known for her willingness to learn and share knowledge. With over two decades of experience, she excels in brand building, innovation design, and quality management systems.
She is passionate about women empowerment and developing exceptional leaders, she has been recognized as one of the fifty Ladies in corporate Nigeria by Leading Ladies Africa and Brand Communicator's top 50 women in marketing and communication in Nigeria.
 Bunmi George is the Founder of ShredderGang, a professional nutrition and fitness company committed to helping individuals lead healthier and happier lives. She is an alumni of the University of Toronto, where she obtained two degrees. One of Africa's youngest and brightest in her field, Bunmi established ShredderGang without financial capital at the age of 24, drawing inspiration from her own personal weight loss journey and subsequent transformation. She has since grown the organization to be Nigeria's largest commercial health and fitness community, replicating her testimony in many other people. A well-celebrated expert, Bunmi was recognized as One of Nigeria's 100 Most Inspiring Women by Leading Ladies Africa in 2017. In 2019, she was recognized as Top 25 women to look out for by Genevieve Magazine. She was also awarded by TSC as one of the Top 40 entrepreneurs in Nigeria. In 2022, the Governor of Lagos state recognized Bunmi as one of the EKO100 women contributing the economy of Lagos state. Ranks Africa awarded Bunmi in 2023, as 100 Top Female Founders in Africa.Her passion to help people discover healing emotionally and physically motivates her to speak regularly on various platforms like Wimbiz Annual Conference, Fate Foundation Conference, The Richer Woman Conference to name a few. She was a contributor at The Guardian Newspaper, Guardian Life Magazine and TW Magazine where she furthered.
Busola Komolafe is a highly accomplished and internationally recognized Filmmaker, holding prestigious awards for her outstanding work in the industry. As a Certified TV Producer and Content Specialist, she possesses a wealth of expertise in the realm of TV and Streaming platforms.
With over 15 years of experience in the field, Busola's understanding of TV/Film Production and commissioning processes is unparalleled. Her expertise spans across both scripted and unscripted Formats, showcasing her versatility and creativity.
Combining her managerial knowledge with strong creative skills, Busola is driven by a passion for problem-solving and achieving remarkable outcomes. Her dedication to excellence fuels her commitment to producing not just good, but truly exceptional results.
Carol an adaptive people leader who uses extensive project development expertise to enable transformation through technology, collaborative ways of working and strong strategy execution skills.
She is an advocate for life-long learning and continuous improvement. she values being authentic, family, harmony, helping people to unlock their best self and mutual respect for individual personality. she advocates for intrapreneurship, growing people and teams' capability through coaching and mentoring.
She is a certified Agile Coach, Digital Transformation delivery expert, PMO Director, Change Leader, and aspiring Career Transition coach. She speaks at Conferences, facilitate professional meetups and She is a community advocate for Business Agility as a transformation strategy. Outside work and volunteering, she loves spending with family, writing, watching movies, teaching young adults, mentoring, and coaching.
Chinyere Kasakwe is the Founder ,Global Trailblazers Network, a platform that inspires women and young girls creating networking opportunities for professionals/ entrepreneurs and the Chief Executive Officer of Brainup Solutions LLC, a United States based company that provides recruitment support, professional business training, ideation, strategic branding, and consultancy services helping individuals and organizations build their brands from idea to global recognition.
She has supported several young individuals over the past 5years, working with them towards building their career and businesses. Not only will she help design a program that's right for you based on your own needs and goals,she's also there every step of the way to provide support and unlimited coaching throughout the process.
Her passion for growth and excellence propelled her to launch her podcast "The Trailblazing Life" where she shares inspirational thoughts to help individuals live their best life.
She is a certified HR Professional,Project Manager,Customer service expert and speaker currently working with a marine firm Kas Oil and Gas. She has graced various stages and TV shows where she has impacted individuals positively.
She is the author of The Trailblazers yearly planner, Got Goals and My Preggo Affirmations.
As a serial entrepreneur, she owns several small businesses some of which are 2nice Luxury, a beauty brand and Bryankas kids store, an online kids storez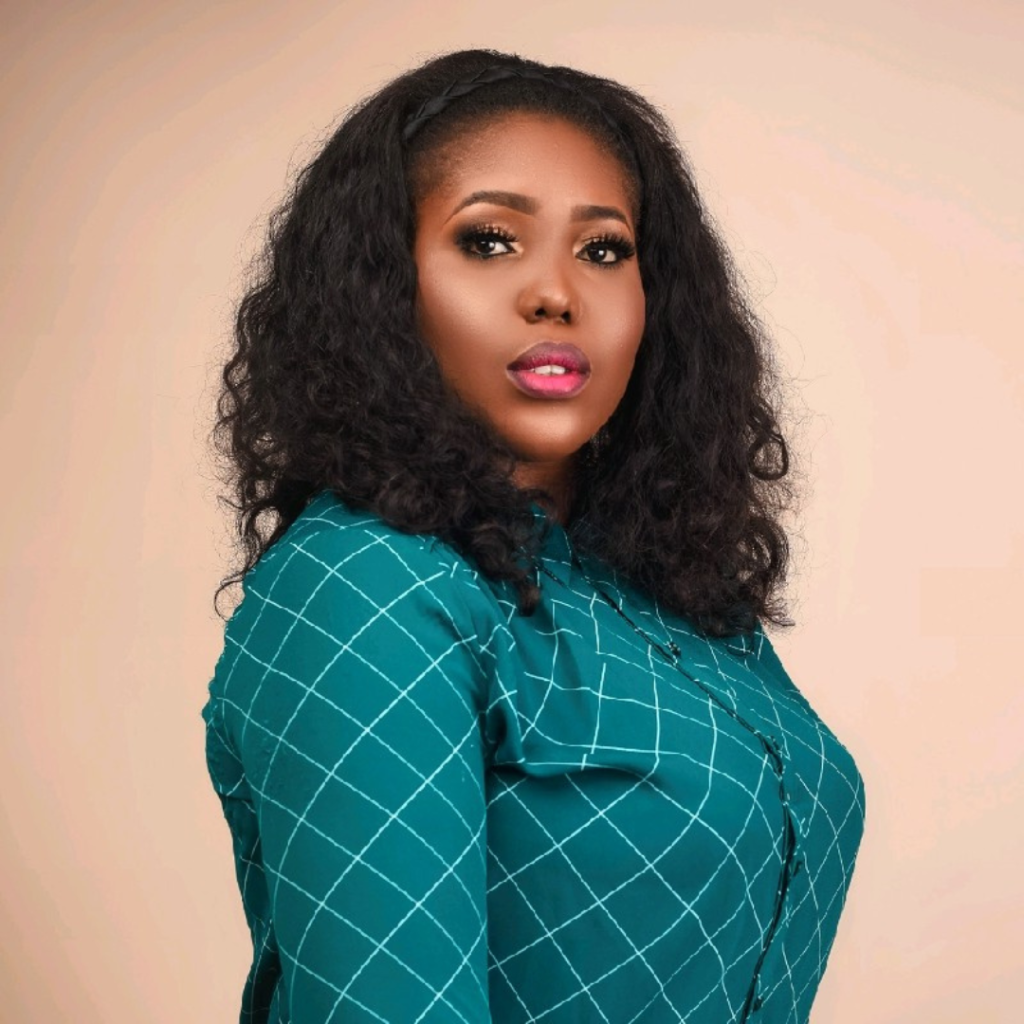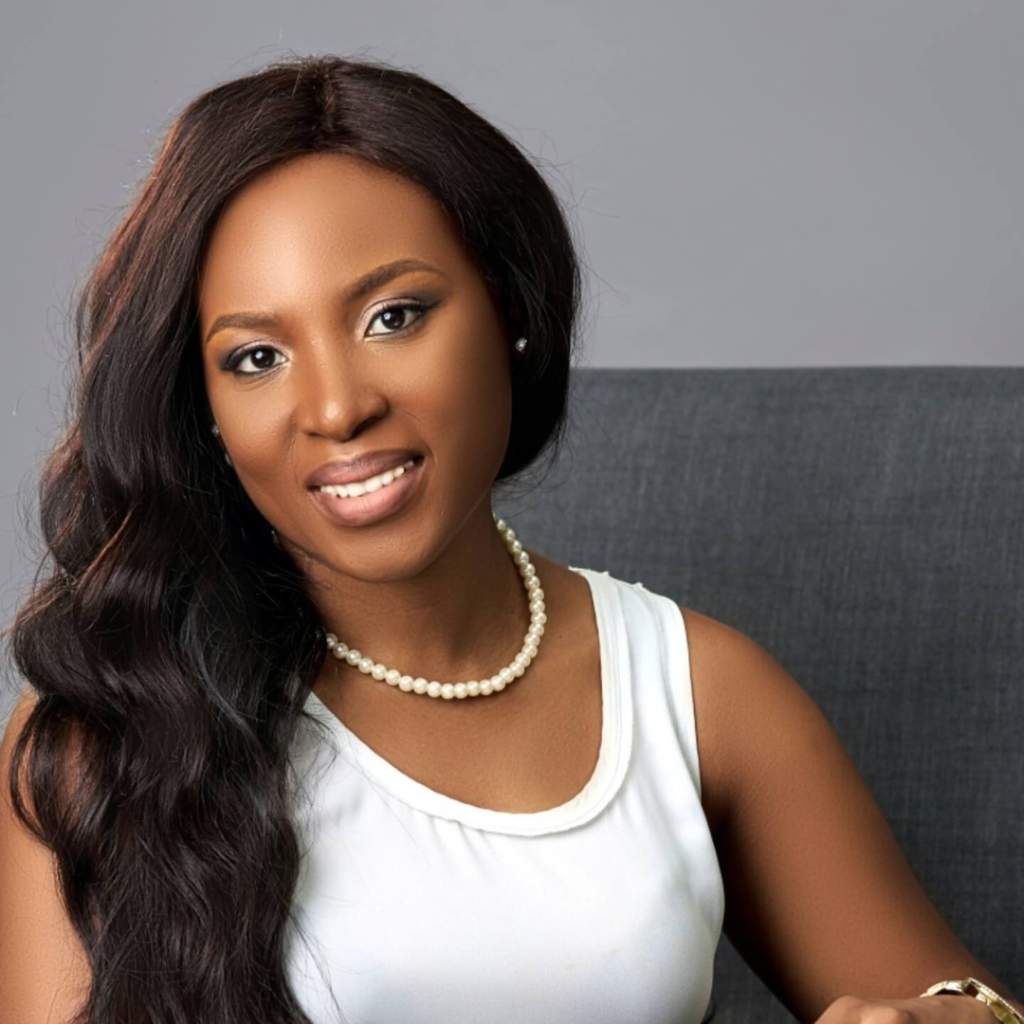 Cynthia (Obioha) Marcus (IESE Global Executive MBA in-focus) is a creative and astute leader, who enjoys working in a progressive, leading and fast-paced organisation where she is able to engage in technology, business and process development therefore helping in achieving organizational goals and targets. She has over 13 years of experience in strategically building and solving problems with technology for everyday users and businesses, addressing painpoints and needs while staying informed on emerging market trends.
With an entrepreneurial spirit, she is not afraid to take on new challenges, Cynthia is a great team player with an outstanding history of positive stakeholder interactions (internal and external) across the world, a track record of impactful projects; her in-depth experience in introducing innovative solutions through design thinking and leading through change to yield impact is one to be sought after. Coached her teams to deliver excellently in the same manner.
She is a global citizen having lived and worked in three continents (Asia, Europe and Africa) and covered multiple markets through her direct and indirect responsibilities at Meta (Facebook London, Dubai covering Middle East and Africa) and Google (Lagos, Nigeria then London, UK covering Sub-Saharan Africa and Europe) driving emerging market growth strategy. She is currently living in Dubai, UAE with frequent intercontinental business travels across the EMEA region and USA.
Damilola Odufuwa, a multi-faceted individual with a passion for technology, women's rights, and efficient processes. As a tech entrepreneur, communications executive, and women's rights activist, she brings a unique blend of skills and experiences to her endeavors.
Damilola's love for travel and efficiency led her to create Backdrop, a revolutionary travel app and social network. Through Backdrop, she aims to simplify location discovery and trip planning for Gen Zs and millennials, making it easier for them to find and share beautiful places effortlessly.
Beyond her entrepreneurial pursuits, Damilola is a strong advocate for gender equality, particularly financial equality. She firmly believes that blockchain and web3 technologies can play a pivotal role in achieving this vision, empowering individuals financially.
At the core of Damilola's interests lies the intersection of travel tech, women's rights, communications, and web3. Her drive to make a positive impact in these domains showcases her dedication to creating a more inclusive and efficient world, where technology is harnessed for the betterment of society and gender equality.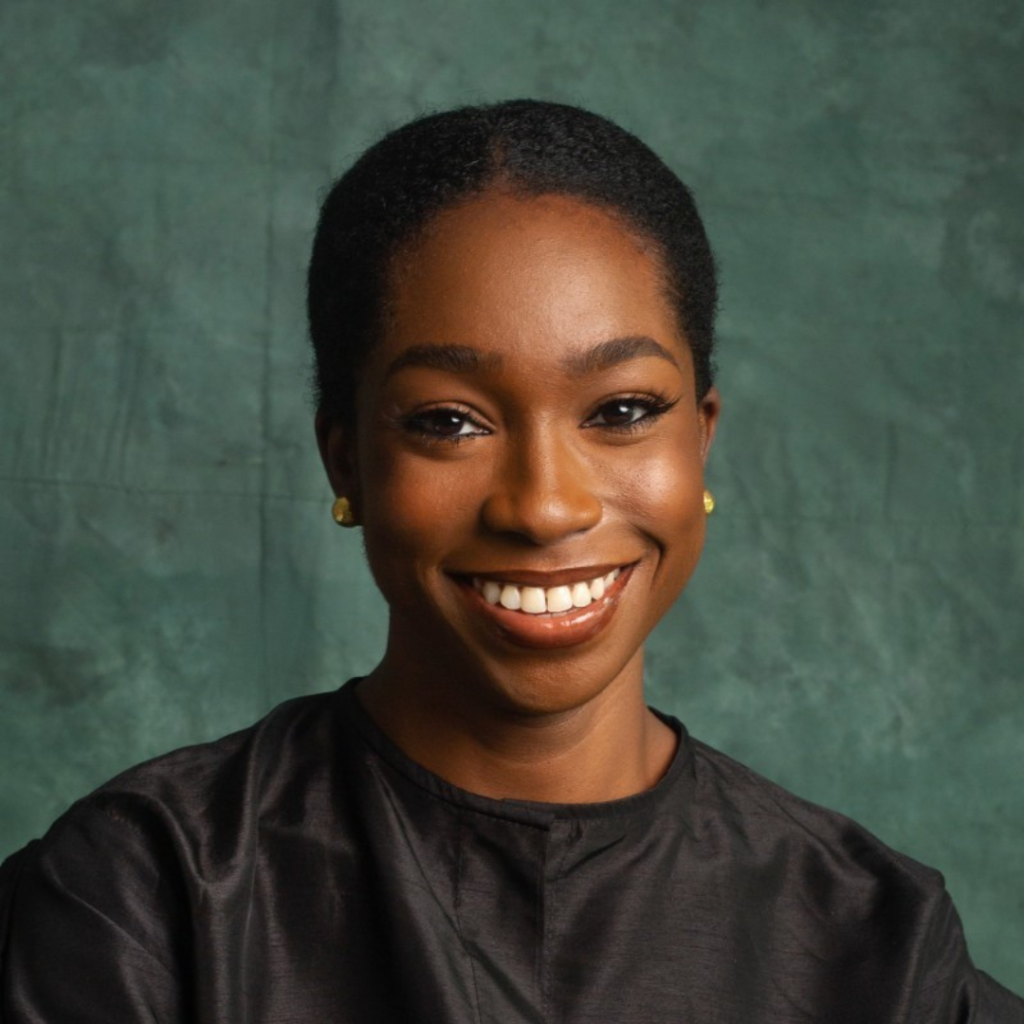 Debbie Larry-Izamoje is an accomplished and dynamic leader, currently serving as the Chief Operating Officer of Brila Media. Brila Media stands as Africa's Pioneer Sports Radio Station, an official partner of the Nigeria Football Federation, and a sports media powerhouse continuously leading the sportainment industry in Africa.
As a young and charismatic leader, Debbie is deeply passionate about sustaining and enhancing Brila Media's legacy. With an unwavering focus on transforming the sports media landscape in Africa, she leads a vibrant team of sports media enthusiasts on a mission to revolutionize storytelling, employ up-to-date digital strategies, excel in stakeholder management, and implement innovative systems.
Debbie holds a BSc in Information Management from the University of Sheffield, United Kingdom, and an MSc in Management from the esteemed University College London. Her dedication to continuous learning and personal growth is evident through certifications in Innovation and Strategy from Harvard University and User Innovation from the Massachusetts Institute of Technology (MIT).
At the intersection of Sports, Digitization, Communications, and Business Transformation Processes, Debbie Larry-Izamoje thrives in connecting businesses, both old and new, to contemporary relevance in the current digital age.
Beyond her role at Brila Media, Debbie has contributed significantly to the sports industry's advancement. She served as a digital communications strategist for the Management Committee of the Nigeria Women Football League, led by Aisha Falode, playing a vital role in the league's identity rebrand in 2020. Similarly, she made a substantial impact as part of the management team for Nigeria's First Lady's Invitational tournament in 2021.
Debola Adebanjo is a versatile communications professional with a decade of experience in the sports industry. Her expertise lies in engaging diverse audiences across various platforms, with a focus on bridging the gap between athletes and brands through compelling storytelling, digital media, marketing, communications, and partnerships.
Her journey in sports communications began in 2012 when she embarked on a rewarding adventure as a self-taught freelance presenter, analyst, and reporter, curating independent content across radio, TV, and social media. She decided to pivot from her Microbiology background to pursue her passion for sports communications, a decision that ultimately led her to a rewarding career in the field.
Debola's impressive journey continued with a significant role at the British Broadcasting Corporation (BBC), where she spent four years covering sports in Africa. During her time at the BBC, she reported, presented, and produced both underreported and mainstream stories of athletes from the continent, further establishing her reputation as a skilled and dedicated professional in the sports media landscape.
Currently, Debola Adebanjo is contributing her expertise to FIFPRO – the global football players union, where she continues to make a positive impact in the sports industry, particularly in football.
Passionate about empowering the next generation of media professionals, Debola is the founder of Media Masters, a non-profit organization aimed at providing opportunities for young people to enter the media industry.
Driven by her desire to create meaningful content, Debola is set to launch Story Inn, a podcast production company with a vision to tell African stories that resonate with audiences. Her dedication to building useful services and products that people need reflects her commitment to making a positive impact through her work.
 Dr. Esther Longe is a Transformative Leader with a compelling journey of resilience and purpose. Surviving a plane crash in 2006, she overcame survivor's guilt and depression through a revelation from God. In 2014, another revelation aligned her life with God's heart, setting her on a liberating path of impact and purpose.
Her vision is to raise societally relevant Christians who shine in all aspects of life. Driven by her calling, she reconnects people to intimacy with God, breaking past strongholds and limitations, and launching them into a God-scripted future.
As a speaker, author, teacher, and encourager's encourager, Dr. Esther Longe simplifies complex issues into actionable concepts for transformation. She is also a Unicorn leader, empowering individuals to embrace their uniqueness and discover their strengths, joy, calling, and anointing.
Founder of God in Real Life Outreach, Dr. Longe's ministry fosters intimacy with God and meaningful encounters in everyday life. Her initiatives include Broken, God in Real Life, The Alternative Business School (TABS), and the G.O fellowship.
With a background in marketing, she holds a BSc. in Mass Communication from the University of Lagos, as well as a Masters in Marketing from the University of South Wales, UK, and a Masters in Research and PhD in Marketing from the University of Bath, UK.
Her expertise has been employed by renowned global brands like PwC, GT Bank, Pizza Express, and Wrigleys. Additionally, she has contributed as a Super Mentor for the FCMB Sheventures Programme and serves as a facilitator for the Africa Green Grant award. Dr. Esther Longe is deeply committed to rekindling people's connection with God and empowering them to radiate their God-given light.
Dupe Akinsuin is an award-winning, certified Executive Career Coach and Human Resources professional with about 15 years of progressive experience across multiple industries in Africa, North America and Europe. She is an alumnus of PricewaterhouseCoopers and other top multinational organizations like AstraZeneca and Coca-Cola HBC
Dupe is reputable for using her proven systems and methodologies to propel growth-minded, high-potential mid-level career professionals into senior management roles with increased impact, influence and income.
She's a member of the Forbes's Coaches Council, a certified professional by leading HR institutes in North America (SHRM, HRCI, HRCA) and a member of the John Maxwell Leadership team. She's a certified DISC Behavioural Consultant
She is a 2018 Mentor to the Queen's Young Leaders across the Commonwealth nations, a 2020 Leading Ladies Africa Top 50 Corporate Ladies in Nigeria. She was named one of the top HR Influencers in Nigeria, top 10 LinkedIn Personalities, a Premium Content Creator – Leadership category by the Revenue Leaders Awards.
She is the author of the Blueprint for Career Success workbook, a self-help guide to help working professionals excel in their chosen fields. She is also the Lead Mentor at the Career Mentoring Bootcamp with Dupe Akinsiun.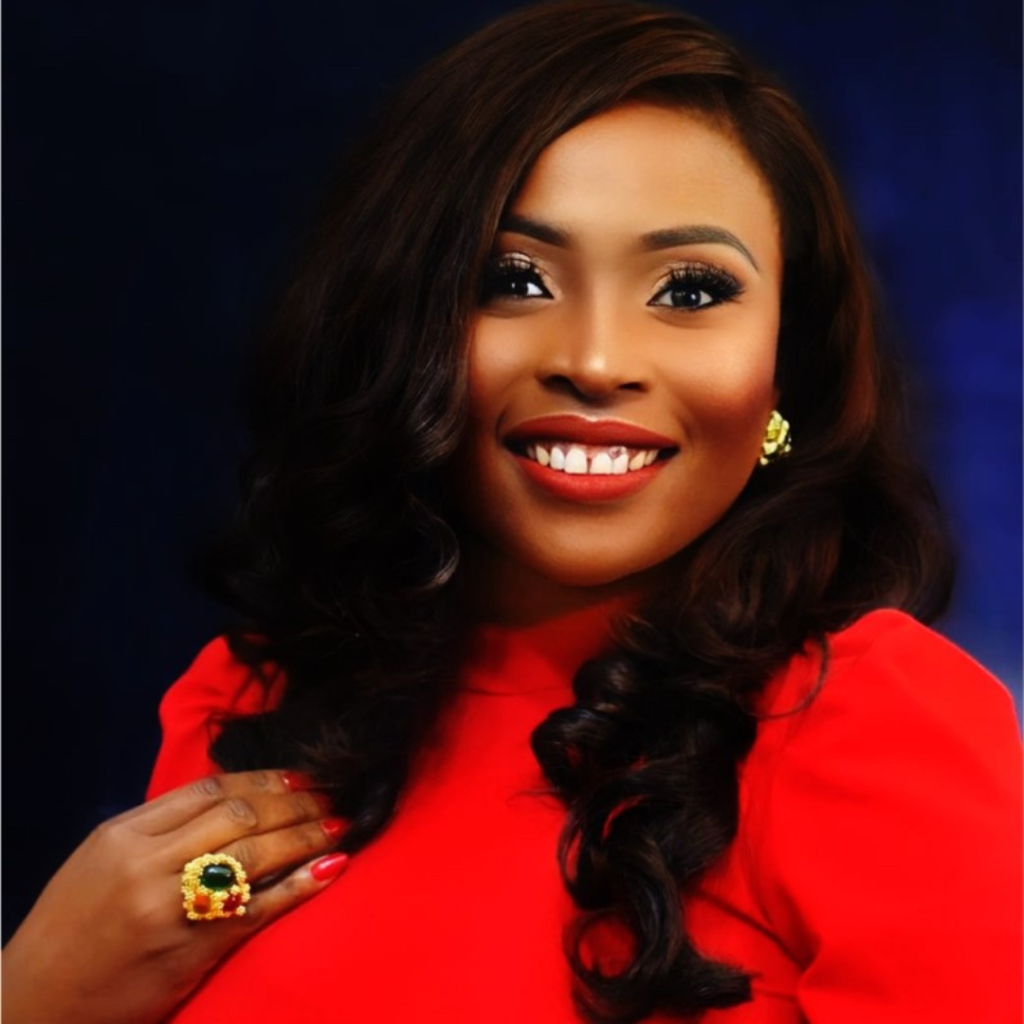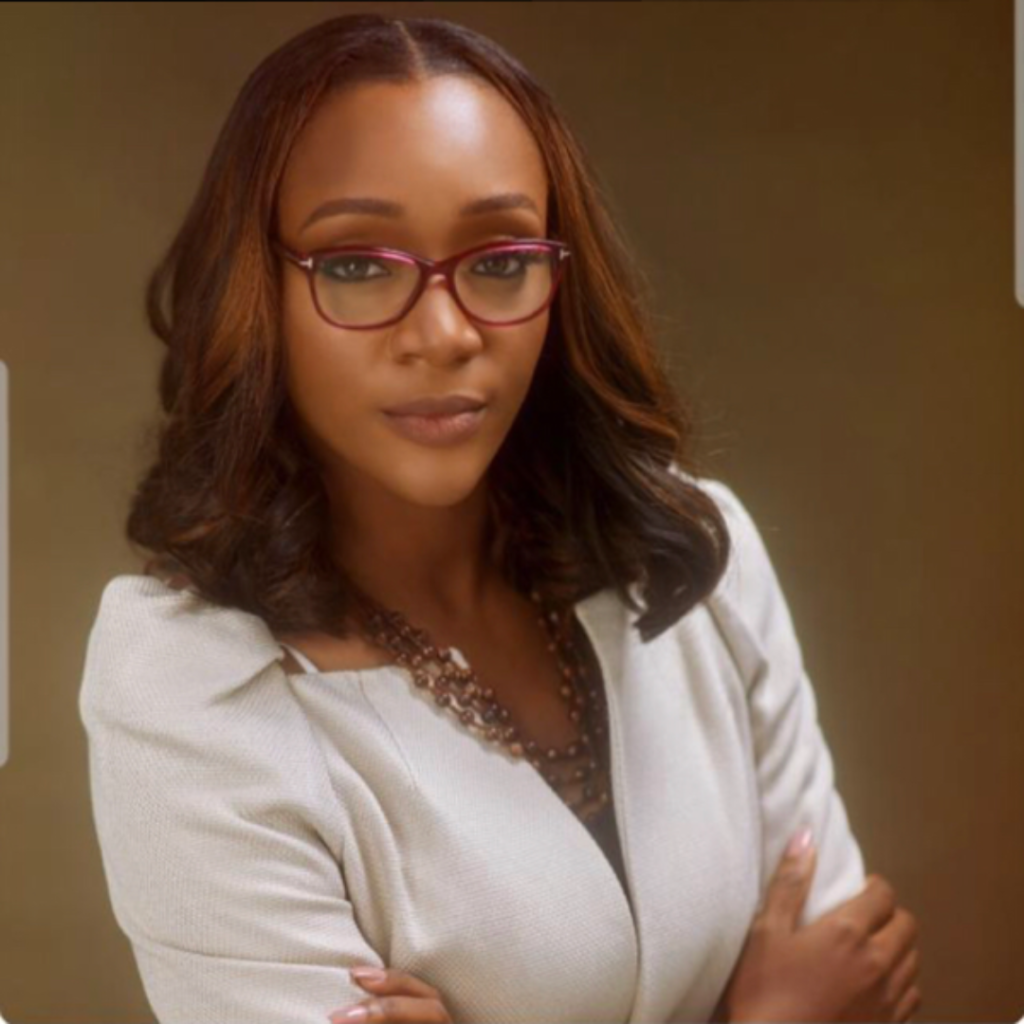 Eniola widely described as a brand-building enthusiast who has recorded many successes with an outstanding product launch that wowed audiences and left clients with remarkable experiences for close to one decade, She has followed her passion for gaming where she is working with equally enthusiastic partners to set new standards.
As the CEO and cofounder of Africa's leading gaming platform, Gamr, she is committed to helping gamers discover and organise tournaments, build communities, increase viewership and get rewarded while projecting Africa's talents to the world.  
She cultivated an interest in gaming from a previous assignment as TechPlus Nigeria's general manager. While performing that duty, Edun was the head of a team that produced one of Africa's largest tech events.  
Eniola is in the vanguard of those who made it possible for the tech-savvy youth population to take more than a passing interest in Esports by bringing together all the thought leaders in related industries, including gamers, innovators and investors. She is also the cofounder of AWARRI, a robotics and AI startup.
 Eniola Mafe Abaga currently serves as the Global Advocacy and Partnership Director at Bridges to Prosperity (B2P), leveraging her 15+ years of experience in sustainable development, stakeholder engagement, and strategic planning in developing countries. Previously, Eniola was instrumental in leading several advocacy coalitions at the World Economic Forum. She was behind the development of the OneMap and 2030 Vision Initiatives, focusing on the use of geospatial data for planning and leveraging 4IR technologies to expedite Sustainable Development Goals respectively. Her leadership also extended to Digital Earth Africa, promoting the use of earth observation data in policy decisions.
Prior to her role at the Forum, Eniola managed a $90M corporate social enterprise for Chevron in Nigeria, geared towards systemic change in the Niger Delta region. She served as a technical advisor on Social Investment for the Government of Nigeria and was a program manager for Africa at Vital Voices Global Partnership. Eniola co-founded #TheNewNigerian, a thriving online community of 50,000+ members that emerged from the #Endsars movement, dedicated to reimagining a prosperous future for Nigeria through collective action.
Recognized as one of OkayAfrica's 100 Women in Africa in 2018, Eniola holds an M.A. from Georgetown University School of Foreign Service and a B.A from Spelman College (Phi Beta Kappa).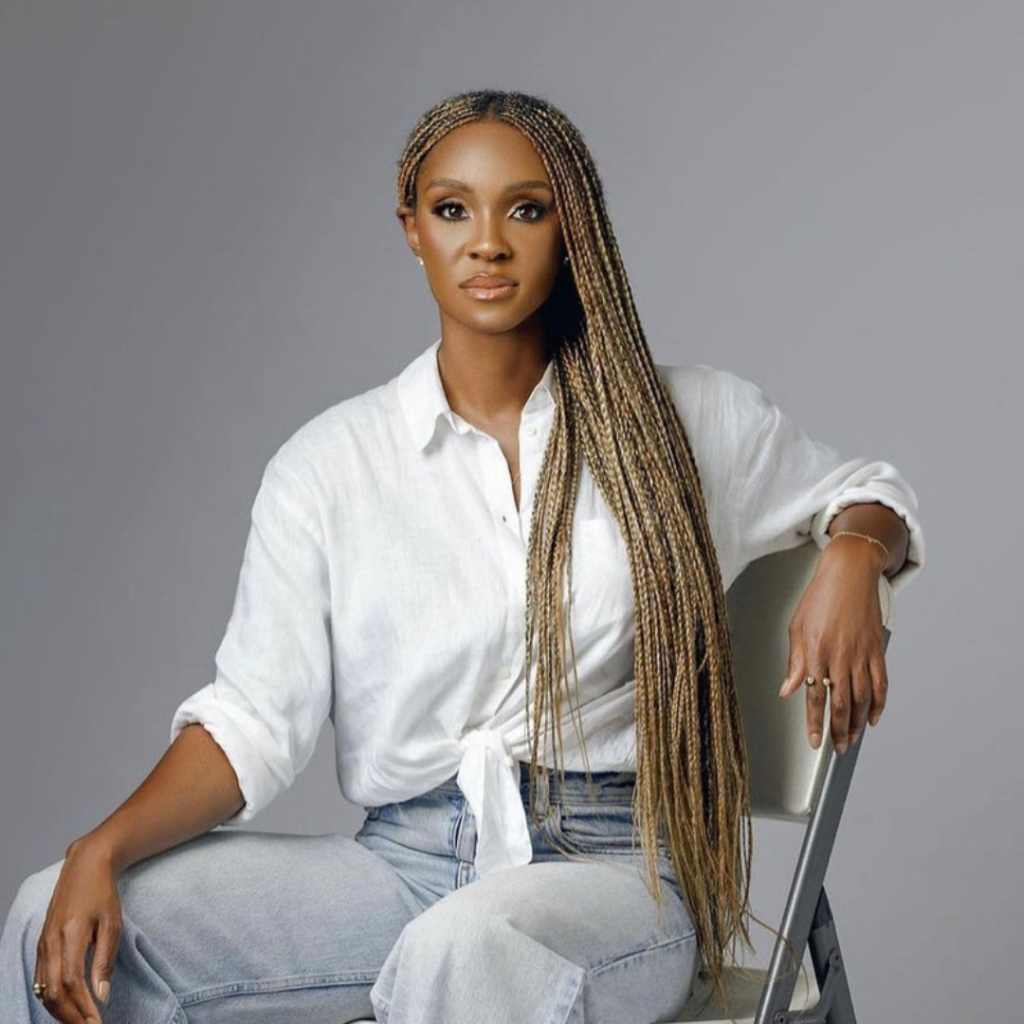 Damilola Olokesusi is a visionary entrepreneur and the co-founder and CEO of Shuttlers, a Nigerian technology-driven transportation startup. Founded in 2015, Shuttlers is transforming commuting experiences for professionals and organizations in bustling cities like Lagos and Abuja.
Under Damilola's leadership, Shuttlers provides a tech-enabled solution that allows users to share rides to and from work in corporate buses, significantly improving commuting time and reducing costs compared to traditional ride-hailing services. The company's success and impact have been evident through its remarkable growth and a $1.6 million seed funding secured in 2021, paving the way for expansion into other African metropolitan cities.
Beyond business success, Damilola is committed to creating a positive social impact. Shuttlers' innovative approach has led to a decline in traffic congestion and carbon emissions, as professionals now have the option to share comfortable, air-conditioned bus rides, resulting in fewer private cars on the road. Additionally, she launched the "She moves Shuttles" initiative, an all-female shuttle service that has empowered over 600 female professionals, making their commuting easier and providing opportunities for learning and development during travel.
Damilola's dedication to empowering women entrepreneurs is evident through her involvement with organizations like Impact Hub and Harambe Entrepreneur Alliance. She actively supports other women in Nigeria to help them grow and succeed in their respective ventures.
Her remarkable achievements have garnered international recognition and prestigious awards. Notably, she was selected as one of the Most Influential Women in Mobility 2022 by Vulog and is a Forbes30Under30 (2019) recipient for Technology. Her accolades also include the Digital & Tech Award at the Women in Africa Contest in Morocco in 2017, as well as grants from institutions like Airtel's Sahara, GEM-WorldBank, and Ford Motors Company.
Damilola Olokesusi's trailblazing journey as a technology entrepreneur is set to continue leading innovation in the transportation and technology sectors, making a lasting impact on Nigeria and beyond.
 Fara Ashiru Jituboh is the Co-Founder and Chief Executive Officer of Okra Inc., a Fintech Nigerian-based super connector that allows for the exchange of real time financial information between customers, applications and banks.
Being a Software Engineer, her business idea sprung up from her desire to solve her challenges. Specifically, she could not use her fintech apps in the United States to manage her finances when in Nigeria.
Okra is Africa's first Application Programming Interface (API) Fintech. Fara is an expert in over 20 programming languages. Although she is a Nigerian, she grew up in the United States. She believes that the daily problems we face are actually opportunities to develop solutions. Go Fara! CCTLF celebrates your giant strides
Jennifer Awirigwe (Financial Jennifer) a certified financial instructor, chartered stockbroker, and the dynamic force behind Fintribe. With an unwavering passion for women and their financial empowerment, she is known as the Women Money Cheerleader, leading one of the most engaged financial communities on Instagram with over 100,000 dedicated followers.
As the founder of Fintribe, Jennifer established the first and largest women-only finance community in Nigeria. Fintribe serves as a powerful platform for women's economic empowerment, focusing on financial literacy, capacity building, community support, and a savings platform.
Her outstanding contributions to women's empowerment have earned her recognition, including being listed among the Top 50 Rising Motherland Moguls 2023 by She Leads Africa and the Top 100 Creators in Africa by Selar.
Jennifer is a seasoned professional with a background in various industries, including Auditing, Aviation, FMCG, and Investment Banking. As a Chartered Accountant and Investment Analyst, she brings years of experience and expertise to her work. Presently, she plays a crucial role in a top Investment Bank, specializing in Fixed Income, Securities trading, and Fintech Treasury Operations.
With her deep knowledge and commitment to financial education and empowerment, Jennifer Awirigwe continues to inspire and uplift women, fostering positive change in the financial landscape and empowering women to take control of their financial destinies.
Folake Soetan Owodunni is a Co-Founder at Emergency Response Africa. Folake is dedicated to making healthcare accessible in Africa, she is a skilled communicator and Prosci-certified Change Management Practitioner with over 9 years of experience in healthcare, non-profit, consulting and higher education sectors in US, Nigeria and Canada. She has a passion for solving problems and gets energised by opportunities that require critical thinking, building new systems, storytelling, communicating with diverse audiences, leadership and project management.
They are building the largest network of First Responders, emergency response vehicles, and verified Emergency-Ready hospitals across Nigeria who are connected to emergency victims using their technology application.
Earlier in the year, Folake spent four days in San Francisco as part of the Silicon Valley Olympiad, a tour sponsored by the Japan International Cooperation Agency (JICA) as part of their Next Innovation with Japan (NINJA) start-up competition for Africa, with support from Double Feather Partners and 500 Global.
Emergency Response Africa was one of seven Nigerian and Kenyan start-ups that attended the trip and what an experience it was. "As a founder, some of the best support and advice I have received has come from other founders, especially those who were further along. This trip was no different." Folake said.
The 5 things she learnt from the trip includes: You can engineer creativity and innovation, patience and persistence produce the greatest results, dig deep and build for long term, ask for help and be generous with yours and surround yourself with passionate people because "it is like getting a booster shot" she stated.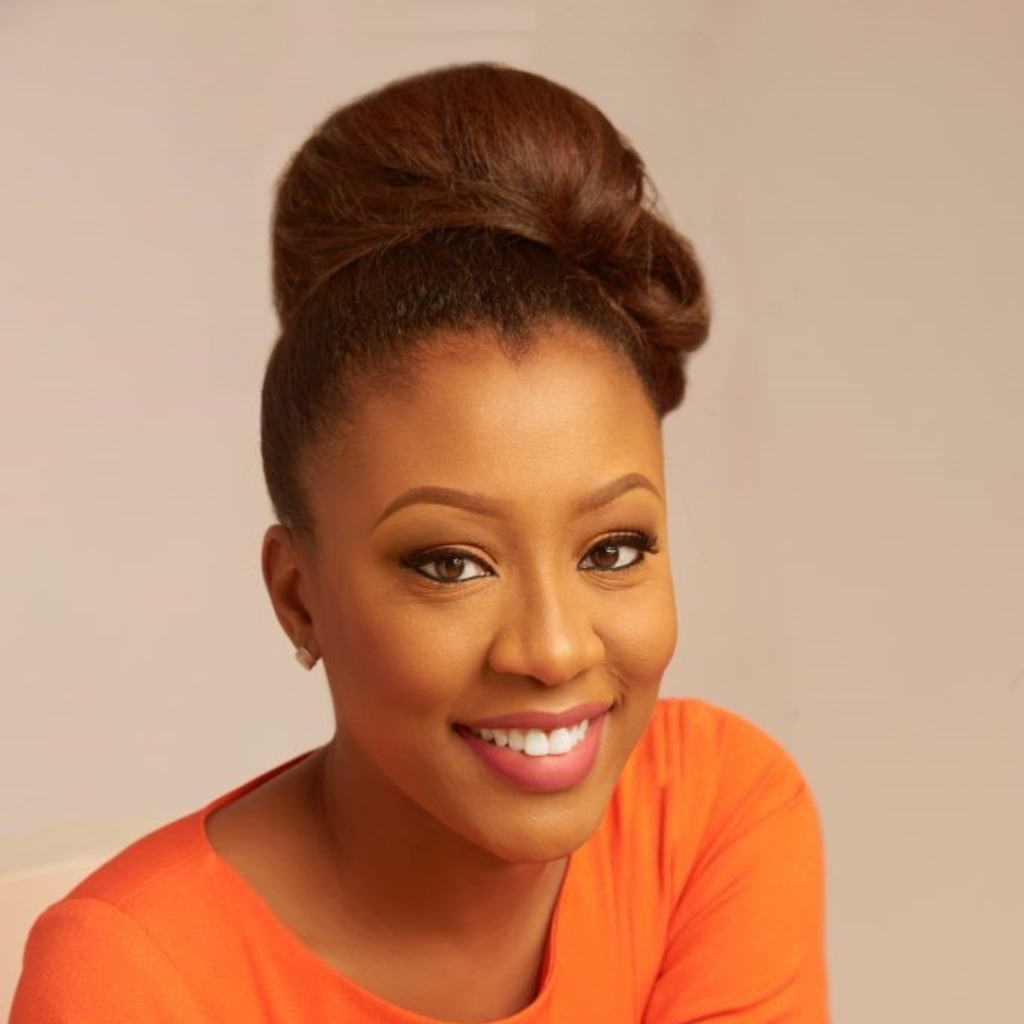 Foluso Gbadamosi is a business leader who provides solutions to business problems and challenges using technology. 
Foluso is a technology advocate passionate about driving technology literacy and business sustainability across Africa, she views technology as a catalyst for social development and change in Africa. She has experience across various industries including Telecommunications, FMCG, Financial Services and Oil & Gas.
She has spoken at several platforms covering topics that range from Technology, Social Advocacy, Self-Development, Purpose, Leadership, Mentorship and Business. Foluso is co-founder of Serving with Love (SWL), a social impact driven platform spearheading the introduction of computer literacy and coding as a language to young children in rural communities. 
She currently serves on the Board of Directors of Swift Networks, Cousant Technologies, Kuda Bank & Advisory Board Member of Skool Media. She is also an Executive Council Member of WIMBIZ (Women in Management, Business and Public Service).
She has a Bachelors degree in Computer Science from the University of Pittsburgh and a Masters degree in Information Systems Technology from George Washington University. Foluso is also a Gallup Certified Strengths Coach and a John Maxwell Certified Team Member. She holds a Certificate from the Yale CEO College, Massachusetts Institute of Technology and IE Business School.
She is the recipient of the 2020 Social Good Awards in the Personal Development Category and the 2020 Seed Builders Women Impact Award for her contribution to Women Advancement & Empowerment, Digital Transformation & Humanitarian Service. 
Foluso has been recognized by several organizations as an inspiring Woman in Technology & Business. In 2018, Foluso was recognised as one of the 100 Most Inspiring Nigerian Women by Leading Ladies Africa, after being nominated as "Career Woman of the Year" by Her Network in 2017. She was recognized by Guardian Woman as a Nigerian Woman of Impact in 2019.
Funmi Adewara is a British-Nigerian Physician and Cambridge trained Bioscience multi award-winning entrepreneur and a globally recognised telehealth expert, with a background in Medicine, Pharmaceutical and business development.
Mobihealth International is a multi-award-winning telemedicine and digital health service provider transforming the way patients receive care.
Funmi is passionate about changing the poor narrative of healthcare in underserved communities and has led a multi-disciplinary team to design comprehensive telehealth program that addresses multiple challenges such as shortage of doctors, nurses and other healthcare professionals, long distance travel, and high treatment costs.
Adewara contributes to policy formulation on healthcare and particularly around telehealth programs for Africa at both local and regional levels serving as an external reviewer to the Africa Development Bank, contributor to United Nations, World Health Summit and the Medical and Dental Council of Nigeria, MDCN.
Adewara has earned herself and Mobihealth multiple awards globally. She was one of the seven winners of the World Bank SDGs & Her 2020 Awards amongst 2400 entries globally. Sanofi Africa-Tech Challenge (Winner, Category 2) which held virtually in Paris on the 11th of June 2020 amongst 268 contestants across 34 countries. Under Funmi's visionary leadership, Mobihealth pioneered telehealth in the Nigerian Air Force in 2021, the 1st of its kind on the continent.
Funmi led the strategic partnership deal of the Union Bank of Nigeria with Mobihealth to expansion services to it's 6million customer base and to establish walk-in telehealth clinics across 300 branches nationwide.
She has featured as a panelist on Forbes Africa and Philips' Africa Future Health Summit by CNBC, United Nations Committee on Science Technology and Innovation, African Development Bank, to mention a few.
Adewara is recognised as one of the Most Influential People of African descent. Recently, in October 2022, under her leadership, Mobihealth was awarded a $1m grant by the United States Trade and Development Agency to extend telehealth services to other African countries.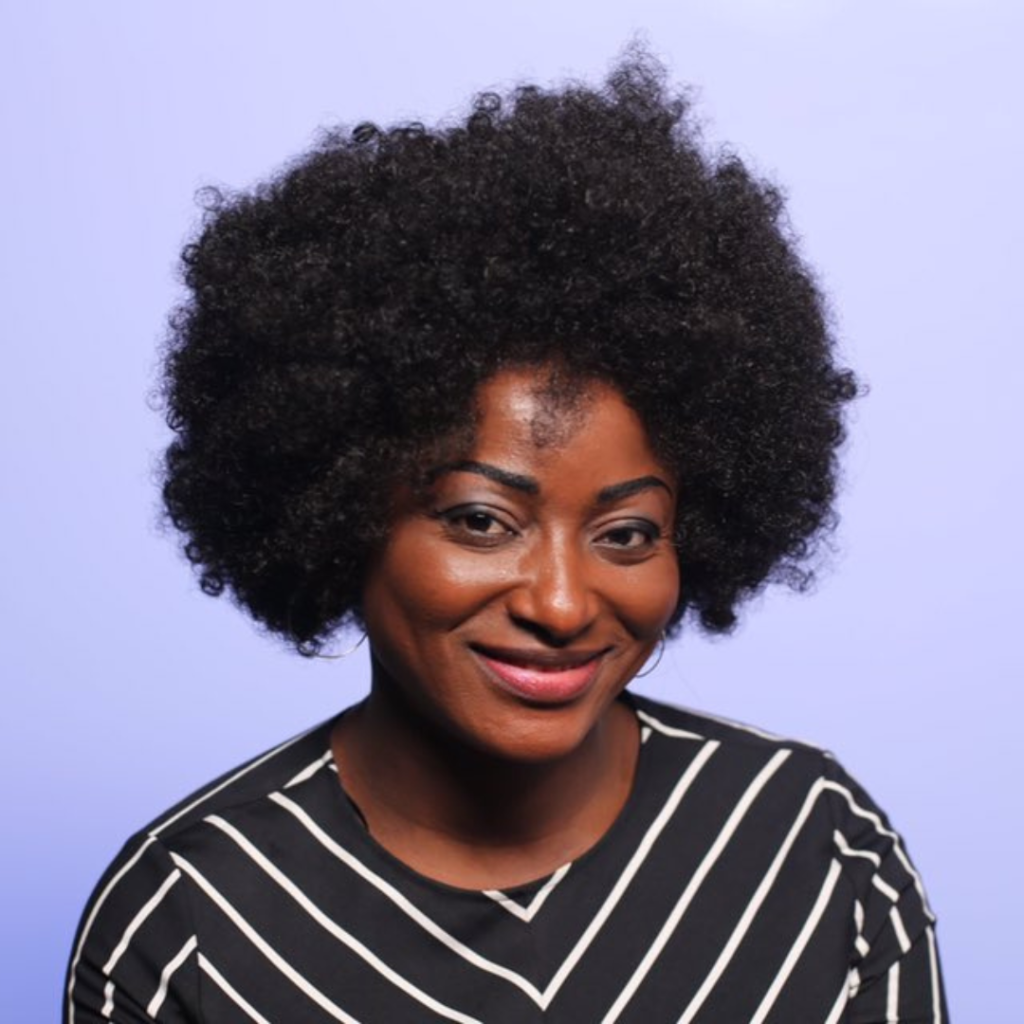 Gbemisola Aruwayo-obe is a seasoned Business executive with over 20 years of progressive experience in the Information Technology industry, She is passionate about transforming businesses, growing revenue, and improving brand value. With a focus on executing and delivering results, she has successfully led high-performing teams through dynamic change across strategic units.
Her strengths in leading multicultural teams, stakeholder engagement, strategic market positioning, sales management, and portfolio management have resulted in multimillion-dollar negotiations, strategic relationship building and management, and territory growth and development across West, East, and SADC countries. As the IBM Country General Manager and Technology Leader for West Africa, she has implemented a strengths-based approach to break down silos and deliver measurable outcomes.
She's committed to coaching and mentoring team members into influential technology leaders while continually driving significant business growth and profit. 
Goodness Armstrong is a management Consultant (People&Culture Focused) with 7 years of work experience spanning across Fortune 500 companies like Microsoft and, multinationals like Great Place to Work. She consults for startups across Africa to help drive talent solutions and culture conversations for growing businesses.
She holds a first-class bachelors' degree in International Relations from the University of Nigeria Nsukka and a Masters in Human Resources from Brunel Business School (London). She is an alumnus of the Lagos Business School (Leadership & Management) and a Fellow of The Peace-Tech Accelerator-Washington, DC.
Hilda Effiong Bassey, better known as Hilda Baci, is a Nigerian chef, restaurateur, actress, and the current holder of the Guinness World Record for marathon cooking with 93 hours 11 minutes, setting a new record after surpassing Indian chef Lata Tondon 87 hours, 45 minutes cooking marathon in 2023.
Ifeoluwa Dixon is the Senior Vice President and Portfolio Manager at FBNQuest Asset Management.
FBNQuest Asset Management provides their clientele with first-rate investing options across all major traditional and alternative asset classes.
As a fixed income portfolio manager and product specialist, Ifeoluwa consistently outperformed the benchmarks of the portfolios that she managed every quarter for over a decade.
She managed fixed income portfolios with assets in excess of N250bn, direct client interface for 35 separately managed accounts, evaluation of economic data relevant to fixed income markets, and successfully created fixed income products to meet a variety of client investment goals.
As Vice President /Portfolio Manager, FBN Capital Asset Management Limited, she structured various investment portfolios, including that of the company and private clients and worked hand-in-hand with other members of the Asset Management Group for the investment management of funds. Furthermore, she managed funds under management of N200bn in fixed income instruments and strategised to enhance portfolio returns.
As Associate Investment Strategist and Portfolio Manager at FBN Capital Limited, she sourced and compiled financial and economic information, and analysed same with the aim of determining the strategic effects on financial markets. This basically involves transforming sourced data into useful and actionable information in a timely manner. Ifeoluwa also conducted fundamental investment and economic analysis of markets, analysed and wrote regular reports on the macro economy at large and fiscal and monetary implications on the equity, bond, money and other markets.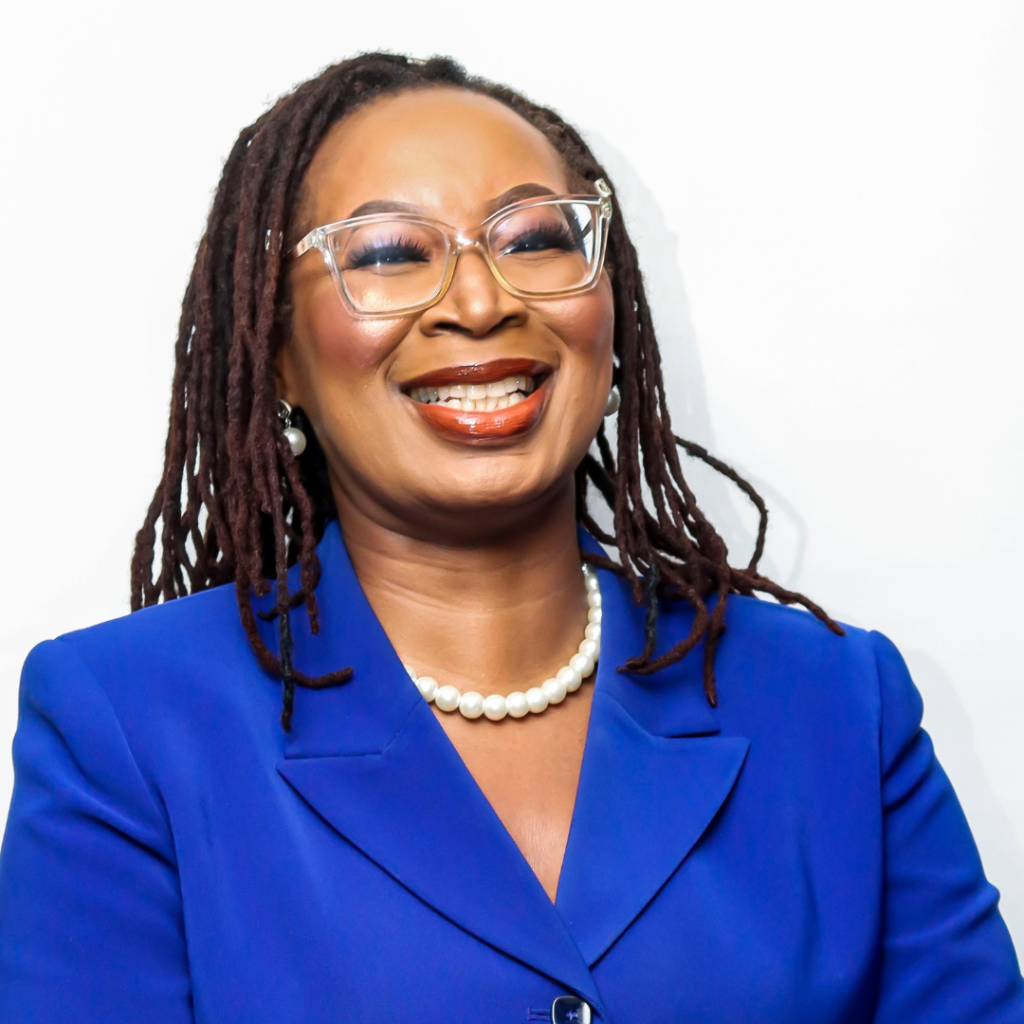 Iruka Ndubuizu is the Director of Partnership, Tony Elumelu Foundation.
She's a Creative and innovative professional with over 25 years combined experience in legal, project management, administration, and healthcare.Savvy negotiator, proficient in drafting, reviewing, and negotiating contracts with a strong business acumen and marketplace knowledge. Mediator who is adept at balancing legal and business needs as a means of resolving conflict. Experienced in building teams, policy and strategy development, maintaining effective business relationships, and providing simple solutions to complex problems.
Itohan Iyalla is the Head of  Growth at eBanqo.
Itohan Iyalla is a digital product expert. With a background spanning Zenith Bank, UBA, Interswitch Group, Stanbic IBTC Bank, and Remoney. Itohan holds an EMBA from Quantic School of Business and Technology, and postgraduate certificates in Strategic Marketing from Cornell University and Disruptive Strategy from Harvard Business School. She's a certified Payment Card Professional, Scrum Master, Scrum Product Owner.
Itohan serves as an executive member of APAON and Co-Chair Agile Nigeria meetup. Presently, she's the Head of Growth at eBanqo.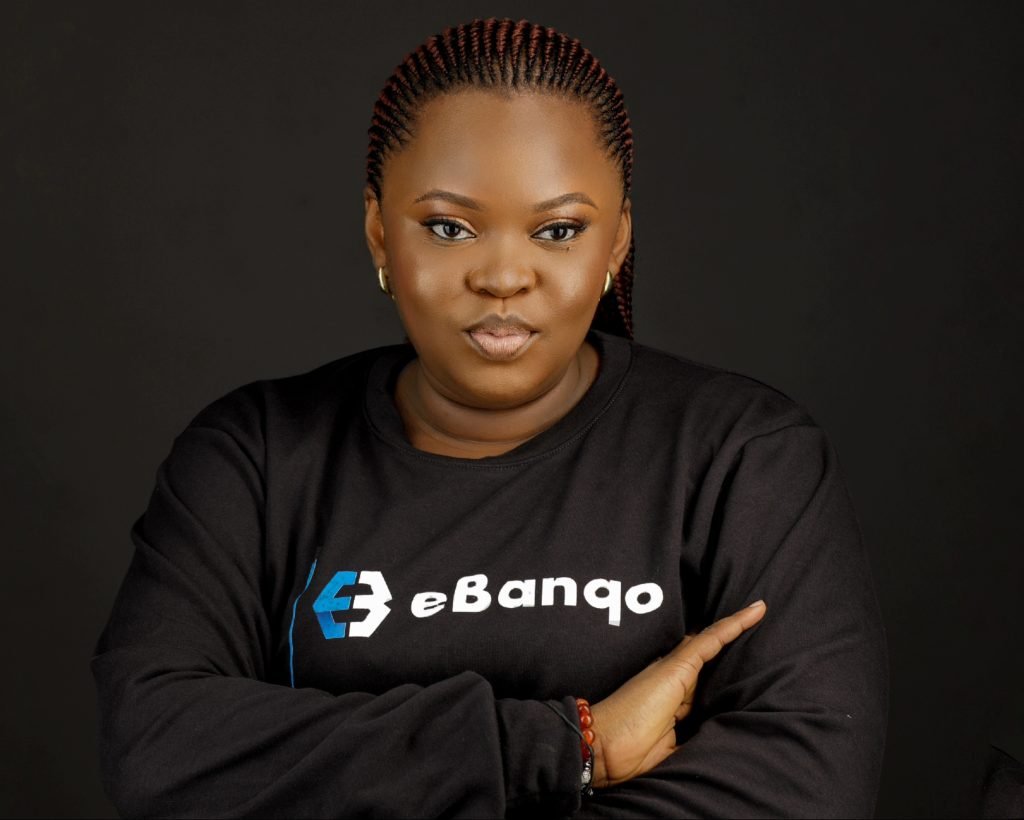 Ivie Temitayo-Ibitoye is an highly effective Senior Human Resources Professional with over 10 years of experience resolving critical human capital business issues. I am adept at offering an array of skills in accurate employee job performance assessment, talent attraction and retention, development and management. 
I provide strategic advisory by recommending and implementing sustainable action plans to meet HR needs with regards to employee experience, employee retention, Learning and Development, & Talent Management.
Asides my day job, I also provide recruitment, employability interventions and HR Management Support for organizations, SMES and individuals by providing support to businesses to identify and recruit top talent within their industries through my companies- Elite Hunters Consulting and Work in Nigeria. 
 In my spare time, I mentor and train HR Professionals by providing a complete overview of HR roles and responsibilities through high-quality learning as well as support career professionals through private and group career advisory/coaching programs.
Jadesola Lagoke is a certified HSE practitioner and consistent years in HSE administration,operations,training and consulting.
She has degree in Medical microbiology, she's a Certified First aider, Certified project manager Uk, In addition to Nebosh qualification in safety and environment
She's also a member of many recognized HSE professional and technical bodies including IOSH,PECB amongst others.
She is presently the managing director of JADEGATE NIG. LTD,a one stop HSE and human resource consulting firm.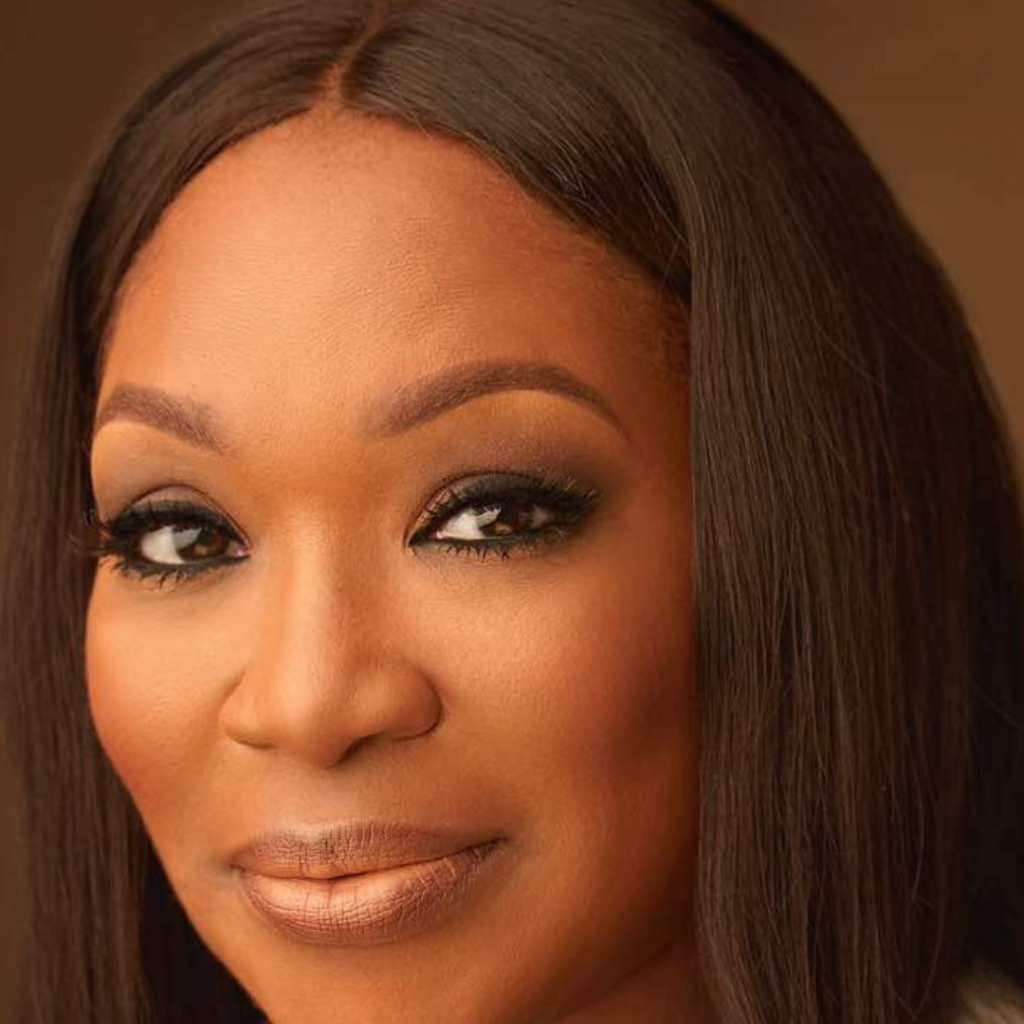 Joke is the Founder of Medplus Pharmacy, Nigeria. She is a Fellow of the Pharmaceutical Society of Nigeria.
She pioneered the chain pharmacy concept in Nigeria, and has built an organisation patronised for genuine and trustworthy products, while providing a superior service experience.
Today, Medplus is credited as one of the most innovative sources of health and beauty products, with 42 outlets nationwide
Medplus is a leading health and beauty retailer chain pharmacy. The brand started in 1993 as Medicine Plus. In a bid to fulfil customer demand, the brand has metamorphosed to what is known today as Medplus.
Joke is committed to revolutionising the healthcare sector and there is no wavering in her tenacious commitment to delivering holistic healthcare to consumers and Nigerians.
Jummai Logun is the visionary founder of Skin Esthetique, a trailblazing brand that is revolutionizing skincare by prioritizing health and radiance without causing harm.
Driven by her own personal journey of skin damage caused by improper products, Jummai sought certification and embarked on a mission to discover the right solutions. Today, Skin Esthetique boasts a team of certified estheticians adept at addressing various skin concerns such as acne, acne scars, pigmentation, sun damage, uneven skin tone, and aging.
With a focus on simple, subtle, and sustainable results, Skin Esthetique stands apart by shunning skincare trends and fads. They believe in administering only necessary or recommended treatments based on each client's unique skin needs. Their success in serving clients worldwide, spanning Nigeria, the UK, the US, Ghana, and Germany, showcases their dedication to delivering exceptional value to every individual they serve.
Constantly pushing the boundaries of innovation, Skin Esthetique strives to discover better ways, products, and equipment to help clients achieve their desired outcomes.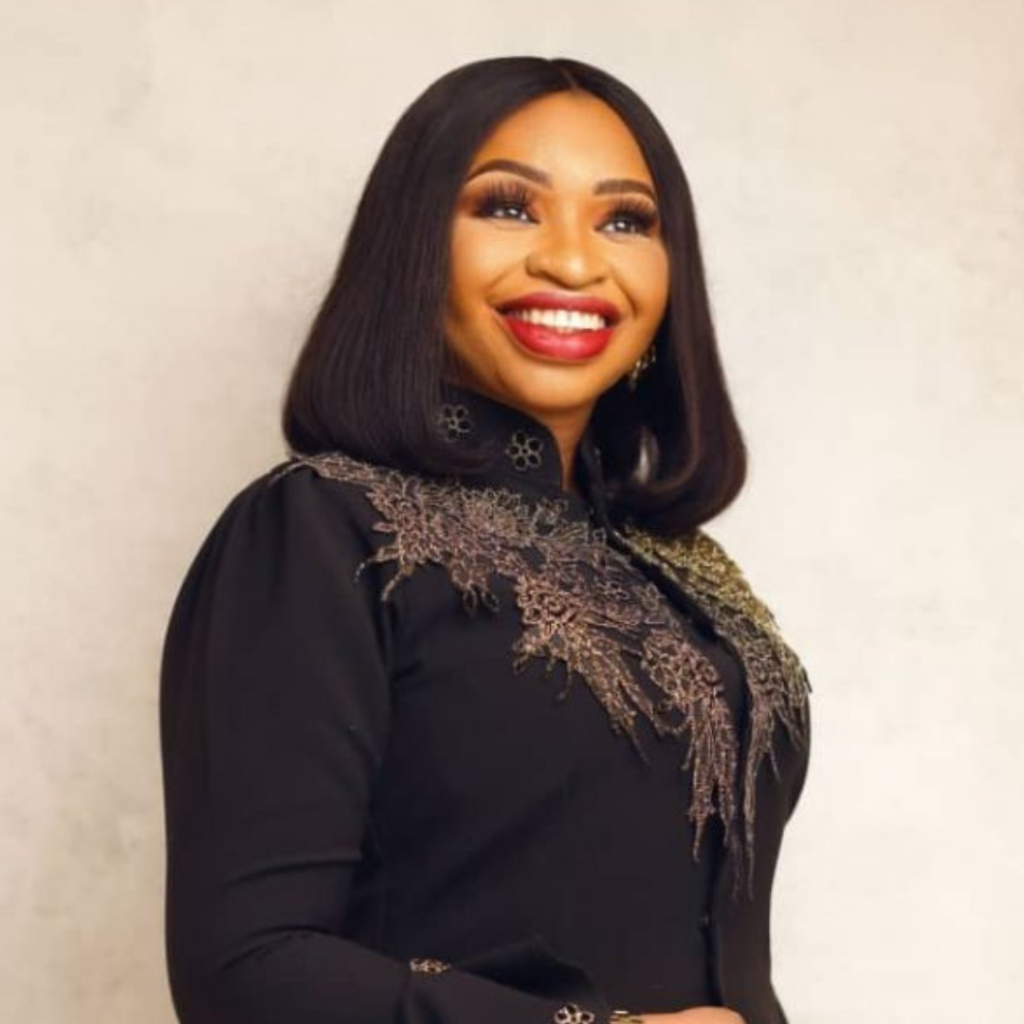 Just Omomo Ibe is the founder and President of The Association of African Startups, The Just Ibe Company & The Association of African Startups has impacted over 50,000 startups with tools, strategies, and requisite knowledge to take advantage of local and international opportunities whilst building a strong network of entrepreneurs within the African economy. 
In her journey to improving the quality of life for Africans, she is the founder of the Just Ibe foundation with a key focus on building sustainable cities. Her goal is to unify practices across Africa, create an environment that breeds creativity, entrepreneurship, collaborations, and investments, she founded the African Government Stakeholders Engagement Forum with a key focus to combat economic and social issues, thus improving the quality of life for Africans and improving the African economy. She believes that in order to tackle the tangible issues, we have to address the intangible. which is why she started the One African movement with the sole aim being to unite Africa and for each African to build a sense of brotherhood amongst themselves. 
She is a certified sustainable development expert from the International business management institute, a certified behavioral economy, and marketing psychology expert, a certified economic growth and development expert, and a certified government economic policy expert. 
Just Omomo Ibe's greatest belief is that One day Africa will become one big nation that can compete comparatively with global economies as a superpower harnessing her resources both mineral, natural and human to produce immeasurable wealth stewarded by Astute yet accountable leaders who can deliver an Africa where every descendant is a treasure.  
She is popularly referred to by all as "The African ICON".
Kelechi Okoro is a multi-talented, multi-award winning and versatile medical doctor with an impeccable track record in civic and entrepreneurial activities. She is a Sustainable Development Goals advocate, with a focus on SDG 3: Good health and wellbeing and SDG 4: Quality education and SDG 5: Gender equality.
She is the convener of "Pay Attention to Her (PATH) project which focuses on menstrual, sexual and reproductive health for women and girls especially in the underserved communities.
The 'PATH Rural Woman' programme focuses on empowering women in the rural areas to improve their social, economic and health status thereby eliminating poverty, discrimination, illiteracy, and ill health. Activities captured under this exercise include reproductive health education (family planning and prevention of female cancers, menopause) and skill acquisition training.
Through her 'Healthertainer' brand, she has recorded massive successes in effective health communications, reaching millions across various social media platforms, thereby increasing health literacy and influencing Nigerians and beyond to make healthier decisions. She has worked with notable international brands such as MTN, TECNO, Three Crowns, Arla Dano, LeadWay Insurance, Dettol, GSK, Roche Diagnostics, Ariel, to mention a few.
She also founded "Health Hub Africa" that houses top health influencers, innovators, start-ups founders, and many other outliers in Africa, collaborating and creating in innovative solutions in the health sector.
She is a global goodwill ambassador for health and social development for Nigeria.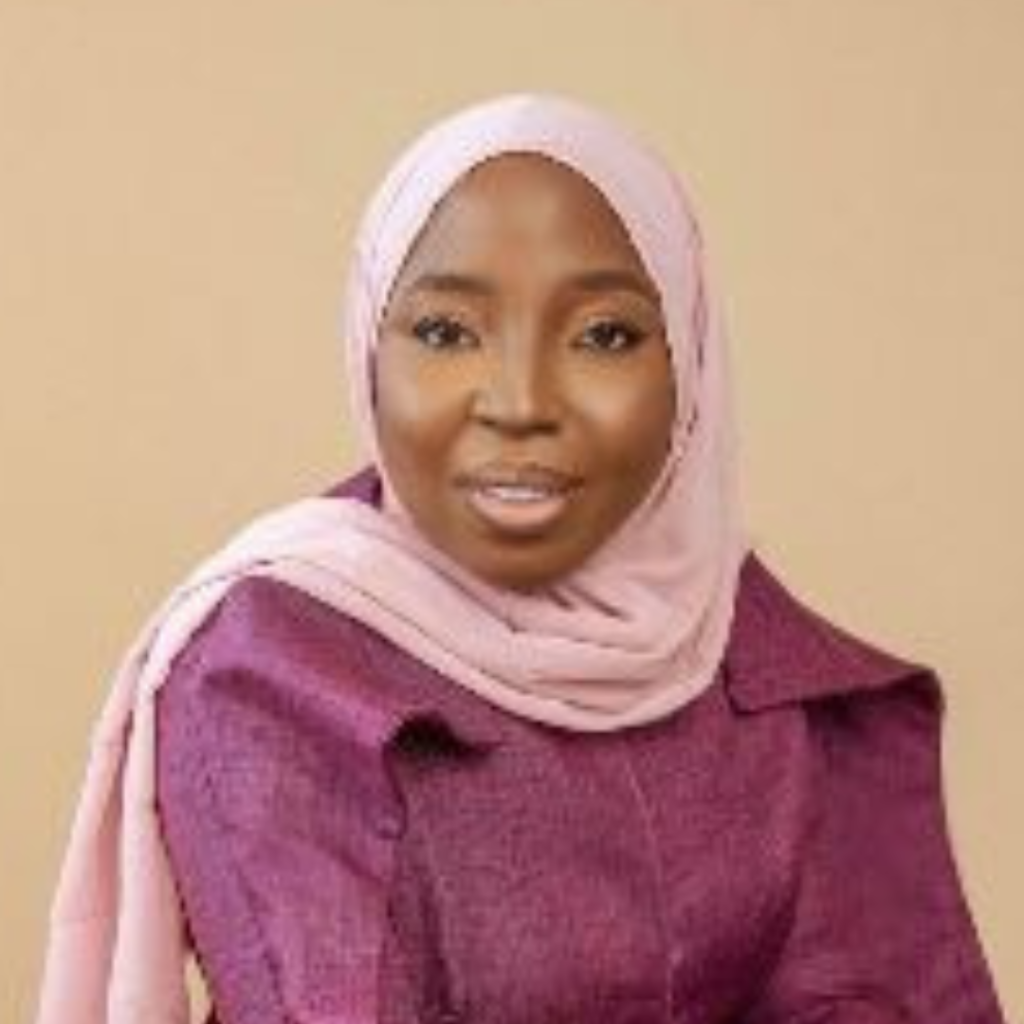 Oyekemi Bawa-Allah is a dynamic and innovative entrepreneur with over 12 years of business leadership experience. She possesses a comprehensive understanding of all aspects of business, from formation and operations to finance, sales, marketing, and management.
As a visionary product developer, Oyekemi excels in customer profiling and research, enabling her to create products and services that resonate with the target audience. Her effective communication and motivational skills empower her to harness the strengths of her team to achieve organizational goals.
A wellness and productivity expert, Oyekemi is dedicated to promoting sustainable work ethics and prioritizes presence over perfection. She believes in the power of touch as a simple yet impactful solution for fostering world peace.
Oyekemi's passion for wellness led her to establish Spa Pampering At Home (S.P.A.H), where she serves as the founder and lead therapist. With a B.Sc (Hons) degree and certifications in Beauty Therapy, Massage instruction, and Aromatherapy, she brings a wealth of expertise to her role. Through S.P.A.H, Oyekemi is committed to providing premium pampering experiences in the comfort of clients' homes, delivering rejuvenation and relaxation to enhance their overall well-being.
Kemi Olawoye is the Co-Founder and CEO of Babymigo, Nigeria's largest pregnancy and parenting community.
Babymigo provides expert-verified health information, education, resources and concierge services relating to pregnancy, parenting, childbirth and reproductive health to expecting mums and parents.
Since its inception, Babymigo has provided answers to more than 100,000 questions asked by vulnerable women from more than 200 locations across Nigeria and reached more than 200,000 users.
Babymigo has been featured on Yahoo, Forbes and Time Magazine and is backed by Facebook and Google.
Kemi is a recipient of several awards and recognitions including the 2022 Future Awards Africa Nomination Award, 2021 Woman Entrepreneur & Spirit of GIST by US Department of State, 2021 Female Entrepreneur of the year by Africa Choice Awards, 2020 AXA 50intech Female Entrepreneur, 2019 Nigeria's 100 Most Inspiring Women among several others.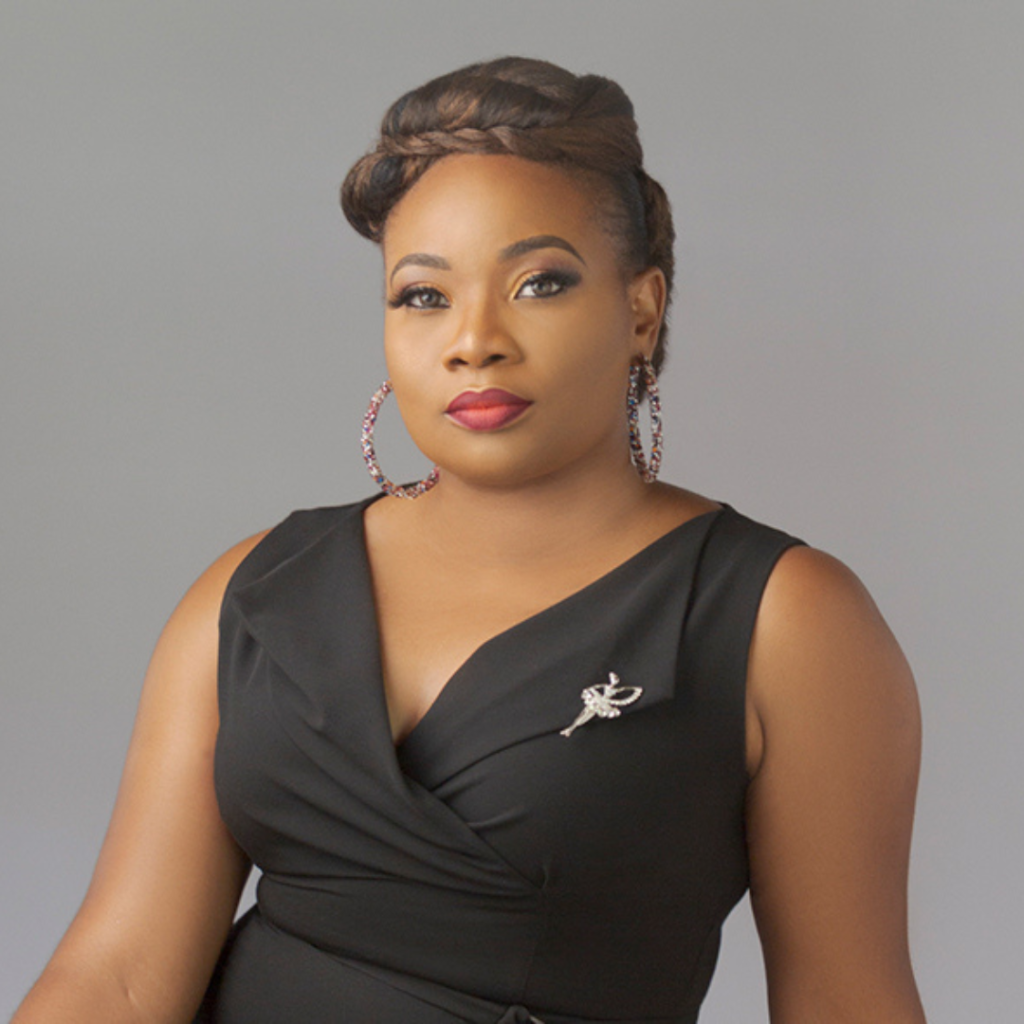 Khadijah Abu, the Product Partnerships Lead at Paystack Payments Limited, a dynamic startup empowering businesses throughout Africa to accept payments from their customers seamlessly. With over a decade of invaluable experience in the Nigerian Fintech and Payments industry, Khadijah is a seasoned professional who has made a significant impact in various roles, including Operations, Business Process Re-engineering, and Product Management.
Driven by her passion for leveraging technology to drive business growth, Khadijah envisions a future where businesses can flourish through the effective use of cutting-edge solutions. Beyond her professional endeavors, she remains committed to contributing to the greater good. She actively engages in ventures that promote education and community development, recognizing the transformative power of knowledge and empowerment.
Over the span of fifteen years, Khadijah has carved out a prominent niche within the Fintech space, occupying diverse roles across Market Expansion, Product Management, Strategy, Operations, and Business Process Re-Engineering. Her extensive experience has equipped her with a keen understanding of market dynamics and a deep appreciation for creating products that resonate with users.
Khadijah Abu is a trailblazer in the Fintech industry, continuously pushing the boundaries of what is possible through technology, while simultaneously uplifting others and leaving a lasting impact on the world around her.
Lady Bodam Taiwo is a Seasoned Business Leader and Marketing Executive with over 15 years of cross-functional experience in diverse sectors, including FMCGs and Telecommunications within Nigeria and across Sub-Saharan Africa.
Starting her career by building businesses, Bodam developed a keen eye for identifying market strategies, understanding consumer perceptions, and recognizing brand growth opportunities. As she progressed to mid-level management, she transitioned to Brand and Customer Marketing, managing multi-million-dollar brands across key sectors of the FMCG industry. This provided her with a holistic view of the value marketing and sales bring to organizational success.
Passionate about empowering individuals and organizations, Bodam believes that marketing and sales are the heartbeats of any organization, and when synchronized, they create remarkable synergy.
As a Strategy and Marketing expert, she has an in-depth understanding of market dynamics, particularly within the FMCG industry in Sub-Saharan Africa. Leveraging her knowledge of Branding Strategy and business development, she formulates effective strategies that drive growth and transformation, ensuring the establishment and continuity of new and existing product lines.
Beyond her corporate endeavors, Bodam actively invests in mentoring and coaching women to become skilled, multi-influential leaders. She also imparts her expertise on Business Ethics, Corporate Etiquette, and Leadership to organizations. Her passion for Africa drives her to train SMEs across the continent on strategy, marketing, and branding, contributing to the creation of a sustainable economy and rebuilding the African Continent.
Recognized for her multi-dimensional influence and impact, Bodam was honored as one of the Top 100 Most Inspiring Women in Africa by Leading Ladies Africa in 2021. She also received recognition as one of 12 Honorees making a difference in the Future-Forward Female Folio.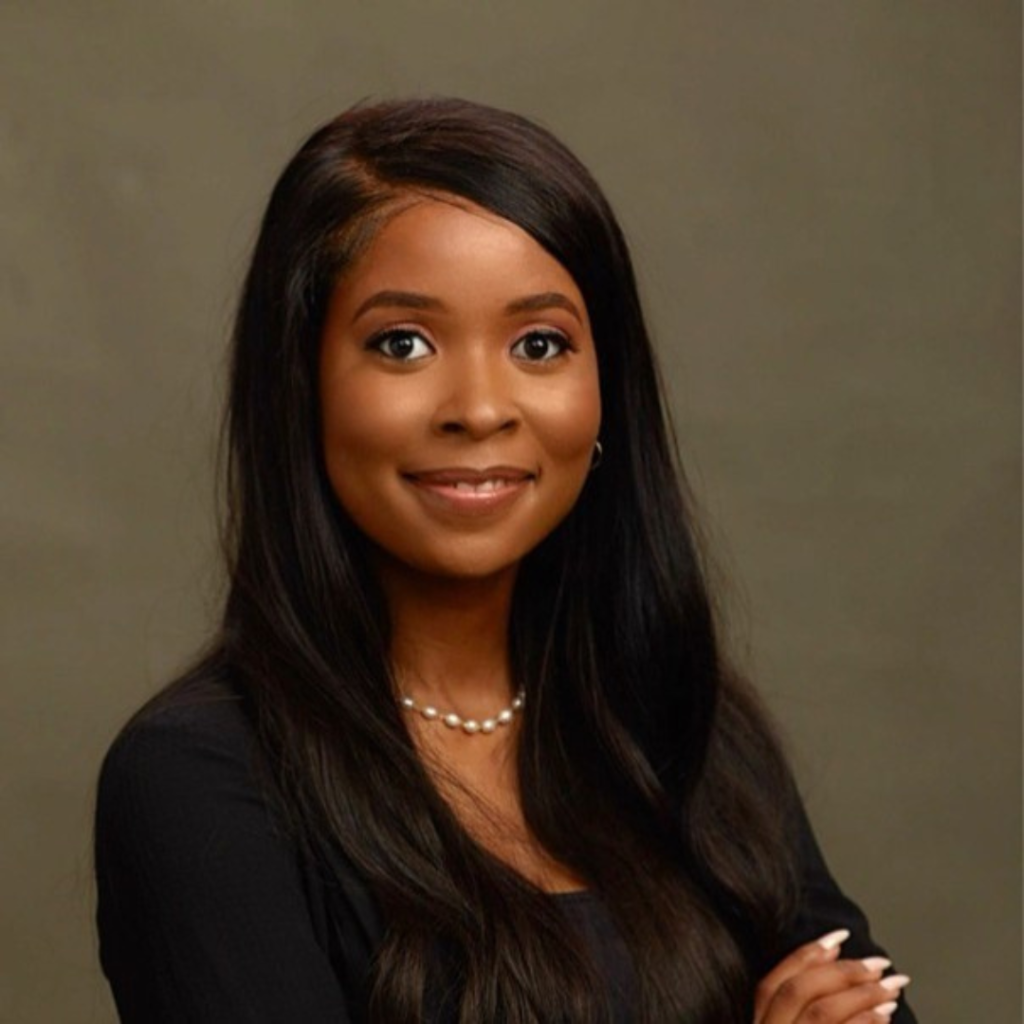 Lamide is a seasoned professional with a wealth of industry and leadership experience, having made significant contributions in various African markets over the past decade.
Currently the Country Head, Glovo Nigeria,  she embarked on her journey with Glovo in 2021,, taking on the role of Head of Q-commerce for Sub-Saharan Africa (SSA). In this capacity, Lamide demonstrated exceptional leadership skills and a strategic vision that has propelled the company to new heights, shaping the future of retail in Africa.
During her tenure as Head of Q-commerce SSA, Lamide spearheaded the growth of Glovo's digital marketplace, focusing on groceries, health, and retail offerings. She played a pivotal role in scaling the company's dark stores, known as Glovo Bargains, across the region. Her efforts have been instrumental in cementing Glovo's position as a prominent player in the digital commerce landscape in Africa.
Before joining Glovo, Lamide honed her expertise as a consultant at McKinsey & Company. In this role, she developed and implemented comprehensive strategies for some of Africa and Europe's largest companies, showcasing her ability to tackle complex challenges with innovative solutions.
Lamide's educational background further underscores her competence and commitment to excellence. She holds an MBA from Stanford University, a prestigious institution known for producing top-notch business leaders. Additionally, she earned a Bachelor's degree in Economics from University College London (UCL), a testament to her solid foundation in the field.
Layo has over ten years of experience in product management, marketing, and growth in the US and Africa. She is passionate about driving inclusion for women, building, launching, and driving the adoption of products.
Before Piggyvest, Layo has worked at Axxes, Austin College, and Standard Charted Bank. She has also volunteered at places like the Junior League of Dallas, Dallas Regional Chamber, and Cancer Support Community North Texas.
Liman Blessing is a Nigerian military personnel of the Nigerian Air Force best known for being Nigeria's first female military pilot. Liman is a descent of Zangon Kataf local government area of Kaduna State, Northern Nigeria. An alumnus of the Nigerian College of Aviation Technology, she enlisted into the Nigerian Air Force in July 2011 and was commissioned on 9 December 2011.[2] On 27 April 2012, she made history by becoming Nigeria's first female combat pilot following the badge decoration ceremony of thirty flying officers by Chief of Air Staff, Air Marshal Mohammed Dikko Umar.. She was of the SP-24A set of pilots and they were referred to as the Knights of the Air. 
She was commissioned as a Combat Flying Officer alongside 126 others who finished the Direct Short Service Course 2010/2011 Cadets of the 325 Ground Training Group at the Nigerian Air Force Base, Kaduna.
Lola Aworanti-Ekugo is a Digital and Innovation specialist with over 14 years of experience in the industry. She started her career as a software engineer at Investec Asset Management, London where she was responsible for the development of digital solutions in the asset management portfolio. Since then, she has worked in various capacities across different roles in the financial services industry in Europe and Africa at companies including Dresdner Klienwort, Commerzbank and BNP Paribas.
Lola spearheaded the Digital Innovation Labs initiative at FirstBank Nigeria, where she was responsible for formulating and accelerating the Bank's digital transformation and Innovation strategy in Nigeria and across its subsidiaries. She is currently the head of Digital and Innovation at Union Bank Nigeria where she is responsible for defining and implementing its Digital & Innovation strategy and road-map with a focus on identifying new digital product/service/fintech opportunities, optimising customer experience across channels and improving operational efficiency using technology.
Lola received her MBA from Imperial College Business School, London. She holds a BSC in Business Information systems (First Class Honours) from Middlesex University, London with scholarship for outstanding academic performance. She has founded two start-ups, including Transthat.com, a peer to peer logistics platform and serves on the Tech Committee of WimBiz, the Digital Transformation Committee of JA Nigeria and She Leads Africa as a mentor. She is also one of the 30 women profiled by Fintech Africa as one of the exceptional women playing leading roles in their various companies and shaping the Fintech sector in Nigeria.
Lola has a passion for travel and writing. She has written a fiction novel titled "Lagos to London" which is the first in the series. The novel was inspired by her background of starting off in Nigeria then moving to London to study and balancing the dream of the UK and the realities of life abroad. she believes that the novel is extremely relevant now with the current trend of young Nigerians leaving the country in search of a better life (Project Japa) and will play an important role during this time and in the future.
Mfon Ekpo  is the CEO of The Discovery Centre, a training organization that specializes in developing effective strategies, systems and structures for organizational and individual development with the sole aim of expanding their influence, impact and income. An avid scholar and a development strategist, Mfon holds multiple degrees in Public and International Law, Business law and Social sciences, Journalism, Neuro-linguistic Programming. Mfon launched her 'The Blueprint of How' seminar in 2016 which helps women to navigate the maze of success. Today, the seminar has been held in many countries, reaching about 300,000 women-driven businesses across the world, thousands of who testify to receiving clarity after attending the seminar.
Miriam Olusanya is a distinguished banking professional and the Managing Director of GTBank Limited, along with its subsidiary. With over 23 years of extensive banking experience, she has held various key positions across diverse units, including transaction services, asset and liability management, financial markets, corporate finance, and investor relations.
Miriam is an alumna of two prestigious institutions—the University of Ibadan and the University of Liverpool. She holds a Bachelor's degree in Pharmacy from the University of Ibadan and an MBA in Finance and Accounting from the University of Liverpool. To further enhance her leadership skills and expertise in the banking industry, she has participated in various executive management and banking-specific programs offered by leading educational institutions.
As the Managing Director of GTBank Limited, Miriam Olusanya continues to make significant contributions to the financial sector, empowering the bank to excel and evolve in the dynamic and competitive landscape of modern banking. Her journey stands as an inspiration for aspiring women leaders in the banking industry and beyond.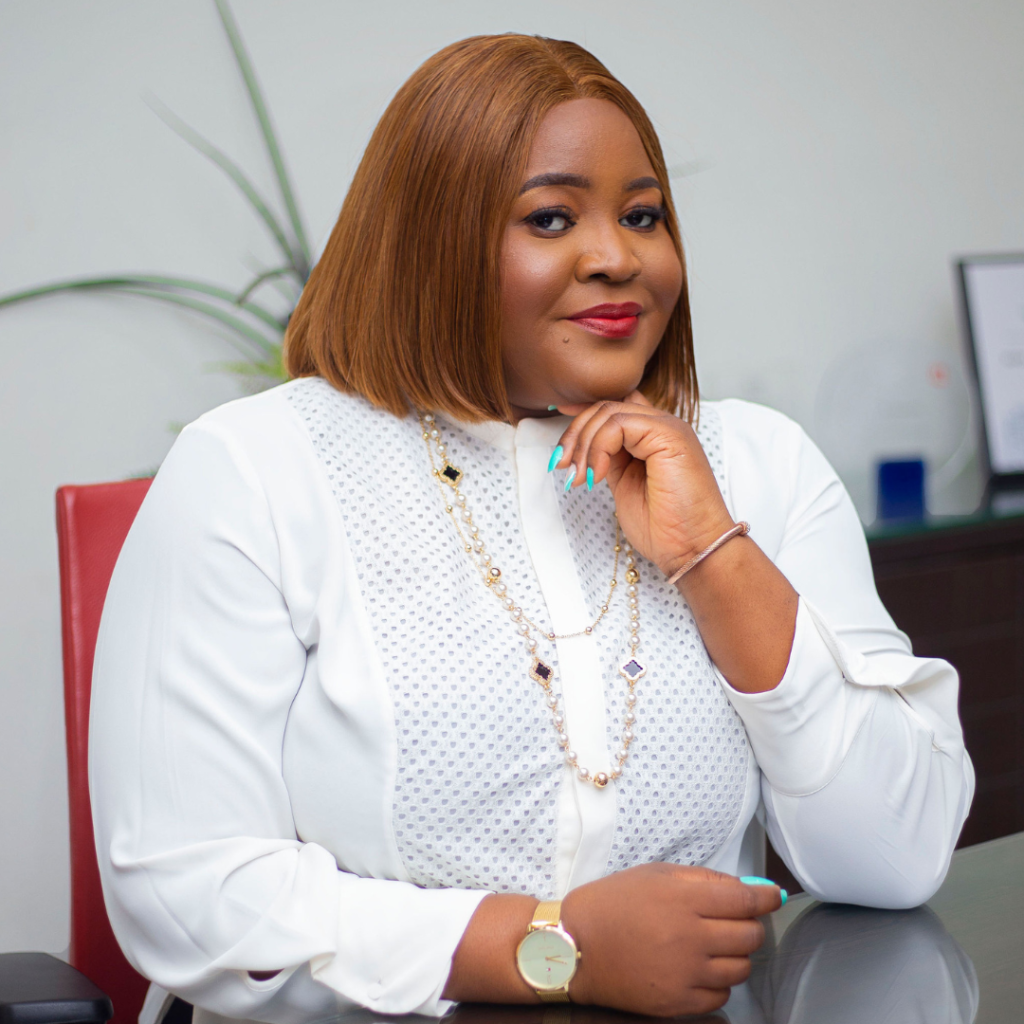 Modupe is a C-suite Executive with over 15 years of experience in Operations and Human Resources Management.
Her professional experience cuts across many sectors, including Financial Services, Advisory Services, Consulting, Organizational Leadership, and Legal Services in multinationals, indigenous corporate organizations, and NGOs.
As an SDG advocate, she is the Chief Trustee of Project CHAM, an NGO focused on Child health and mortality.
Currently, she is the COO at Streamsowers and Kohn (a Law Firm with offices in Nigeria).
Mojirayo Folarin-Lawal is a driven development executive with advanced expertise and skill in digital & strategic partnerships management. relationship management, product development, credit analysis building and delivering strategic multi-sector partnerships, public-private partnerships, resource mobilization, implementing women and youth economic empowerment projects, astute in diverse partnerships portfolio management, private-sector and stakeholder engagement, resource mobilization, investment planning and management, financial inclusion services, (access to markets, etc.), deploying gender-sensitive innovations and social inclusion strategies.
Mojolaoluwa Aderemi-Makinde
Mojolaoluwa is the Regional Head of Brand and Reputation for Google in Africa. She is passionate about technology and its ability to unlock human potential and improve the general good. At Google, she has led business development of various products and initiatives, as well as led sales across Africa, managing Google's largest clients and growing industries from scratch. More recently, she is focused with her team on delivering Google's commitments in Africa to drive economic opportunity on the continent, by supporting small business development / entrepreneurship, job creation, education and gender equality through Google's flagship program 'Grow With Google'.
Gender equality is a topic Mojolaoluwa is deeply passionate about. She is deliberate about driving gender representation in their programs at Google "Examples include our Grow With Google program where up to 49% of the people we have trained are women. In addition, we have also run several programs and initiatives specially for women. "Aderemi-Makinde said.
She has a wealth of experience spanning multiple industries and geographies, having also worked as a strategy consultant with Accenture amongst others. She is a strong diversity and inclusion champion and advocates for representation of girls and women in technology.
Mojolaoluwa is a mentor and advises on various programmes and boards. She has been recognised as one of the 40 Leading Ladies driving the Sustainable Development Goals in Nigeria. She holds a Bachelor's degree in Computer Science from the University of Lagos, and a Masters in Management and Strategic Information Systems from the University of Bath.
Mokutima Ajileye is the Managing Director at Procter & Gamble Nigeria. She is the first female and first Nigerian in the history of the organisation to lead in Nigeria.
As Managing Director, she is responsible for the entire Nigeria business with cross-functional responsibilities that includes delivering the operating TSR metrics of turnover, profit, cash, market share, establishing and sustaining right governance structure to ensure a sustainable business, leading productivity projects to deliver on cash targets and supply chain optimisation.
Others include go-to-market responsibilities to deliver on sales targets including distributor operations, external stakeholder engagement (government and regulatory bodies) to enable seamless business operations and developing a world-class organisation, including talent development and career planning for all Nigeria employees.
Ajileye is a highly experienced marketing and business leader with 18 years of vast accomplishments growing businesses based on astute strategic planning and problem-solving competencies. She has built brands across developing and developed regions (India, Middle East, Africa, and Europe), developed disruptive forms in mature product categories, and led world-class teams.
Mokutima has consistently delivered revenue, profit, and market share growth while developing capabilities and talents within the organisation. She has an entrepreneurial mind-set, and is comfortable with ambiguity, which has enabled her to take on start-up roles and build the organisation from scratch.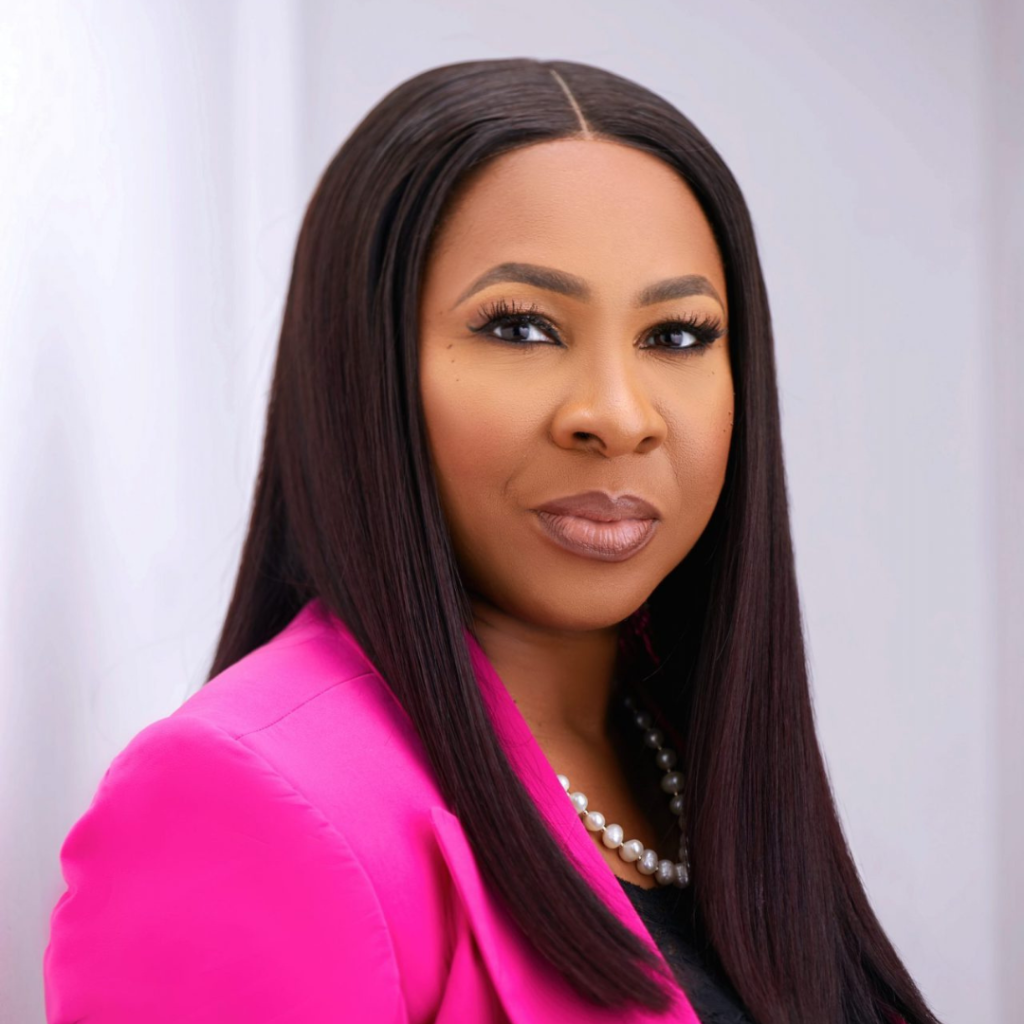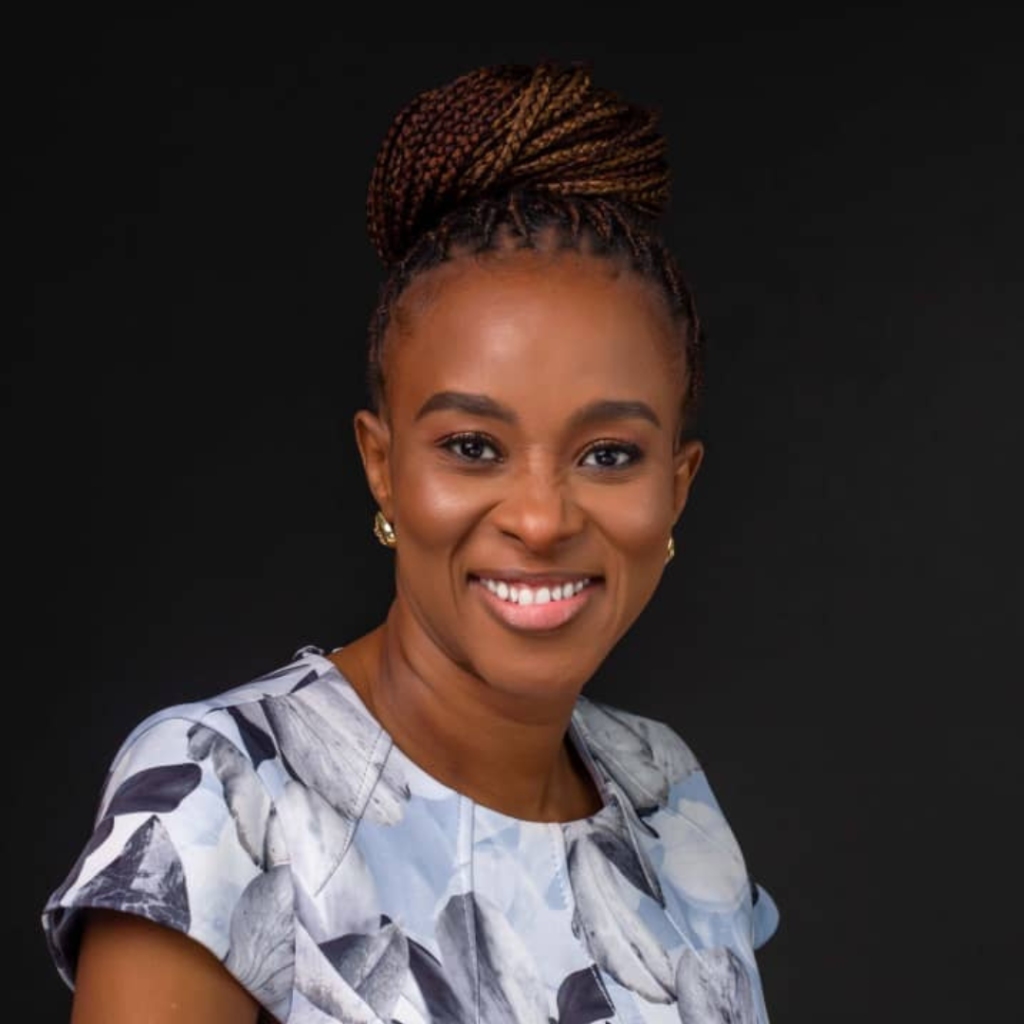 Mubo is a seasoned architect with over 20 years of experience in building, architectural designs and the real estate industry. She is the Head of Facilities Management, APIC Managers Limited, which is a subsidiary of Arkland Group International Limited.
She is also the co-founder and Executive Director at QPT Services Limited, a real estate/construction firm which was borne out of my passion for delivering tailor-made architectural designs and services to home owners.
She joined Arkland Properties & Investment Company Limited where where she has greatly contributed to project designs, conceptualization, finishing, capacity building and the growth of the company.
Munirat Antoinette Lecky, also known as "Anto Lecky." Raised in New Jersey, USA, with Nigerian heritage, she excelled early in life, entering a program for Gifted and Talented Children and later attending the renowned Dr. Ronald E. McNair Academic High School, a top magnet school.
Anto holds a Bachelor's degree in Exercise and Sport Science, with a Sport Administration track, from the esteemed University of North Carolina-Chapel Hill, ranked as the 5th best public university in the US. Subsequently, she completed the University of Central Florida's DeVos Sport Business Management program, recognized as the #1 best sport masters program globally by SportBusiness International. There, she earned both an MBA and a Master of Sport Business Management.
Her impressive career includes being the former Head of Operations for the Continental Basketball League in Lagos, Nigeria, before her participation in the Big Brother Naija house. Presently, she thrives as an actress, model, on-screen and social media host, educator, influencer, public speaker, and humanitarian. Additionally, she has held key roles at ElectHER, the Kunle Afolayan Productions Film and Television Academy, and Weldios University as Creative Director.
Anto is a versatile entrepreneur, co-owning the Anto Lecky X Taries Hair Builder luxury haircare line, Room 22 Agency (a management and marketing consulting company), and O'Compatriots Lifestyle Co (a gifting and branding outlet). Furthermore, she founded The Live Wire Project, an impactful NGO with initiatives like "Edo Babes are Fly" promoting girl child education and empowerment, and "Arise N Vote," an influencer-led campaign encouraging voter registration in Nigeria.
Recognized for her outstanding contributions, she received the Nigerian Meritorious Award for Excellence in Sport in 2016 and the 2018 BTDT Hub Education Advocacy Award. In the same year, she was honored with the Miss Tertiary Institution Pageant South-South Award of Honour and an Honorary Doctorate in Business Administration from ISCOM University, Benin Republ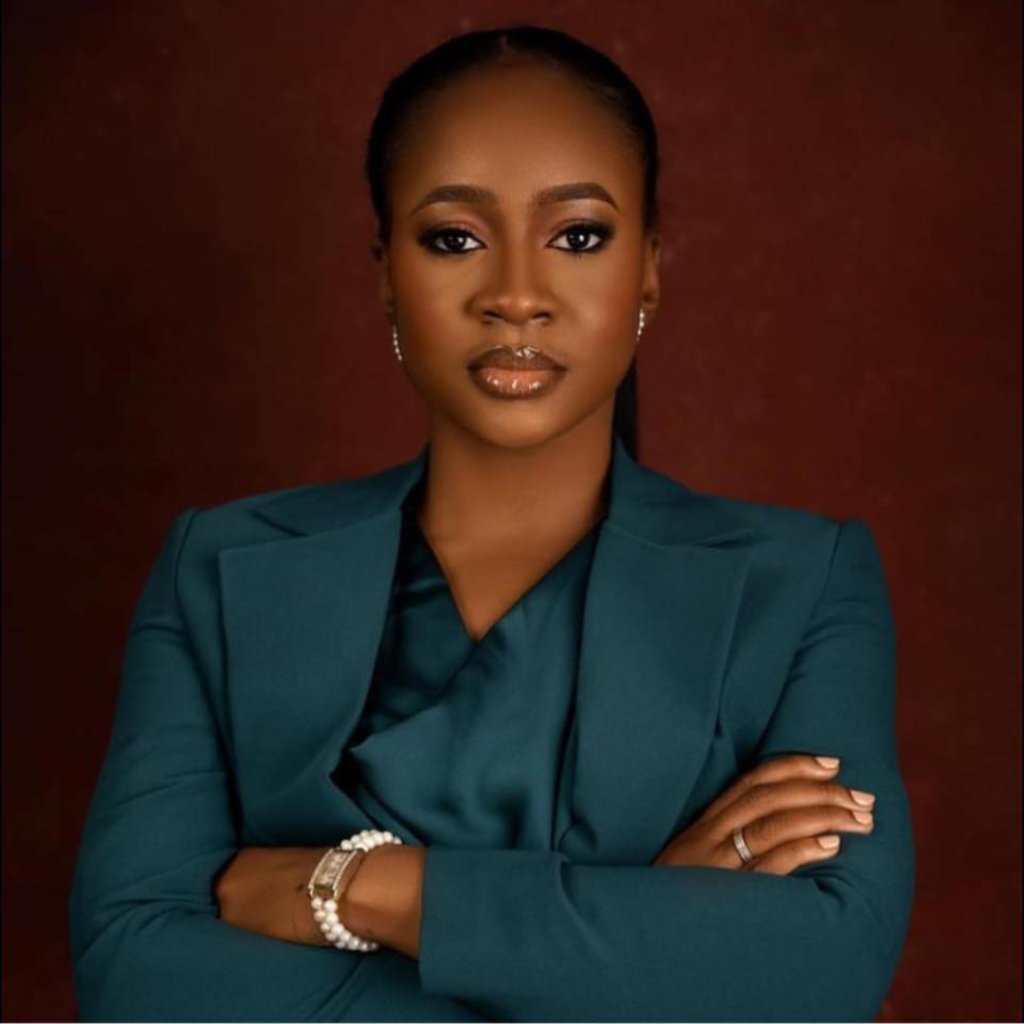 Olatowun Candide-Johnson>
Olatowun Candide-Johnson is a lawyer with over thirty years' experience in corporate and commercial law and in business development and governance of multinational corporations. During the course of her career, she worked in law practice, shipping, and oil & gas.
Whilst working with the Total Group, she worked in different divisions including three years at the New Business Division in the Paris HQ. Before taking an early retirement, she held the combined roles of General Counsel, Executive General Manager, Management Services Division (incorporating Legal, Audit, Insurance and Anti-Corruption Compliance) and Chief Compliance Officer for the Total Upstream Companies in Nigeria.
In 2016, she obtained a Global Executive MBA awarded by NYU Stern, LSE, and HEC Paris, known as the TRIUM Global Executive MBA.
Olatowun is a founding parent of Lagos Preparatory School, Ikoyi, one of Africa's leading British curriculum preparatory schools; Chairperson, African Delivery Technologies SAS (Kwik Delivery); Member of the Board of Directors of the Nigerian Norwegian Chamber of Commerce; Member of the Board of Directors of 360 Creative Innovation Hub; Member of the Board of Directors of Anchoria Asset Management Limited; Advisory Board Member, Majeurs Chesterfield; Member of the Board of Directors of Pinnacle Oil & Gas Limited; and Member of the Committee on Tourism & Hospitality of the Institute of Directors. She is also an angel investor, and a member of Rising Tide Africa – a network of female business angels investing in entrepreneurs across the African continent.
Olatowun is Wines & Spirits Education Trust (WSET) Level 2 certified, and Dame Chevalier de l'Ordre des Coteaux de Champagne (2017). She loves all forms of the arts, culture, food & wine, Pilates, books, and interesting places.
Olori Aiyivieruewinoya 'Ivie' Emiko-Atuwatse,
Olori Aiyivieruewinoya 'Ivie' Emiko-Atuwatse, known as Olori Atuwatse III, Queen Consort of the Warri Kingdom, is a visionary with a heart for humanity, social enterprise, education, and capacity building for women and children.
A qualified lawyer with an LLB from the London School of Economics, she was called to the Nigerian bar in 2010. She is a member of the CIARB Nigeria and has certifications from the Nigerian Chambers of Commerce and Chambers of Maritime.
She has a strong entrepreneurial drive and has founded several businesses across industries. From the fashion label, Colour Couture, which she co-founded with a friend while at the university, to Breakfast in Bed, a first-of-its-kind breakfast delivery company in Lagos, Nigeria, which she established after graduation. She sits on the boards of the Wells Property Development Company, the Wells Carlton, and Wells Bakehouse, and is constantly on the lookout for opportunities to create value through enterprise.
A dedicated philanthropist, she is the founder of Abba's Jewels, a community of over 60 women who, together, raise funds to impact the community through outreaches, food drives, hospital, and prison visits. She also convened The Love Drive, a free yard sale that started in Lagos, Nigeria. As the President of RIG Africa, a prophetic training organisation, she trains people to hear God for themselves in ways that are practical and applicable to everyday life and work.
Being a mother whose heart pants for the healing and revival of the Iwere people, Olori Atuwatse III has established programmes targeted at alleviating poverty, illiteracy, and infant mortality in the Warri Kingdom.
The Captain Idahosa Wells Okunbo STEM and Innovation Lab is another initiative by the Queen Consort in partnership with CleverMinds Educational Foundation.
Olubukola Arowolo Verheijen was appointed as the Special Adviser on Energy to Presiden in July 2023.
Olu Verheijen is an African energy expert with nearly two decades of experience in oil, gas, renewables, and power sectors across Sub-Saharan Africa. She was a partner at Persistent Energy, an early-stage investor in distributed renewables ventures across Africa.
During her time in Persistent Energy, Olu Verheijen was a Deal Lead at Shell where she advised on gas commercialization and M&A transactions valued at over $4.9 billion. She was also a member of the governing Board of a Shell upstream JV.
Olu Verhheijen is the Founder and Managing Director of Latimer Energy and also the Founder/CEO of the BFA foundation which funds skill skills acquisition scholarships for low-income individuals to expand their career advancement opportunities in high-growth sectors. She is an Advisory Council Member of the United State Millennium Challenge Corporation and an advisor for the Energy for Growth Hub.
Oluwasola Obagbemi has steadily climbed through the corporate ladder to become the Corporate Communications Manager for Anglophone West Africa at Meta (formerly called Facebook) overseeing the brand's communications across Nigeria, Ghana, Liberia, Gambia, and Sierra Leone.
Prior to this, she was the Senior Communications Manager for Africa at Andela. She joined the Andela team in January 2018 as the Communications Manager for Nigeria, and in her first 6 months, she led strategic PR efforts that brought a significant increase in the brand's visibility and also created the internal communications pillar, so she was promoted to build and lead the Comms team in Africa (Nigeria, Kenya, Uganda, Rwanda, Egypt and Ghana).
Before her move to Andela, Sola was the Deputy Chief Operating Officer at Red Media Africa and was previously the Senior Account Manager for Facebook, Union Bank, Uber, HP, Intel WestAfrica, Maltina, Heineken, British Council & Unilever. During this time, Sola coordinated the publicity and press viewing event of Mark Zuckerberg's 2016 visit to Nigeria. In 2015, she worked with Waggener Edstrom Communication in South Africa where she handled the market roll out of various projects and PR campaigns for Microsoft, Intel Africa, and Samsung.
She is very passionate about the girl child and has championed causes, geared towards promoting equality and inclusion for women. Sola is also a vocal advocate for women rising to the peak of their career while having work-life-balance.
Sola was recently named one of 35 under 35 Marketing professionals in Nigeria by Africa's No 1 brand and Marketing magazine in 2022 – BrandCommunicator.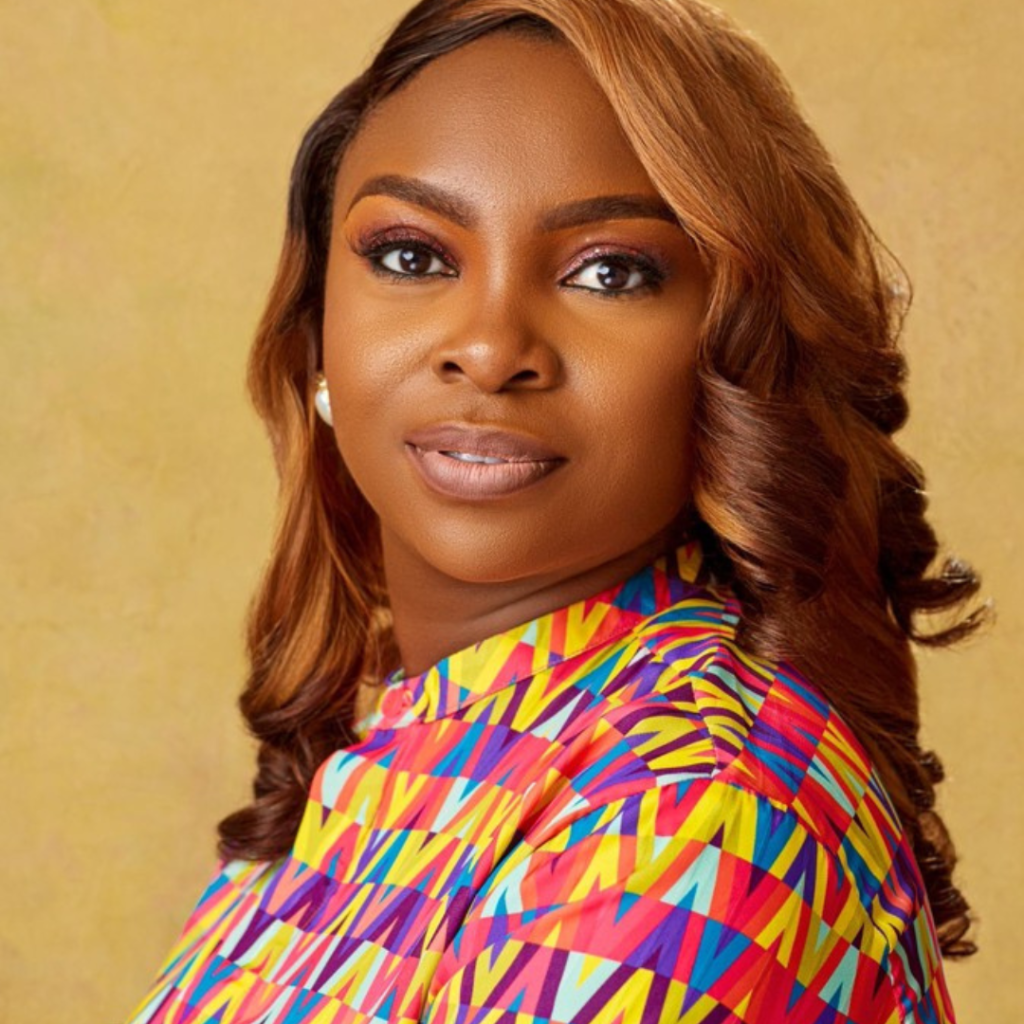 Oluwatoyin is a commercially astute business leader and a Finance professional, with over two decades' experience, having carved a niche as a Strategic Finance Expert in building solid financial structures. Maximizing my over 20 years of expertise in Finance Management, Business Development Consulting, Financial modeling and analysis, and Investments Management.
Her core competencies lie in mobilizing internal/external resources, SME business Modelling, building strong partnerships, market insights/data, and financial planning to support corporate-decision makers in fundraising, entering new markets, and scaling businesses.
Her career has spanned Banking, Telecommunication, and Fintech sectors, working with clients at the higher end of the organizational spectrum, guiding them across a variety of financial services and strategies, and implementing result-based methodologies which helped them to make sound financial decisions, enabling them to drive the organizations to the desired financial and business goals
Oluwatoyin Onigbanjo is an award-winning child nutrition advocate and Founder of August Secrets, a fast-growing innovative child nutrition company based in Nigeria on a mission to reduce the rate of malnutrition amongst African children with traditional, tasty and natural cereals. She is a children's recipe developer, author, family enthusiast and gender & growth advocate for women.
Toyin is the recipient of several awards, including the Graca Machel Gender Lens Award for her innovative strides in child nutrition and women empowerment in West Africa. 
She is the author of the August Secrets Meal Plan, which has arguably been the best-selling recipe book for children in West Africa along with feeding thousands of children with the cereals manufactured at August Secrets. Jaden's Meals, the foremost product of August Secrets which are African-inspired, natural cereals for children, has been sold in more than 300 stores within Nigeria, Ghana & Canada.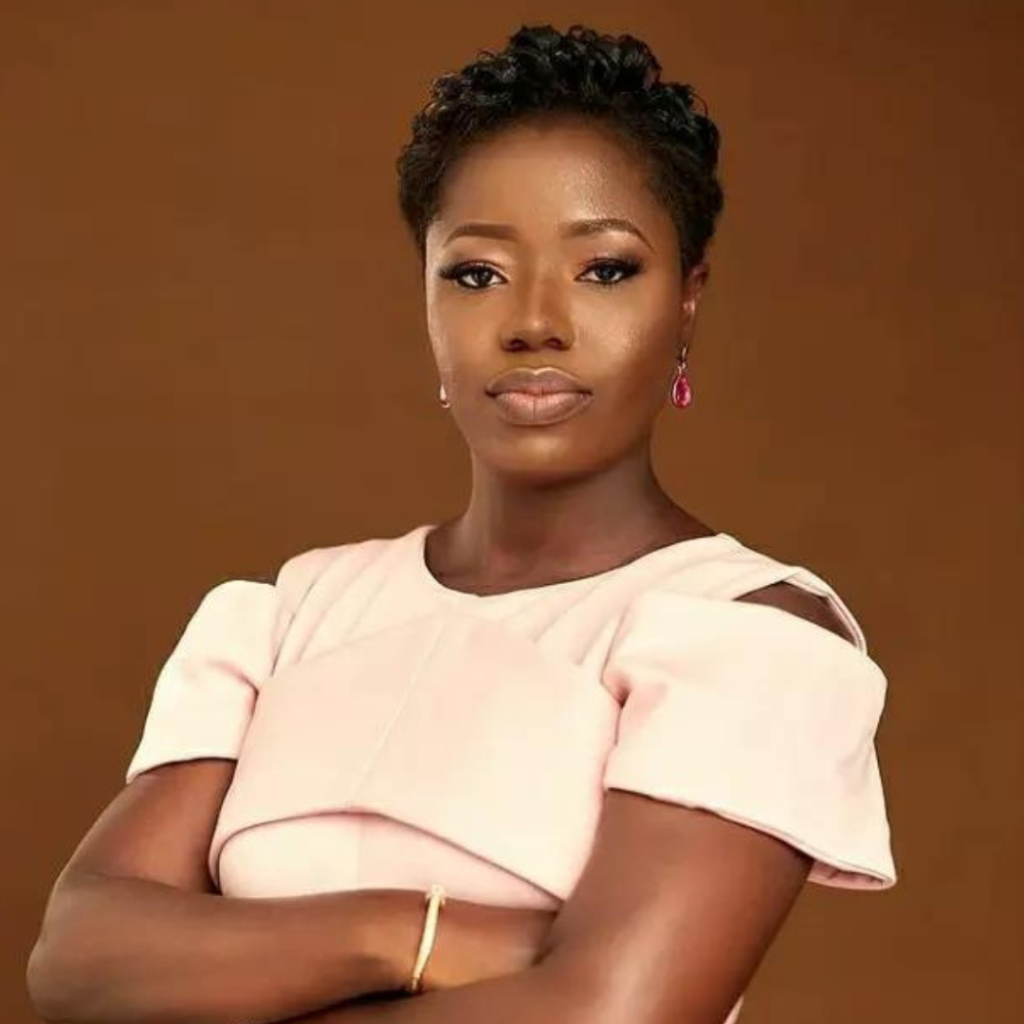 Omawumi Ogbe is the managing partner at GLG Communications – a leading PR & reputation management firm serving global brands out of Lagos, Nigeria. A TEDx speaker and experienced trainer, Omawumi is a certified Life Coach with studies in Neuro-Linguistic Programming (NLP), Emotional Freedom Techniques, Emotional Intelligence and more. She has received numerous awards, including the 2019 Coaching Icon Award, listed in the 2022 Leading Ladies Africa 100 Most Inspiring Women in Nigeria and one of 2022 40 under 40 Most Influential People of African Descent by MIPAD, a global initiative supported by the UN General Assembly.
Omawumi Ogbe is a certified life coach and Neuro Linguistics Programming practitioner. Azeez Amida is one of Nigeria's most impactful business leaders. They have worked with hundreds of people to achieve their goals. They will show you the art and science of setting goals, creating a vision board and mapping out a real plan to bring goals alive.
Omawumi leads the Life Coaches Association of Nigeria (LCAN), where she was recently elected the association's first female president. She holds a postgraduate degree in Media and Communications from Pan-Atlantic University, where she emerged overall best-graduating student.
 Omokehinde Adebanjo is Mastercard's Vice President and Area Business Head for West Africa. In this capacity, she is in charge of promoting the acceptance and issuance of MasterCard's payment products in Nigeria and other English-speaking West African countries. She is devoted to bringing the benefits of a cashless society to Nigeria and the region, and she is eager to put into action a vision of a world beyond cash, as well as the Central Bank of Nigeria's goals to minimize cash circulation in the country's economy. She began her career as a Derivatives Trader at Goldman Sachs International. As an Investment Analyst, she was promoted and given the duty of managing a portfolio of structured equity derivatives. She was appointed a Goldman Sachs Global Leaders Scholar and received the Global Leaders Award from Goldman Sachs and the Institute of International Education.
Omolara Osiyemi is a seasoned professional with over 15 years of experience in the telecommunications and technology industry. As a product leader and community builder, she is deeply passionate about driving innovation and customer-centricity.
Throughout her career, Omolara has demonstrated a strong track record of success in leading the ideation, design, development, launch, and monitoring of innovative products and services. Her focus on understanding customer pain points and creating value for the business has resulted in the successful delivery of solutions that meet regulatory requirements and exceed customer satisfaction.
Collaboration is at the core of Omolara's approach, and she has extensive experience working with cross-functional teams, both internal and external. From IT and customer service to marketing, legal, finance, and content providers, she ensures seamless teamwork to deliver high-quality outcomes.
Beyond her corporate accomplishments, Omolara is also the co-founder of The Product Cradle, a vibrant community dedicated to product people by product people. Within this community, she supports aspiring, transitioning, and experienced product managers in building their personal brand on LinkedIn, fostering learning, growth, and networking opportunities. Through writing challenges, accountability groups, and mentoring sessions, Omolara empowers product managers to showcase their expertise, achieve their goals, and elevate their careers.
Leveraging her extensive fintech and marketing experience, Omolara provides valuable insights and guidance on product strategy, product marketing, partnerships, and promotions. Her passion for creating and nurturing a culture of collaboration and continuous learning among product people is evident in the success and growth of The Product Cradle.
With her dedication to innovation, customer-centricity, and community building, Omolara Osiyemi is a driving force in the product management landscape, making a lasting impact on both the industry and the professionals she supports.
Onyeka Michael-Ugwu is a highly trained and licensed Medical Aesthetician and Senior Laser Technician with a decade's experience in the skincare industry. She is the founder of Hello Perfect, a leading skin aesthetics and laser clinic in Nigeria, known for delivering cutting-edge treatments and notable results. 
Onyeka holds multiple advanced aesthetic treatment licenses from reputable boards in the US and Europe, as well as a degree in Management in Business Innovation from Queen Mary University, London. Her mission is to empower individuals by rebuilding self-esteem and restoring confidence through her work at Hello Perfect. 
She has pioneered services and initiatives in the beauty space that have given more people access to aesthetic treatment, including her latest endeavour, Pay Perfect, which makes essential beauty treatments more accessible and affordable for women in Nigeria.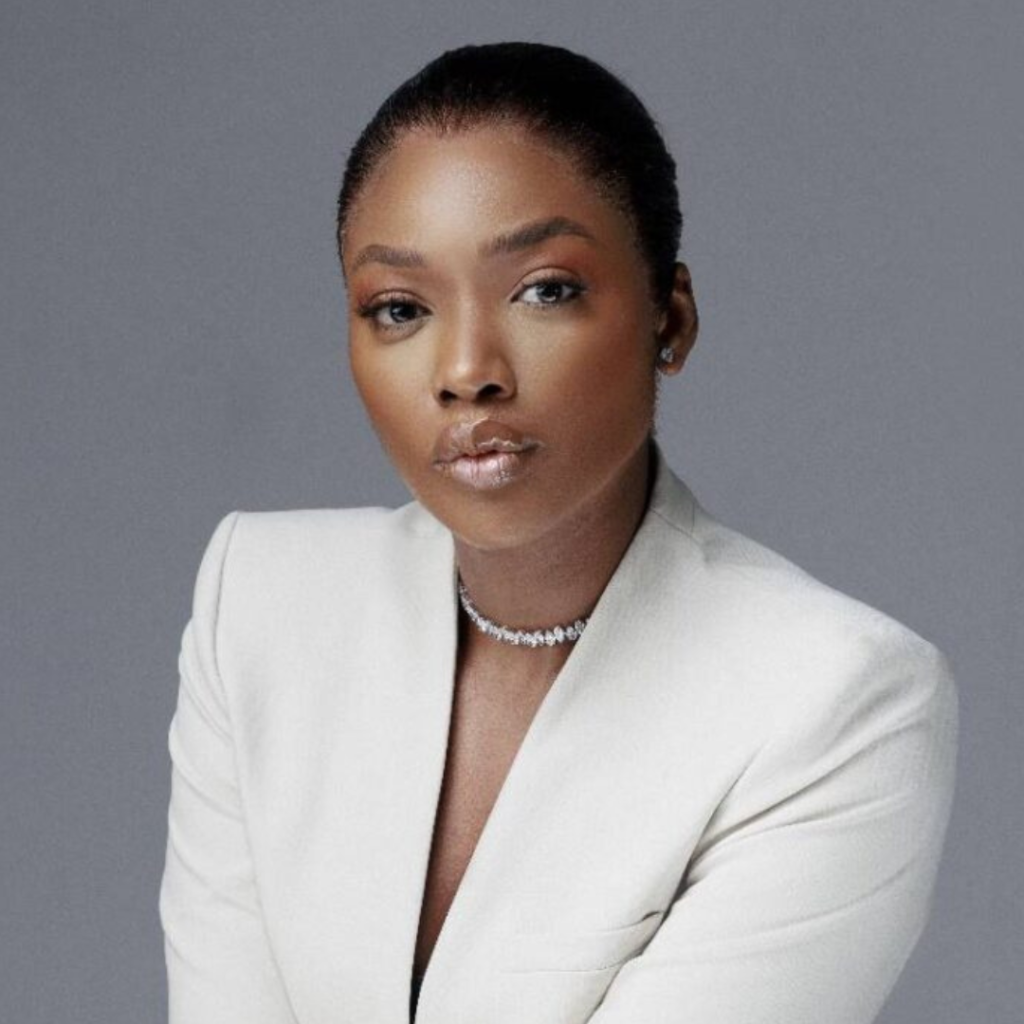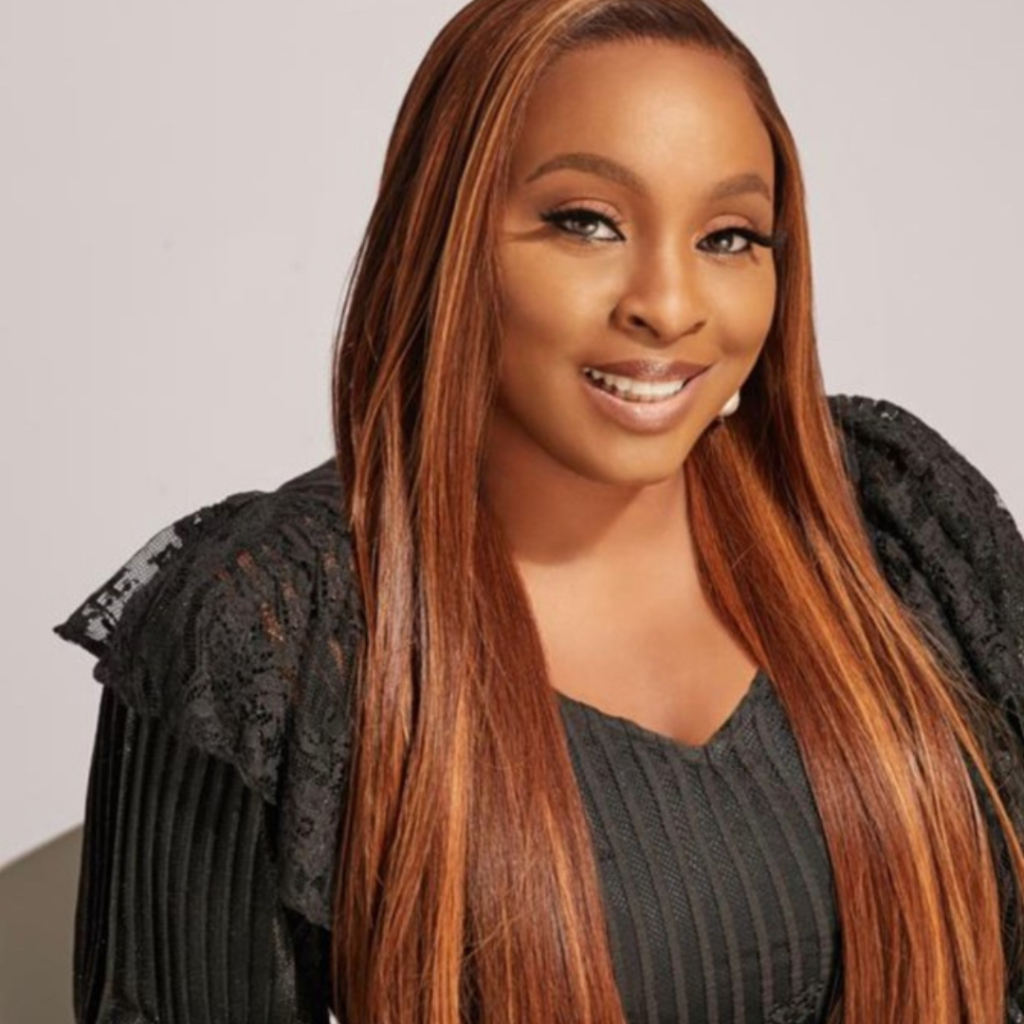 Osayi Alile is a quintessential leader with over 20 years in the Small and Medium Enterprise (SME) and the third sector with a wide array of experience covering International Development, Business and Philanthropic Management, Fundraising and Sustainability.
Her degrees in Sociology and Public Administration from Rutgers University, New Jersey prepared her to be a catalyst for change. She possesses Executive Certifications from LBS (Nigeria), IMD, Cranfield, Harvard University and YALE. She is also a member of the Institute of Directors, Nigeria, CIBN (Chartered Institute of Bankers of Nigeria) Mentoring Advisory Committee, Lagos Business School Nigeria Non-profit Senior Management Fellow, ANDE Executive Committee, Council Member, LCCI (Lagos Chamber of Commerce and Industry), Member TheBoardroom Africa, Executive Member of the Access Women Network and Trustee, Alaghodaro (Edo State) Economic Summit, and member of the Board of Trustees, Women in Management, Business and Public Policy (WIMBIZ), 
Osayi Alile is currently the Chief Executive Officer at ACT Foundation, a grant-making non-profit organisation that provides funding to social sector organisations focused in the areas of Health, Entrepreneurship, Environment and Leadership. Through her hard work, dedication and resilience, ACT Foundation has funded 85 non-profits across the continent of Africa and has thus been adjudged the "Not-For-Profit of the Year" at the 2018, 2019, 2020 & 2022 SERAS CSR Awards.
As a visionary leader, Ms. Alile has served in various leadership capacities including being the Executive Director, of FATE Foundation; Vice President, Junior Achievement of Nigeria; and CSR Consultant, Access Bank Plc. Osayi Alile sits on several boards including House of Tara, Zapphaire Events, Future Projects, Africa Leadership Network Forum, IDEA Hub and Global Dignity, an affiliation of the World Economic Forum in Norway.
Osayi is passionate about creating a positive social impact in our world, women, youth empowerment and equity.
 Patricia Obozuwa is the Vice President, Public Affairs, Communications & Sustainability, Africa at The Coca-Cola Company. She leads a team that oversees Government Affairs, thought leadership, media relations, corporate communications and sustainability for the company across the African continent.
Prior to that, she was the Chief Communications & Public Affairs Officer for GE Africa, Patricia led a team of communicators across Sub-Saharan Africa, building and protecting GE's brand and image on the sub-continent.
She established GE Africa's corporate social responsibility platform, GE Kujenga, aimed at empowering people by building valuable skills, equipping communities with new tools and technology and elevating innovative ideas that are solving Africa's challenges. In 2016, Patricia established the 'GE Lagos Garage' a hub for advanced manufacturing skills development that has produced over 2,400 graduates in Nigeria (March 2020). She is the founding co-hub leader of the GE Women's Network for Sub-Saharan Africa.
She was Head, External Relations, Nigeria and Corporate Communication Leader, Sub-Saharan Africa at Procter & Gamble (P&G), where she pioneered the public relations function and built the West Africa communications team from scratch and also worked as the Arts and Sponsorship Manager for the British Council in Nigeria.
Patricia is a Non-Executive Director of The Water Trust (US-Headquartered Non-Profit Organization). She is also a member of the Lagos State Industry Advisory Board for the Yaba ICT Hub/Cluster project. She serves as a teenage Class teacher at her local church.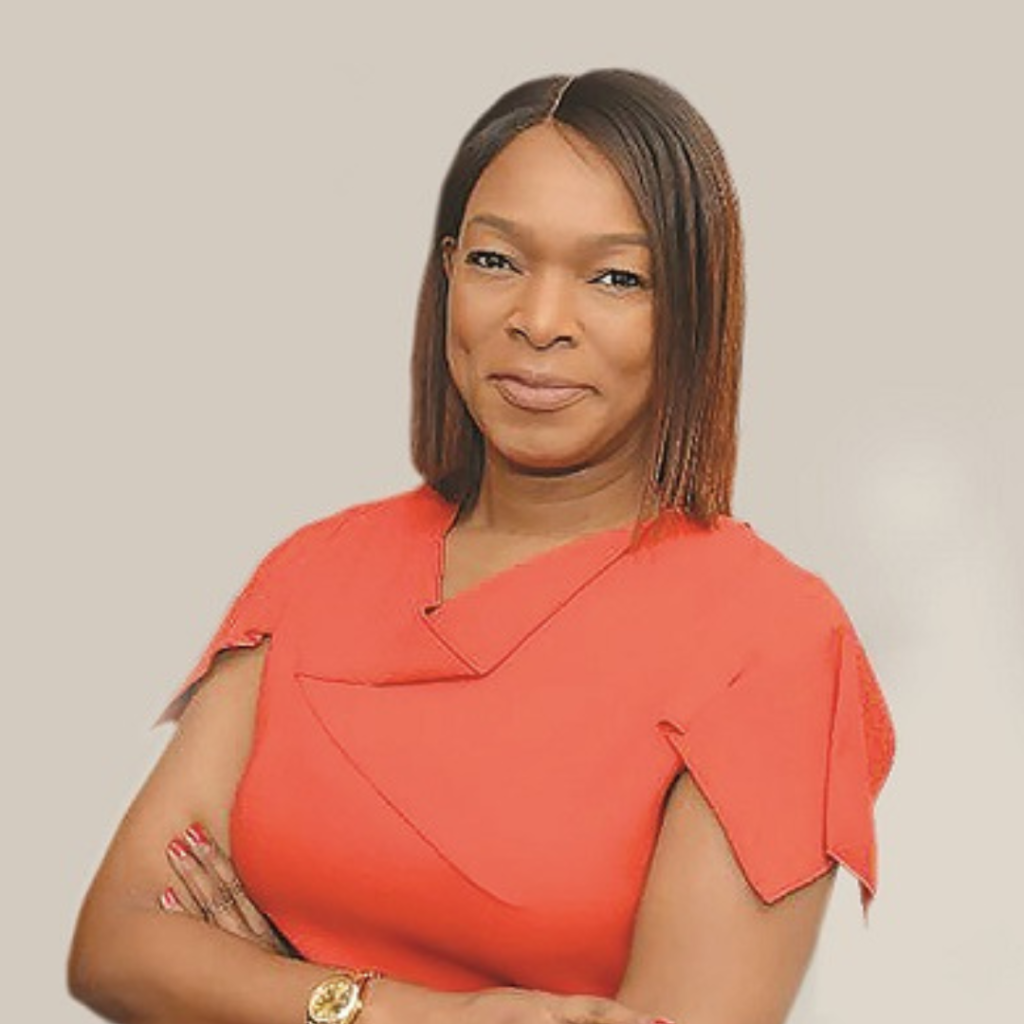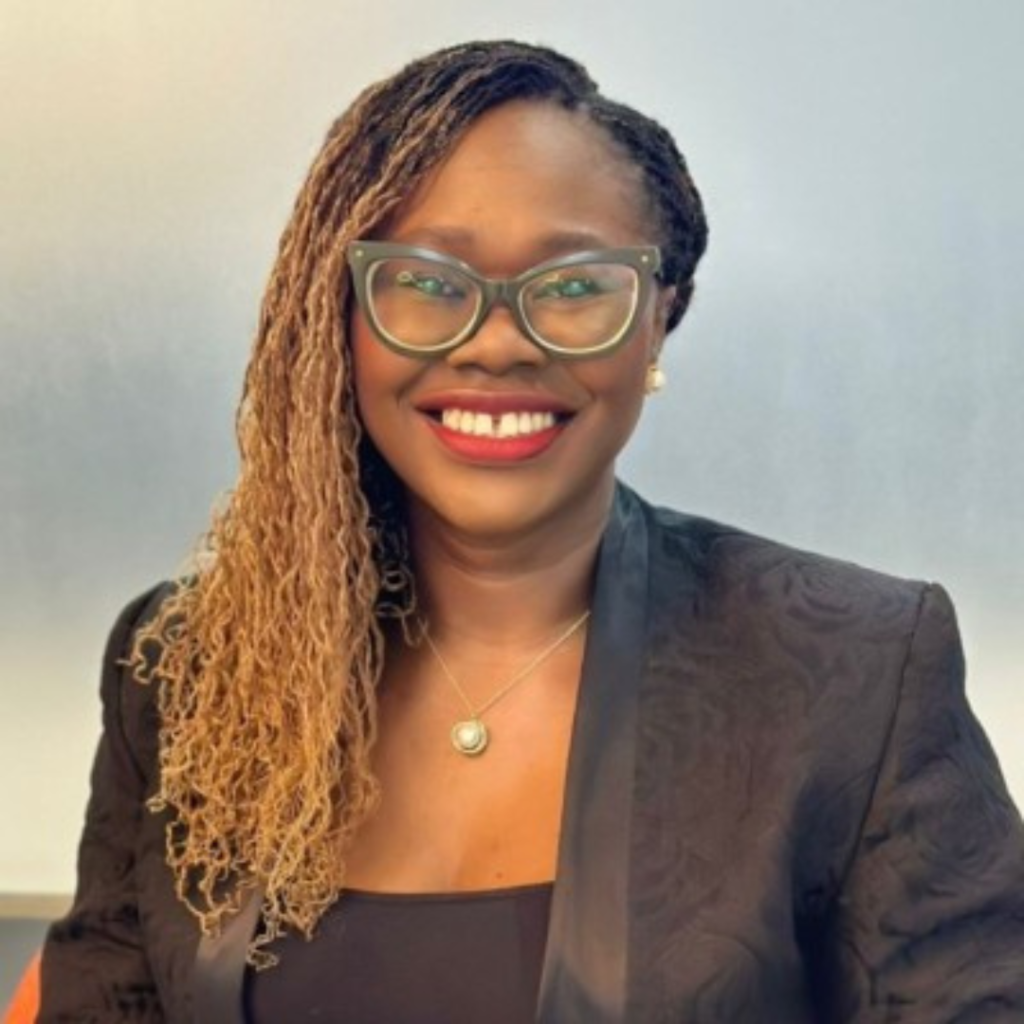 Renah Osiemi is a certified investment and wealth management professional with over 14 years' experience in sales, business development, strategy and product management. Renah started her professional career as a Relationship Officer at Access Bank in 2008. 
After 5 years at the bank, she joined AXA Mansard as Head, Business Development in 2013 and later rose to the position of Head, Solutions Development, where she was responsible for driving scale and business growth, improving user experience and leveraging partnerships for distribution via technology.
Ruth  is the founder of Bitmama, a pan-African blockchain company offering crypto products across payments, with footprints across Africa, Europe, and the US. Prior to founding Bitmama, I consulted for other leading global exchanges and blockchain protocols on their product strategy and market entry into Africa.
With over 6+ years of blockchain experience, I currently lead a distributed global team to champion the next use-cases of crypto adoption and impact in Africa.
Today, our 50+ team members at Bitmama are spread across Nigeria, Ghana, Kenya, Europe, Canada, and the UK. 
Bitmama`s flagship product changera.co caters to cross-border payments and solves FX shortage problems faced by Africans globally. 
Fondly called the Bitmama of Africa's blockchain space, I have also been recognized as one top 20 individuals shaping Africa's blockchain space by leading media such as CryptoAssetBuyer and received other recognition from the German and Austrian Missions in Africa.
Odunayo's work experience spans the Education, Financial Services, Telecommunications and Development sectors in Nigeria. She currently serves as the Executive Secretary of MTN Nigeria Foundation where she drives the alignment between strategy, the SDGs and National Priorities. Her focus for the role is to achieve scale and impact through partnerships and stakeholder models. Prior to this, Odunayo Served as General Manager Planning & Customer Management in MTN Nigeria. She joined MTN Nigeria in 2005, and has overseen various customer experience initiatives which have contributed to the creation of a differentiated customer experience for 75million MTN customers . 
Her functional achievements are in the areas of; Customer Experience, Business Process Outsourcing, Intelligence (analytics), Project Management, Contact Center Management, Billing Services, Operations & Retail Management, Collections and Credit Management. 
An Alum of the Lagos Business School (SMP 27) and the IMD (Switzerland), she has attended executive trainings at the Harvard Business School and Cornell University. Odunayo holds a first degree in Political Science from the University of Abuja. 
An Author, She is a certified Coach, Speaker and Trainer with the John Maxwell Team. Odunayo has presented papers at the IIR Telecoms loyalty & Churn conferences in Berlin (Germany) and Nice (France). A DDI (Development Dimensions International) certified Facilitator and a Maxwell DISC certified Trainer. She is also a mentor with WISCAR (Women in Successful Careers), WIMBIZ (Women in Management, Business & Public Service) and the Pan – Africa University.
In 2019, Odunayo received the Marketing World 'Customer Service Thought Leader Award' in Accra, Ghana. She was the 2019 Global Leadership Program Speaker at the Coventry University in the United Kingdom. She emerged as the 2020 Sales Ruby Influential Leader of the Year. In 2021, She received the Power woman100 award for corporate leadership and was named among the top 100 career women in Nigeria by 9to5chick. In 2022 she received the Impact Makers Award.
Seun Runsewe is a seasoned Business Leader and passionate advocate for people and development. His career began with advising Financial Services institutions and spearheading efforts to advance the frontiers of financial services in Africa. He achieved this across banking, payments, and financial risk management while working with a prominent big-four consulting firm.
With a desire to make a significant impact in the technology space, Seun transitioned to building businesses aimed at enhancing payments in the rapidly expanding digital economy. He also took on the mission of empowering Nigerians to build wealth by leading business development and strategic partnerships to deliver impactful financial products and services.
Seun Runsewe's dedication to driving innovation in financial services and empowering individuals to achieve financial success showcases his commitment to uplifting communities and contributing to the growth and development of the African continent.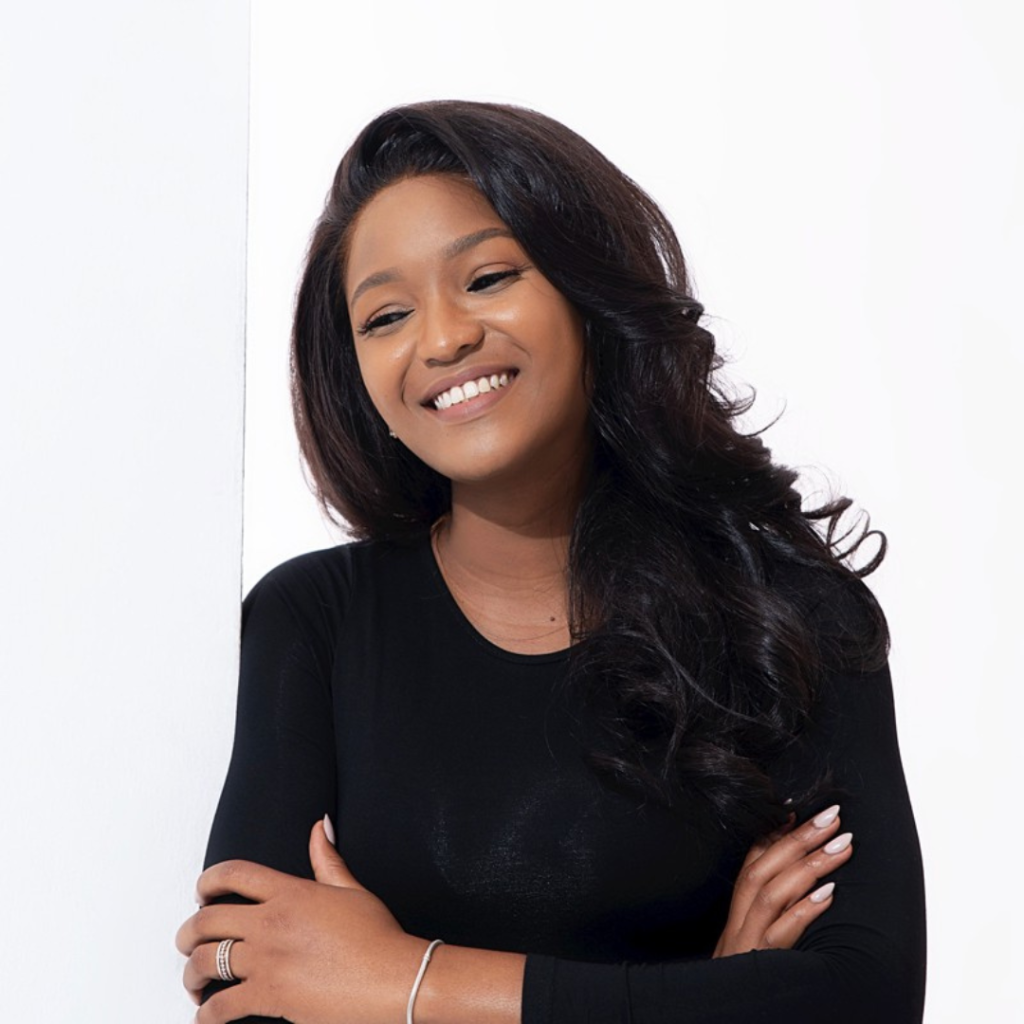 Simi has dedicated a significant portion of her professional life to empowering women and youth, with a particular focus on African girls, to unlock their leadership potential, especially in the business realm. Her passion lies in demonstrating how financial success can be combined with social responsibility and contribute to macroeconomic development.
As the CEO of JA Africa, Simi is committed to replicating the successful initiatives she spearheaded in Junior Achievement Nigeria to benefit youth across Africa. Her mission is to positively impact the lives of over one million young people in the 13 other African countries where JA operates. Even in the face of the challenges posed by a post-pandemic Africa, Simi is resolute in her determination to economically empower the continent's youth. Her multifaceted approach includes leveraging her role as President of the Harvard Business School Alumni Association of Nigeria and providing advisory board support to other organizations working towards similar goals.
With unwavering dedication and a wealth of experience, Simi is working tirelessly to create a brighter future for the youth of Africa, empowering them to become leaders who contribute meaningfully to their communities and the continent's economic growth.
Solafunmi is a Visionary Media, Tech & Entertainment Leader with a proven track record in diverse industries such as Tech, TV, Digital Media, Streaming Platforms, VOD, and Media companies.
With more than 14 years of experience, she has developed an in-depth understanding of the media landscape across content verticals including TV/Film, Music, Reality, Kids, News, Youth & Family, and more.
She currently serves as a Head of YouTube for East & West Africa, catalyzing growth for Africa's largest content creators, media companies and multichannel networks.
She's full of creativity, grit, and determination.
Subomi Plumptre is working to bring financial prosperity to the African & Diasporan middle class through her role as co-founder of Volition Cap (Nigeria) and Volition Blue (USA). She believes this social group is critical to driving economic growth in Africa, and designed a fund management model that leverages traditional African cooperatives and remittance investing. Her innovative approach earned her a license from the Nigerian Securities and Exchange Commission, making her one of few female CEOs in the asset management industry.
Before her entrepreneurship journey, Subomi was a respected brand and marketing expert with over 20 years of experience. She reached the pinnacle of her career as a Director at Alder Consulting where she curated Africa's first research-based social media and brand reports. She was team lead on high-level projects, including the rebranding programs of the Federal Ministries of Education, Foreign Affairs and Mines & Steel Development, as well as marketing campaigns for GTBank and First Bank.
Subomi has published a White Paper on African and Diasporan wealth gaps, and two books about social media. She is an Adjunct Faculty member at the University of Lagos, where she teaches entrepreneurship. Subomi is a CSC Leader, Forbes Business Council member, GIFEW Award winner, TEDx speaker, Nigeria Leadership Initiative board member and Young African Leaders Initiative (YALI) mentor. Her foundation, The Subomi Plumptre Trust, was created to address challenges in education, health and culture.
Subomi actively blogs at subomiplumptre.com and has composed two music singles. She is well traveled and maintains an open curiosity about new cultures.
Taiwo is a trained Career Coach, People Management Leader and Globally Licensed HR Practitioner offering almost 20 years core HR experience of leading Multi-Generational Workforce across the Insurance, Healthcare, Consulting and Financial Service Sphere with a Personal Commitment and Stride to "Build the Next Generation of HR and Business Leaders"
Current role responsibility include Strategic Planning, Organizational Leadership, Change Management, Process Automation and to provide Thought – Partnership focused on driving the Human Capital Agenda of the Group.
Adroit in Board Relations and Advisory, People and Culture Transformation, Organizational Leadership, Strategic Planning, Corporate Social Responsibility & Social Investment, Corporate Governance, Issues & Crisis Management, Regulatory & Statutory Compliance, Strategic and Tactical HR Advisory, Operational & Process Risk Mitigation, Diversity and Inclusion Management, Learning and Development, Performance Management, Organizational Development, Change Management, Total Reward Management, HR Analytics, HR Program/Project Management, Talent Optimization, Global Talent Sourcing and Cross-Border HR Operations (Southern and Western Africa)
Keen on upholding the tenets of best practice, driven by an uncompromising commitment to excellence and professionalism while leveraging on strategic deep understanding of Racial, Cultural, and Religious Diversities.
Temitayo Dada is the Trade Commissioner at the Deputy High Commission of Canada. Her role is to lead multilateral trade relations between Canada and Africa businesses in Nigeria, Equatorial Guinea, Sao Tome and Principe. 
She is an expert in managing international business relationships and engaging with local stakeholders like government bodies. She has experience in consultancy, contract administration, procurement and communication. She has also managed programs for the government Federal Republic of Nigeria, like the Social Investment Program. 
Her career started in HSBC, since then she has worked in big corporations like JPMorgan Chase & Co, Credo Advisory and international  development organisations like the UKaid department of International Development (DFID). She is the editor of 'Market of Dreams'.
Temilola Adepetun is the founder and MD/CEO of SKLD Integrated Services Limited (formerly School Kits Limited), a leading sourcing company for educational, lifestyle and humanitarian aid supplies in Nigeria, with a presence in 6 States of the country serving over 500 companies.
She is passionate about learning and development and has been a facilitator of soft skills in entrepreneurship programs. She has served on mentoring Programs over the years mentoring other female entrepreneurs.
She started her 14-year career in the Oil and Gas Industry in 1986 during which she worked in various strategic departments such as Economics & Planning, Treasury, Insurance and Human Resources. She resigned in the year 2000 to pioneer the concept of a one-stop back-to-school store in Lagos, with the opening of her first retail store at Onikan on September 9th of the same year.
SKLD was launched with 2 members of staff over 20 years ago and currently, it operates 8 business locations across Lagos, Abuja and Port Harcourt as well as liaison offices in Ibadan, Maiduguri and Damaturu.
Temilola has driven a very innovative and dynamic team towards achieving remarkable growth in her company. SKLD has 6 Retail outlets (with expansion plans for a total of 8 brick-and-mortar stores), an online back-to-school store; a robust wholesale business unit serving over 500 schools nationwide; and a garment production facility employing 93 garment workers and producing over 7,300 garments per month. Marcel Hughes Apparel, SKLD's flagship uniform brand was launched in 2009 and has gained wide acceptance among hundreds of schools as Nigeria's leading premium school wear brand.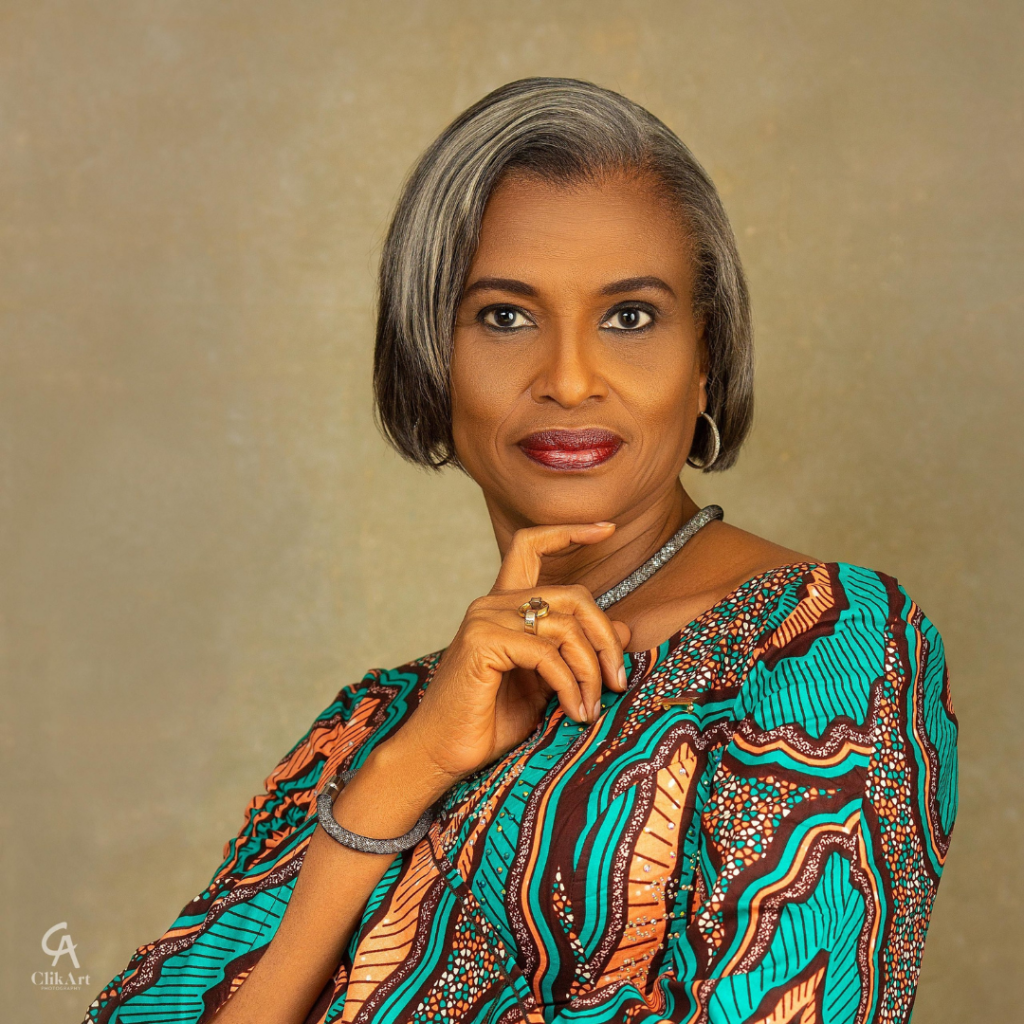 Temitope Iluyemi is a versatile and visionary business leader with an extensive track record of leadership roles across various domains. With a strong focus on corporate governance, Temitope's career spans over 20 years, during which she has excelled in Sales, Business Development, Market Strategy, Supply Chain Operations, External Relations, and Government Relations in multiple African countries and the USA.
As a result-driven leader, Temitope has demonstrated her ability to build and nurture high-performing teams aligned with organizational objectives. Throughout her career, she has been instrumental in developing new businesses for multinational companies, enabling their expansion into new markets, and establishing strategic relationships with key stakeholders to foster a competitive and conducive business environment.
Passionate about developing leaders and cultivating an inclusive work culture, Temitope actively advocates for gender parity, diversity, and inclusion both within her roles and beyond her immediate sphere of influence.
Temitope's government relations role expanded after her assignment in Washington D.C, encompassing Northwest Africa and currently covering 54 countries on the continent. As the Government Relations Senior Director, she is responsible for enhancing P&G's investment viability across the region, advocating for policy reforms that facilitate business operations, fostering Africa's integration, building P&G's reputation in the countries of operation, and supporting company communications.
Tobi Otokiti is a 2022 award winner of the TechWomen initiative sponsored by the U.S. Department of State. 
With about 10 years of product management experience, Tobi has a track record of delivering innovative technology products for Africa, the US, Europe and emerging markets. Her work experience spans building financial and EduTech technology products. She's worked in 3 unicorns (Flutterwave, Andela and Interswitch) and this has contributed her being a strong product leader. 
She is recognised as one of the top 10 female product management leaders revolutionising Africa's tech space. She is a product mentor at Google launchpad. 
Tobi is the founder of ProductDive, the largest product management community and school in Africa that helps product managers become better skilled. Her work at ProductDive has been recognised in the tech ecosystem in Africa due to the many success stories it has birthed. 
Tobi is a public speaker and has spoken at conferences in London, Manchester, South Africa, Rwanda and Nigeria. In 2020, Tobi was a public speaker at Mind the Product, a product management conference with over 1,000 career professionals.
Tola Bamigbaiye-Elatuyi  is the Marketing & activations Lead, West Africa and Marketing Manager Home care Nigeria for Reckitt Benkiser Nigeria Ltd. With a Doctorate in view from ISM France, she has an M.Sc in Marketing and a first degree in Insurance both from the University of Lagos.
Her career started as an underwriting assistant with Aiico Insurance Plc from where she moved in to the banking sector with Enterprise Bank as the Strategic Planning Officer with progress unto becoming the Branch Marketing Coordinator. Then she diversified her experience into Manufacturing when she joined Cadbury Kraft (Mondelez) Nigeria as the Category Manager Innovation beverages, where she landed breakout and breakthrough innovations to sustain category growth and leadership.
Her diversified experience in previous roles made her versatile and a choice candidate when she joined Unilever Nigeria Plc. With a go-to-market- mindset she has brilliantly executed the introduction to trade plans across key categories as the Head, Shopper and Customer Marketing sequel to her stint in the GULF (Dubai, Qatar, Oman, Bahrain, Kuwait) as a customer Marketing Manager and back in Nigeria to become the functional lead for Trade Category Management.
Tola is a member of the Nigerian Institute of Marketing, member of the chartered Insurance Institute of Nigeria and an associate of the Nigerian Institute of Management.
Tola is a firm believer in empowering others for success in the work place as she currently manages workplace management columns and Consumer Insight columns in magazines published across West Africa. She is an adjunct lecturer in the Marketing Department (Faculty of Business Administration)with the University of Lagos and a very much sought after facilitator for Customer Service, Consumer Behaviour, Marketing and Brand Management courses , Soft and Emotional skills for Multinational Organizations.
Tolu Michaels is a multifaceted professional, excelling as a personal brand strategist, author, and digital entrepreneur.
Her journey in entrepreneurship has given her valuable insights and experiences, and now she dedicates herself to empowering modern entrepreneurs in discovering their drive and gaining clarity in building purposeful and profitable brands.
Leveraging the power of technology for personal brand success, Tolu is driven by a passion to thrive and make a positive impact. Through her digital business brand, she has attracted clients from numerous countries across five continents. Her extensive reach includes training thousands of entrepreneurs through her engaging training series, boasting over 10,000 email subscribers weekly, and a wider audience of over 50,000 across various digital platforms.
Tolu Michaels' best-selling book, "Show Up," is a testament to her vision and expertise. It serves as a comprehensive guide for entrepreneurs, helping them navigate the journey of building an enviable brand and effectively communicating their personal values to their target audience in an ever-evolving society.
As the name suggests, "Show Up" inspires readers to develop the resilience needed for entrepreneurial success – to consistently "show up" and scale up their influence to offer impactul products.
Her outstanding work has garnered recognition and accolades, earning features in press and top-tier media outlets. Tolu Michaels has also been honored as a pioneer honoree of the prestigious Future-Forward Female Folio.
With a degree in Engineering from Covenant University and a Certification in Disruptive Strategy from Harvard Business School, Tolu Michaels is an unstoppable force in the business world. She leverages available technology and digital resources to create opportunities, leaving a lasting impact on the entrepreneurial landscape.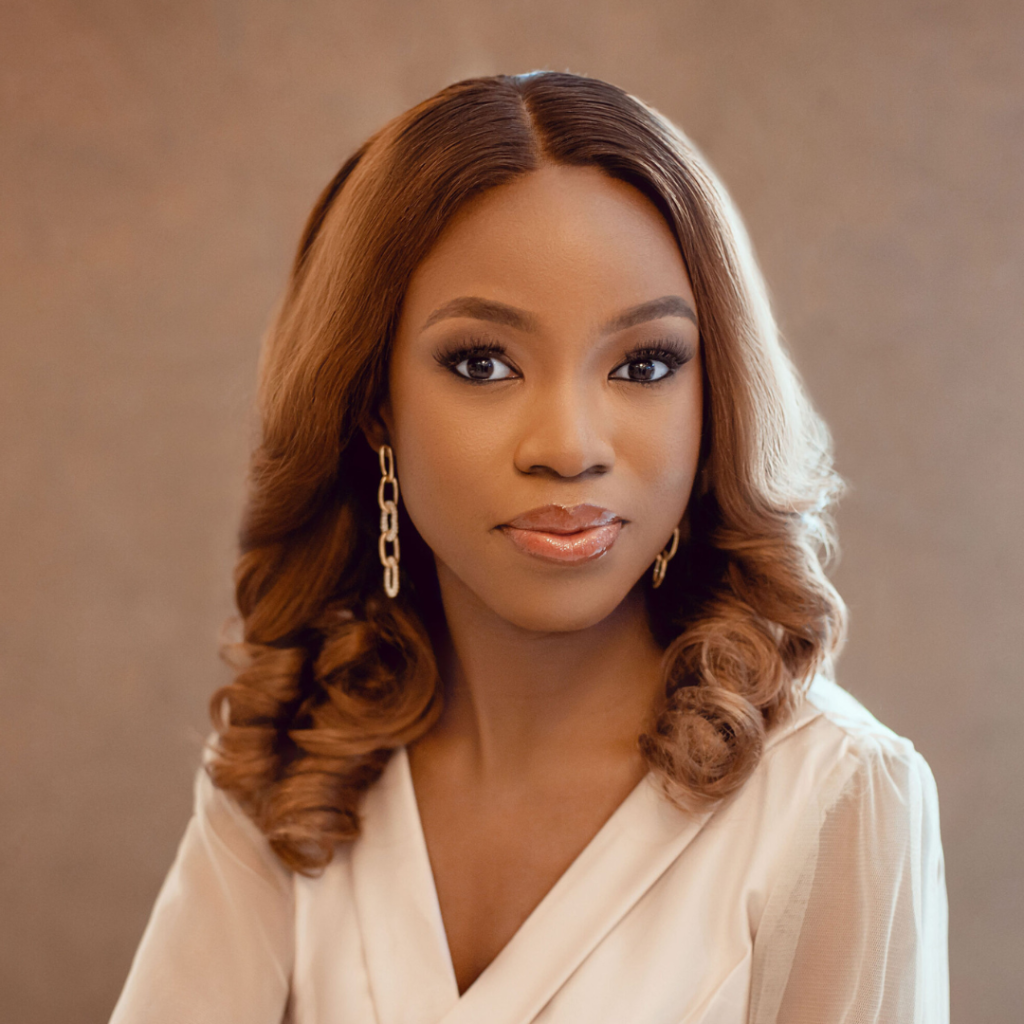 Tolulope Babajide is a driven development professional with experience in gender programming, financial inclusion, management consulting, rural development, and strategic partnerships.
She has extensive experience in developing partnerships for social impact that are rooted in core business practices; identifying barriers to financial services uptake by women and vulnerable groups and developing marketing systems solutions to address those barriers.
She previously served as the Partnerships and Innovations Advisor for the World Bank-funded Nigeria for Women Project.
Tolulope holds a bachelor's degree in English and Literary Studies and an MBA (specialization in Sustainability) from Nexford University.
She is skilled at public speaking and writing on topical issues such as gender and development, women's economic empowerment, and forming strategic partnerships to achieve impact. She volunteers as a mentor to young women in development and is a member of the Philanthropy Circuit Executive Committee. She also serves as the Board Chair of 'A Girl Project.'
Tomi Somefun is an accomplished Financial  Services professional with over three decades of hands-on experience  spanning Commercial and  Investment Banking, Financial and Business Consulting, and Audit and Accounting Services.  A Fellow of the Institute of Chartered Accountants of Nigeria, she graduated from the Obafemi Awolowo University (formerly University of Ife) in 1981 with a Bachelor of Education in English Language, and later trained and worked with KPMG as a Chartered Accountant.
She has  benefited from several Executive Trainings Management Programs at Harvard Business School, Wharton Business School, and University of Columbia Business School; and also an alumnus of INSEAD, Fontainebleau.
In August 2015, she was appointed Managing Director/Chief Executive Officer of Unity Bank Plc, a retail bank in Nigeria .  Prior to her appointment as Managing Director, she served as the Executive Director overseeing the Lagos and South-West Business Directorate, as well as the Financial Institution Division and Treasury Department of the Bank. Tomi was the Managing Director of UBA Capital & Trust Ltd from 2004 to 2005and the founding Managing Director/CEO of UBA Pension Custodian Ltd in 2005.
Tomi is passionate about people, especially young adults and helping them achieve their God-given potential in spite  of their limitations . She mentors and counsels individuals in their professional  and social development. She sits on the Boards of a number of  Financial and Education Institutions, and  has served on the Advisory boards of several Foundations, including UBA Foundation.
Tope Omotolani is the Co-founder and Managing Director of Crowdyvest, an impact-driven platform focused on connecting its members to multiple sponsorship opportunities that are aligned with the 17 United Nations Sustainable Development Goals. She is also one of the Co-founders of Farmcrowdy.
Temitope brought over 5 years of online agricultural initiatives to Farmcrowdy in her bid to 're-define' the perception of whom a 'Farmer' really is in Nigeria and also to create a social movement in the Nigerian Agriculture Space. She is an ardent believer in entrepreneurship as the most sustainable way to eradicate poverty in Africa. The passion she has for youth involvement in agriculture prompted her to join Farmcrowdy in 2016.
Temitope founded her first start-up when she was 16, called 'Gifted Hands' a make-up business that ran for 10 years. At age 19, she founded a Cleaning Services company known as 'Fínífíní' Enterprises. In 2012, she built a product that focused on the buying and selling of Agriculture produce from rural areas and sold to the urban parts of the city of Lagos with over 18 million people, through offline crowdfunding. It was called 'Ojawara.'
As Chief Operations Officer of Farmcrowdy, she coordinated all farm operations across 14 states with over 25,000 farmers.
Toyin Sanni is Founder and CEO of the Emerging Africa Group, a Financial Services Group comprising investments in Investment Banking, Financial Technology, Venture Capital and Microfinance Banking, Co-Founder of the Africa Investment Roundtable as well as Board Chair at Layer 3 Limited and Vice-Chair, Fundall Limited, both of which are innovative technology companies. 
A prominent Investment Banker, Public Personality /Speaker and Influencer, she derives satisfaction from grooming future leaders (through capacity building initiatives such as a highly rated Executive Mentorship program) and from preferring capital solutions for financing & investing challenges of African governments, businesses & individuals. 
With a background in securities law and extensive experience in corporate finance, investment banking and asset management, she leverages networks across markets and her extensive experience working on leading transactions to achieve growth objectives. She leads a team of experts who provide advisory & capital raising solutions across Africa to achieve sustainable economic growth. 
Toyin sits on several boards and committees including Transnational Corporation Plc, the Off Grid Energy Fund – Financing Energy Inclusion (OGEF-FEI) sponsored by the AfDB and other International Development Finance Institutions, NEPAD Business Group Nigeria and the Pearl Awards Governance Board. She chairs the Technical Committee on Financial Literacy of the Nigerian Capital Market and is Ambassador/Co-chair for the Africa CEO Forum Network for Nigeria. She is also the Founder and Chairperson for the Women in Finance Nigeria Network and Founder, WIFNG UK. 
Toyin was declared the All African Business Woman of the year 2017 by CNBC Africa, & Nigeria's CEO of the Year 2017 by Pearl Awards. In 2020, she won the Africa Influencer (CEO) Award by Tech Times Africa.
Toyin has written three published books including Riding The Eagle – A Guide to Investing in Nigeria. Her past roles include President, Association of Investment Advisers (CIIA), President, Investment Advisers and Portfolio Managers (IAPM), and President, Association of Corporate Trustees.
Uche Pedro is a prominent Nigerian entrepreneur, blogger, writer, and social media expert, widely recognized as the founder of BellaNaija.com, Africa's leading lifestyle digital media company. With a strong focus on entertainment, cinema, fashion, culture, and advocacy, BellaNaija has amassed an impressive digital footprint of over 200 million impressions and 10 million followers across platforms.
Her exceptional contributions and impact have earned her numerous accolades, including being listed in the 100 Most Influential African Women by Avance Media in 2020. Notably, Uche Pedro was selected as one of 10 emerging African leaders for the Bill & Melinda Gates Foundation's Gates Letter campaign in 2018. Furthermore, she received recognition at the Frown Awards by UNICEF/UNFPA for her efforts toward the abandonment of Female Genital Mutilation in Nigeria.
Uche holds a distinguished Bachelor's degree – Honours Business Administration (HBA) from the prestigious Ivey Business School at Western University in Canada.
Her journey began in 2006 when she started blogging as a hobby, and she quickly rose to prominence due to her consistency, organization, and professionalism in the blogging world. Uche Pedro's success and influence extend to inspiring a generation of bloggers, including Linda Ikeji, one of Nigeria's most successful bloggers.
Beyond her entrepreneurial ventures, Uche is a TEDGlobal Fellow and a Nigeria Leadership Initiative Associate, reflecting her commitment to leadership and making a positive impact on society.
She is the VP of Product at Piggyvest and a Mentor at Google For Startups Accelerator Africa.
Uchenna Ogwo is a seasoned commercial lawyer with over 20 years' experience providing professional advice to both Nigerian and Cross-border Clients principally on business establishment, International joint venture transactions, compliance, corporate restructuring, refinancing, and immigration. 
She obtained an Executive MBA from the London School of Business and Economics, she has cognate experience in the Legal aspects of Contracts Documentation, Intellectual Property Law and Labour & Productivity Law. She had consulted for the United Nations (UNEP) as the National Legal Consultant on Environmental Law matters on the project – Independent Assessment of the Environment and Public Health Impacts of Oil contamination in Ogoniland, in the Niger Delta, and also more recently advised on a project refinancing loan for an oil field worth about $181M. 
She is an active member of the Nigerian Bar Association(Premier Branch) where she has served two terms in the CLE (Continuing Legal Education) committee. She is also an active member of FIDA (International Federation of Women Lawyers), a Chartered Mediator with the Institute of Chartered Institute of Mediators and Conciliators (ICMC) and also a Chartered Secretary and Administrator with (ICSAN)
If she wasn't practicing law, Uchenna would be a happy Administrator, a Social Worker, or a Farmer. 
She loves taking leisure walks, having a good laugh, drinking tea or coffee and helping people.
Ukonwa Kuzi-Orizu Ojo is the Founder and CEO of Zaia Ventures, a Venture Studio committed to building and scaling businesses that serve underrepresented and marginalized communities. Prior to this, she was the Global Chief Marketing Officer and US General Manager for Amazon Prime Video & Studios. She is an experienced global operational P&L leader and marketing executive with a 25-year track record of leading cross functional teams to scale multi-billion dollar brands/businesses. Her achievements demonstrate her ability to consistently deliver operational results across geographies and industries through astute financial management, market leading innovation and product development, and award-winning marketing initiatives that resonate deeply with consumers. 
During her tenure at Amazon Prime Video, she combined data driven/analytical decision making, cross functional team leadership, and award-winning creativity to deliver the best performance in Prime Video history. She led a significant acceleration in customer acquisitions, which helped Amazon Prime Video replace Netflix as the #1 US Streamer for the first time ever, launched 8 of the top 10 shows in Prime Video History, and improved marketing investment efficiency to its best ever. In addition, she helped the streamer garner 5 Golden Globes, 4 Oscar Nominations and 2 wins, 50 Emmy Nominations and 8 wins and 111 Entertainment Clios. 
Prior to this role, served as Global Chief Marketing Officer at M.A.C Cosmetics, a multi-billion dollar cultural icon and the world's #1 Makeup Brand. Prior to that, she served as Global General Manager for an iconic portfolio of brands including COVERGIRL, Clairol, Sally Hansen, Rimmel, and Lifestyle Scenting/Fragrances at Coty. Earlier in her career, she held General Management roles at Unilever, Reckitt Benckiser PLC, General Mills Corporation and MeadWestvaco Corporation.
Member, Fortune's Most Powerful Women, Twitter Influence Council, Executive Leadership Council and Black Executive CMO Alliance, Henry Crown Fellow at the Aspen Institute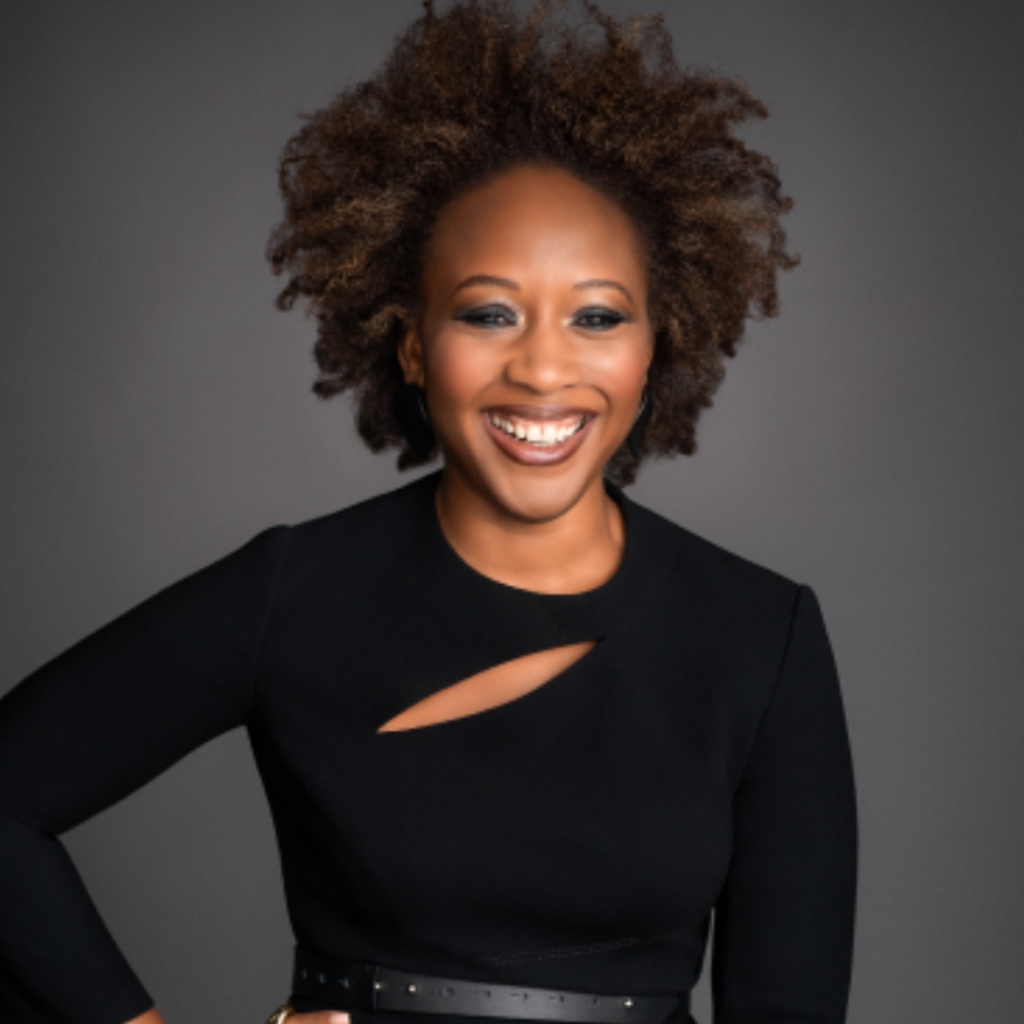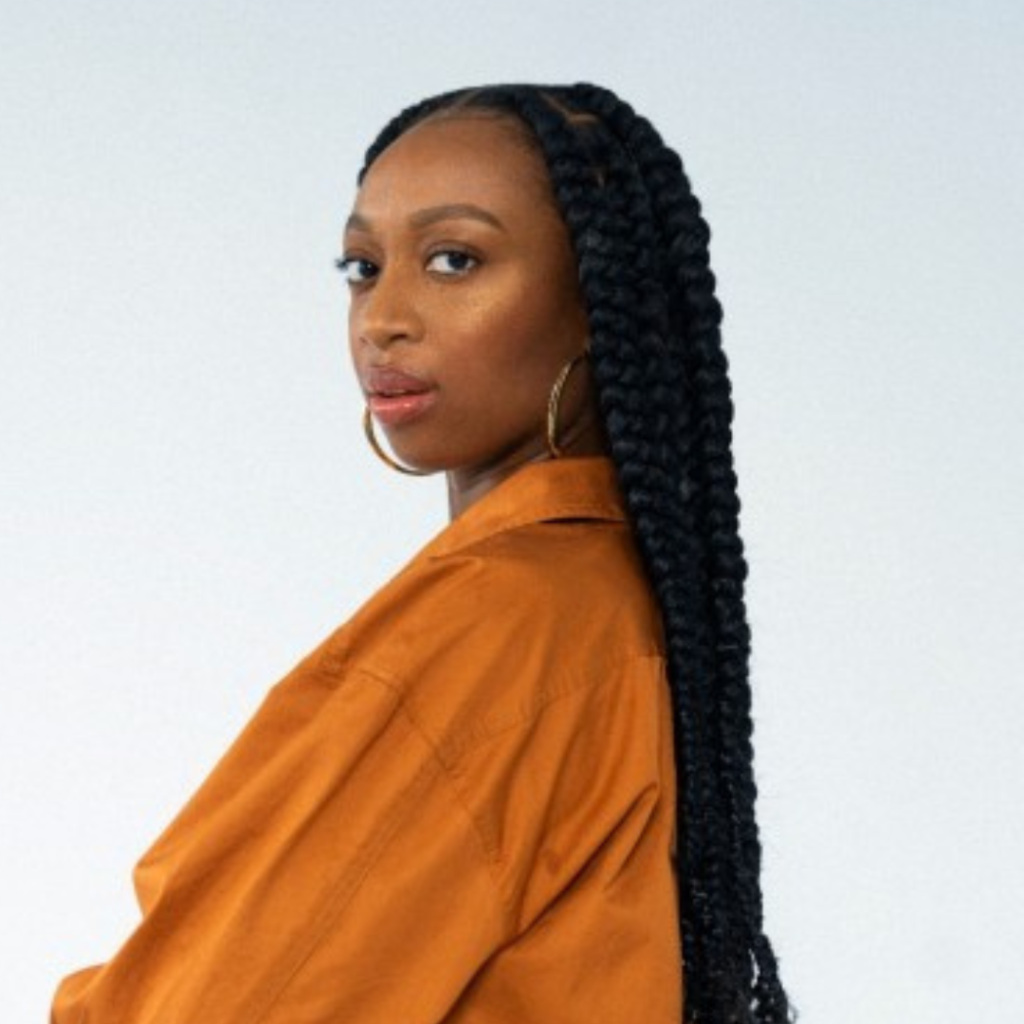 Victoria Adesanmi is the true definition of a renaissance woman who is bridging the gap between creativity and faith.She designed a real-life Barbie Malibu DreamHouse on Air BnB.
Born in Silver Spring, Maryland and raised in a traditional Nigerian household, Victoria knew that she wanted to defy the traditional expectations and pursue a creative career. Victoria earned her Bachelor's Degree in industrial design with a minor in textile technology at North Carolina State University.
Victoria launched her career as a successful color + material designer at adidas global, where she's influenced footwear products for athletes, musicians, and artists, including Kanye West, Jonah Hill, and Beyoncé. However, in a multi-hyphenated generation, Victoria knew she wanted to extend herself into other creative pursuits: interior design, production design + creative direction.
Her years spent immersed in sportswear, fashion, and pop culture have sharpened her attention to details and trends. As a Nigerian-American whose lived in multiple cities, including Brooklyn, Portland + now Los Angeles, Victoria's aesthetic and approach to design, is influenced by her ability to understand and connect with people from all backgrounds. Whether it's your home, retail space, or an immersive and interactive experience, Victoria creates memorable spaces that feel personal and exude good vibes.
Victoria Adesanmi believes if God created the heavens + earth, the possibilities are endless for the spaces + ideas He'll create through her.
Victoria Vodunnu Usman is a dedicated HR Professional with a strong passion for talent acquisition and development. Her primary goal is to create an environment where people thrive, and employees feel valued, engaged, and motivated to achieve professional growth. Through effective employee development strategies, she aims to contribute to the overall organizational success.
With extensive expertise in organizational design, employee engagement, performance management, and strategic planning/staffing processes, Victoria brings valuable insights and solutions to the table.
Currently, Victoria holds the position of Head of People Strategy & Operations at Flutterwave, where she plays a pivotal role in shaping the company's HR strategies and operations. Her previous experience includes working as the HR & Finance Manager at Capture Payment Solutions Limited and as the HR & Finance Officer at Reliance Trustshire Limited.
Victoria's educational background further complements her professional expertise. She holds a type ACIPM in Human Resource Management from the Chartered Institute of Personnel Management, a Master's degree in Investment and Risk Management from the University of East London, and a Bachelor's degree in Geography from the University of Lagos. Her commitment to continuous learning is evident through her certification from LinkedIn in Human Resources: Strategic Workforce Planning.
With her diverse skill set and dedication to fostering a thriving work environment, Victoria Vodunnu Usman is a valuable asset in driving organizational success through people-centric strategies.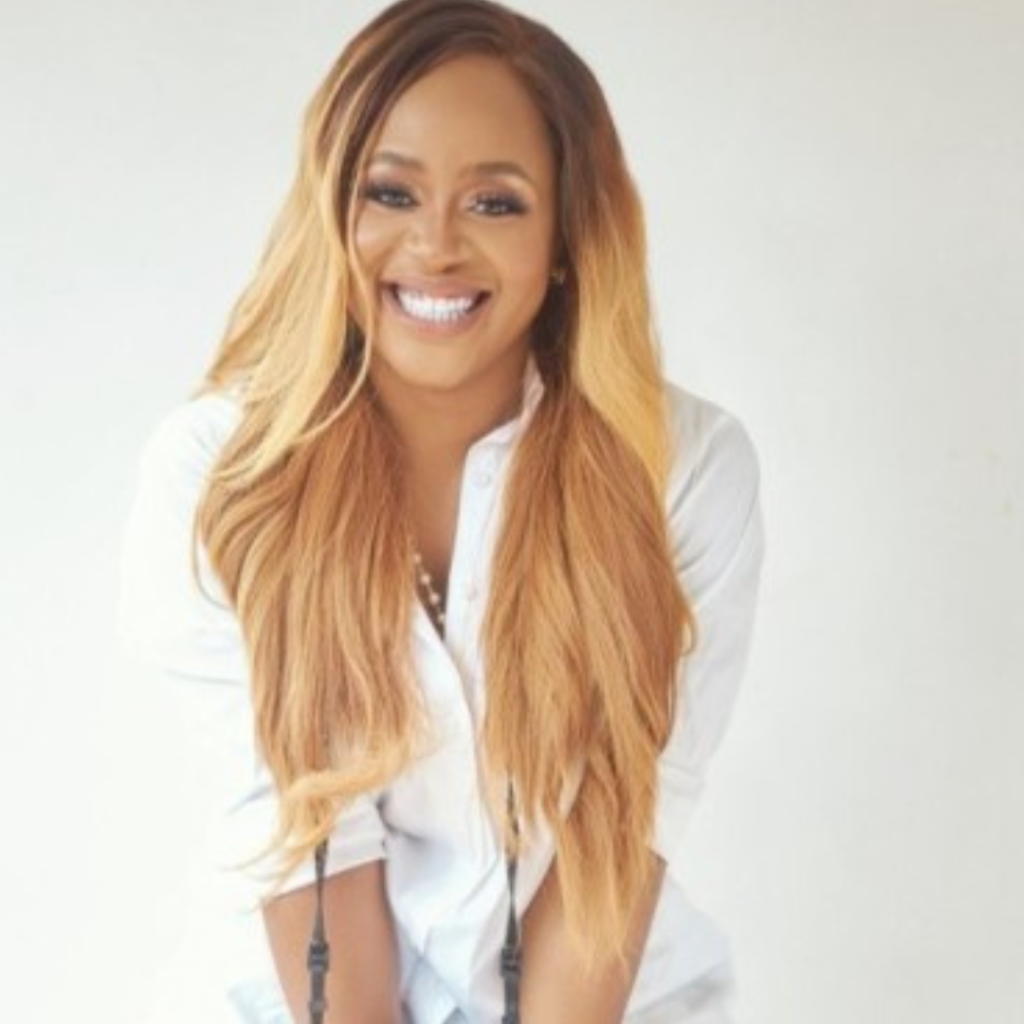 Yagazie is a renowned Professional Photographer with over 10years of experience in documentary and portrait Photography. she the Leads Creative and Founder of Gazmadu Studios a premium award-winning photography company that specialises in timeless portraits, documentary photography and documentary films for weddings, corporate organisations and more including comprehensive education resources for creatives and a thriving photography community.
-She's an Educator on a mission to elevate the perspectives people have of photography in Africa and the value and contribution of creatives of African descent. This is why she founded the GazMadu Education platform in 2019. A trailblazing education platform that equips and empowers creatives across Africa to enhance their skills and build successful, thriving businesses so that they can impact their world with their distinct gifts and talents. The Gazmadu education platform has impacted over 10,000 photographers & creatives till date through mastermind programs, workshops. and educational contents
Speaker, Thought- Leader & Curator of the growing GazMadu Education photography community – a global hub for creatives who seek to connect with other creatives honing and leveraging their skills in significant ways locally and internationally. Through this community, my goal is to see members equipped but also build bridges between creatives, government organizations and international bodies that will lead to a meaningful shift in the role creatives play in the transformation of Africa.
Pioneer Honourees of the Future-Forward Female Movement, a global conscious collective for the advancement of visionary women of African descent, who transform the world, through the power of compelling vision, legacy leadership and collaboration. 
2017 Future Awards Winner – The Edwin George Prize for photography, Leading Ladies Africa 100 Most Inspiring Women in Nigeria ( 2017), Avance Media 100 Most Influential Young Nigerians (2019), Future-Forward Female 2021 Folio – 12 inspirational African women who are leading boldly through visionary excellence, compassionate service and brilliant innovation.
Yanmo Omorogbe is the co-founder and COO of Bamboo. Yanmo leads growth and operations as the COO of Bamboo. Bamboo is a digital investment platform that gives Nigerians real-time access to buy, sell or hold assets traded on the US stock exchange from their mobile phones or computers.
Omorogbe is the operational backbone of a business turning ordinary Nigerians into global investors. With Bamboo, the average Nigerian can become a shareholder in the technology companies they use every day like Twitter, Google, Apple, Amazon, Microsoft and Facebook.
Before Bamboo, Yanmo worked as an investment analyst, and then investment associate at African Infrastructure Investment Managers (AIIM), which develops and manages private equity infrastructure funds designed to invest long-term institutional unlisted equity in African infrastructure projects.
She cut her teeth as a business development professional and actuary with Wecyclers Corporation and Tokio Marine Kiln respectively.
She is dedicated to facilitating the continued growth of organisations she has found herself. An alumna of Chemical Engineering from Imperial College, London, she was previously an assistant to the Nigerian Minister of Power, Works and Housing. She then returned to the private sector as part of the Transaction and Asset Management teams at African Infrastructure Investment Managers (AIIM), one of Africa's largest infrastructure private equity fund managers.
Yanmo is working to even the playing field for access to global investment opportunities for Nigerians, helping them grow their personal wealth.
Yemi Keri is the Chief Executive Officer of Heckerbella Limited, a digital transformation company.
She is Chair, Non-Executive Director and Advisory Board member of various organisations, and an award-winning commercially minded technologist, with experience in the Information Technology and Telecommunications industries, operating at CEO and C-suite level across the public and private sectors.
She is at the forefront of digital transformation to tackle business and social problems, recognised as one of the foremost Women in Technology in Nigeria to carve out a niche in the technology space, with over two decades of experience in both the public and private sectors. She is also a business development strategist, skilled at creating innovative business solutions to address organisational challenges and leverages on the use of technology as a catalyst for strategic growth.
As CEO Heckerbella Limited, they are a digital transformation company, and a Partner at Holmen Consulting, an information technology consulting firm. She supports the iAspire Data Science Fellowship Program, an iDAF.ng flagship program that is training and preparing Nigeria's bright minds to leverage artificial intelligence, and advanced machine, as well as deep learning concepts to tackle business and social problems.
Prior to starting her entrepreneurial journey as the CEO of Heckerbella Limited, she held roles in executive management positions: the Consulting Head of IT at the National Pensions Commission (PENCOM), the General Manager for Information Technology and Enterprise Systems for NatCom Development and Investment Company Limited (trading as ntel), pioneer MD/CEO of Edo state Directorate of Information Communications & Technology Agency (ICTA), and the Regional Manager, West Africa for SAP.
Keri is passionate about creating endearing business opportunities and generational wealth through leveraging the limitless opportunities that information technology offers. With her expertise in technology and strategic business development, she has inspired many, men and women alike, to create indigenous technology companies.
She has built an amazing career in information technology with a proven track record and is credited with creating the framework of the Information and Communication Technology (ICT) policy in Edo state, broadening the recognition of the values and acceptance of information technology into the public service, and the establishment of the first-ever Information Communications and Technology Agency – an enabler for the full delivery of e-governance in the state. This giant feat attracted several accolades locally and internationally.
She is a global business consultant and an ardent advocate of women's participation in Boardroom decision-making and having a voice at the table. She believes that talent and skills are major parameters in measuring performance. For her, a woman is as likely as a man to excel in any field if there is a level playing ground, given the excellent performance of women over the years in the corporate world.
The PowerWoman Network is a network of female business leaders and professionals birth with a shared mission of enhancing the growth of women in the corporate, political, and business leadership scenes.
We believe that in every woman is an arsenal of untapped power, strength, resources and resourcefulness, therefore through The PowerWoman Network, we help ambitious women unleash their inner strength and help them with the resources required to access global opportunities and become global leaders.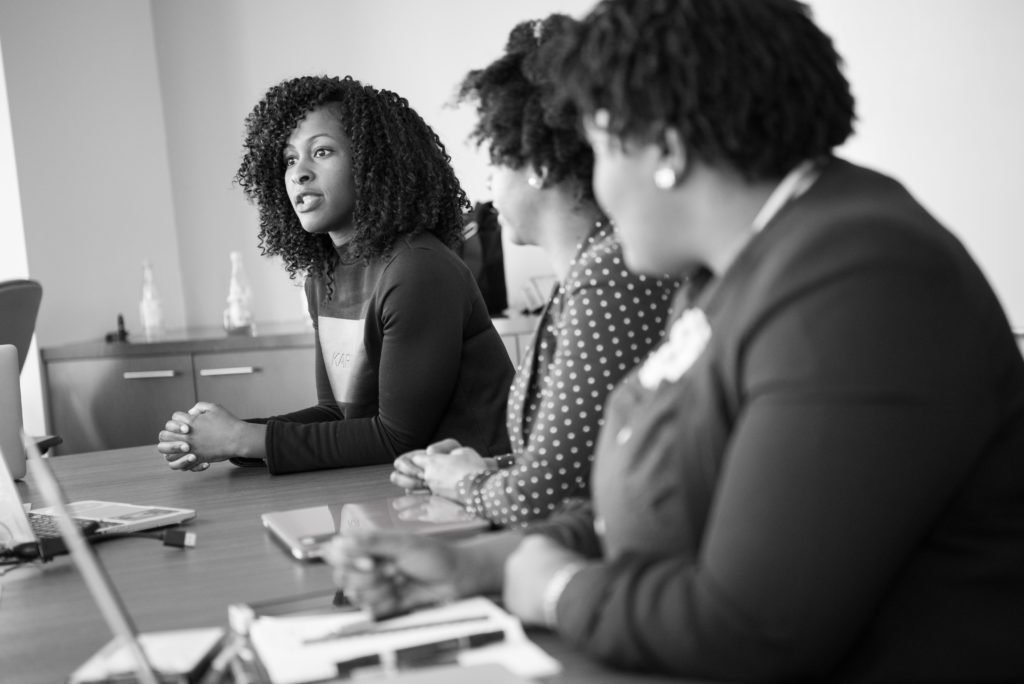 To offer leadership development, mentorship, economic advancement and empowerment for women through job creation, skills acceleration, capacity building, advocacy programs, strategic networking and collaborative practices.
To enhance the growth of women in the corporate, political and business leadership scenes.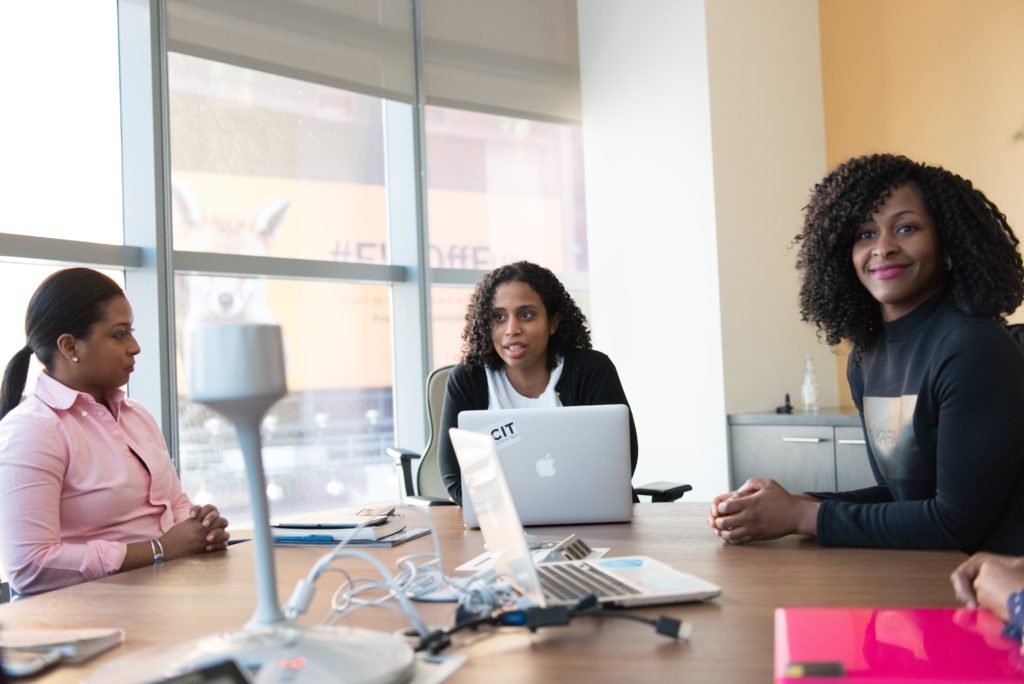 In a bid to unleash the power woman in every woman, we have organized programs to do just that. We look forward to seeing you!